1

Guitar Coffee Table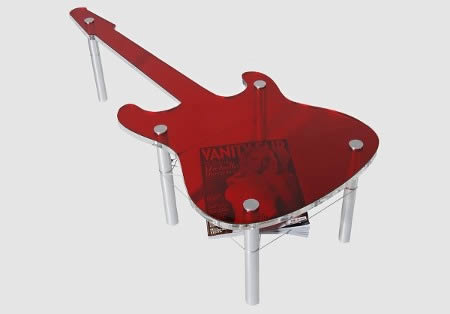 Rocket is a new Italian brand dedicated to making quirky furniture that appeals to our hidden rockstar side. Check out their neat guitar-styled coffee table that you see here.
2

iPhone Coffee Table

Tuan Nguyen, Ken Thomas and their associates have created an iPhone coffee table. According to Nguyen, the table is "completely made of corrugate and glued together with white glue," and features removable, usable coasters built-in.
3

Hexa Coffee Table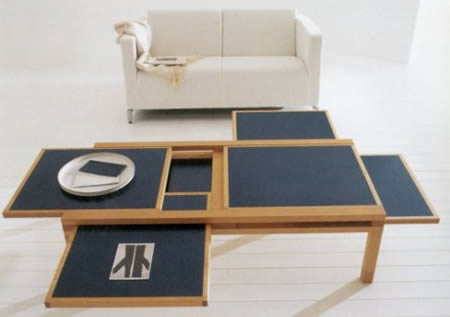 This is a such a cool idea: similar to a keyboard tray on a desk, the Hexa coffee table has six hidden compartments that slide out to triple the available surface area, perfect for parties and when you want to have dinner on the couch, or just to have some fun with geometry. When you just want a regular table, all six slide and hideaway beneath the table's top. By designer Bernard Vuarnesson.
4

Aquarium Coffee Table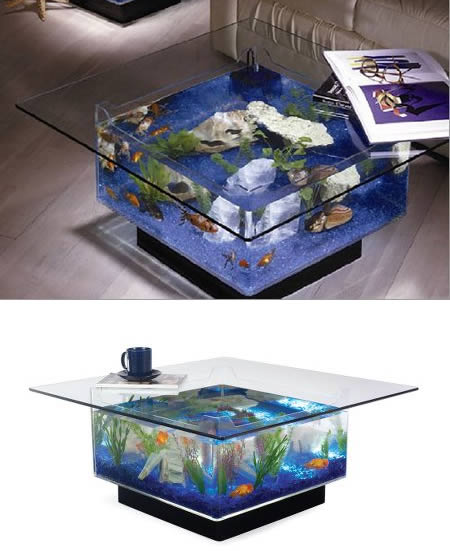 The 25 Gallon Aquarium Coffee Table has acrylic sides that provide clear viewing of the interior with a removable tabletop made of 1/4?-thick tempered glass that is large and sturdy enough to accommodate a sculpture and hardcover books. The tank rests on a heavy-duty black acrylic base; lights in the base illuminate the tank from beneath the bed of blue glass gravel. Comes with two-stage submersible filter pump and decorative plants. 25 Buy it here ($499.95).
5

Moss Coffee Table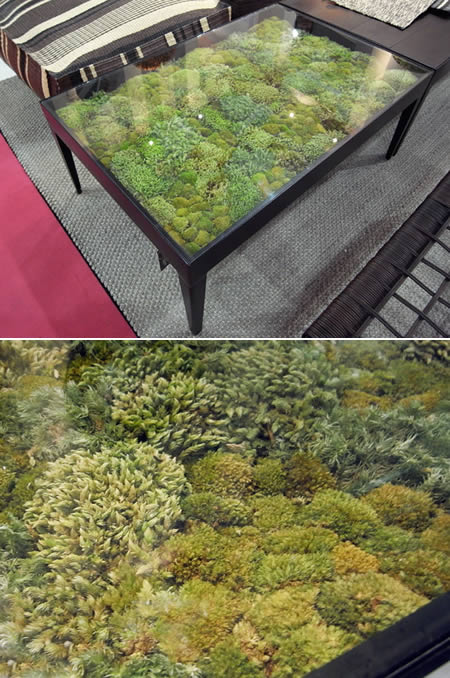 Thai home furniture company Ayodhya's Secret Garden Collection managed to bring nature indoors - without the effort and attention that traditional, live plants require. Each table consists of various types of dried moss beneath a transparent glass tabletop; no watering necessary.
6

PS3 Controller Coffee Table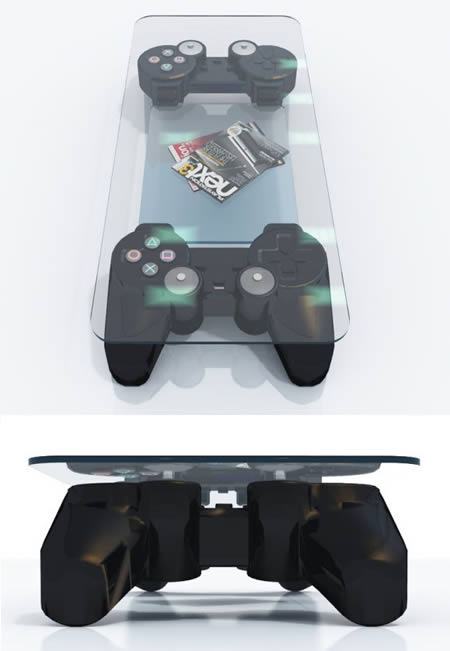 For PS3 fanatics; a coffee table inspired by the design of the Sony controller. Designed by Stephane Perruchon. It's still a concept but I won't be surprised if it goes into production soon enough!
7

Fire & Ice Coffee Table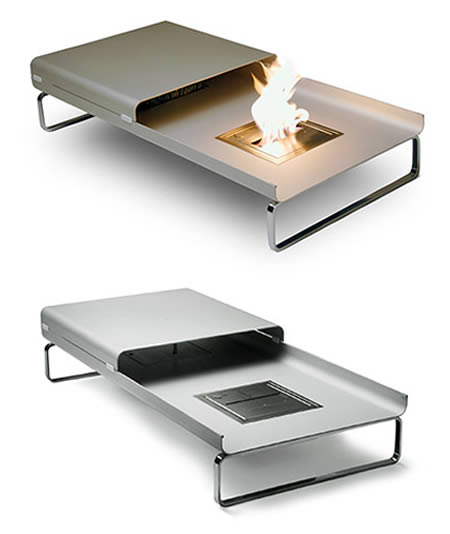 The Fire & Ice Coffee Table designed by EcoSmart Fire features an open fire set within a freestanding coffee table. On one end, a recess for your flue less burner, on the other, a recess for storing your own patch of grass or perhaps ice to chill your favorite bottle of champagne.
8

Multimedia Coffee Table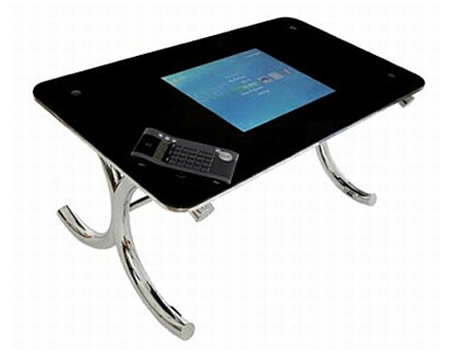 The Stealth multimedia coffee table features wi-fi enabled internet access with email facilities, 19 inch TFT screen, stereo speakers, Bluetooth, NTFS file system, gaming facilities with game pad ports and arcade classics. The table features 3D graphics and multiout connectors for gamers.
9

Skateboard Coffee Table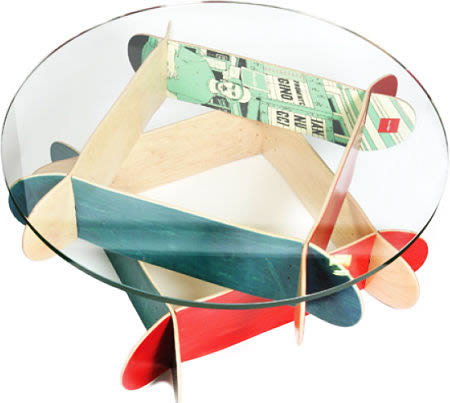 The Comet Coffee Table crosses skate decks together to give strength and a unique look. The sleek design of the glass with the decks makes it perfect for a living room. The Comet Coffee Table is made of a round glass top and 8 decks for legs.
10

Stalac Coffee Table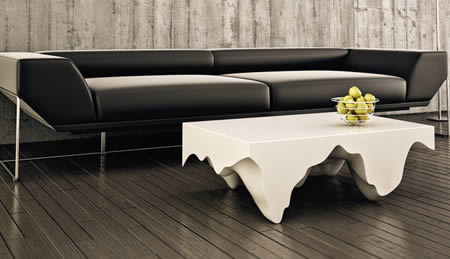 The Stalac coffee table by The Practice of Everyday Design is based on the idea of taking a rectangular section from a cave ceiling and using the Stalactites as the table legs.
11

Alien Coffee Table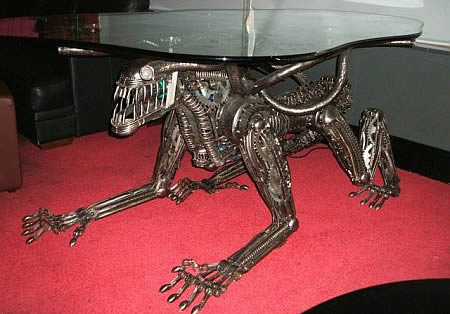 That's devilish! The Alien furniture is not about comfort but crazy, horrifying, ghostly looks. Alien furniture is skillfully handcrafted from carefully selected used car and bike parts, tools and other recycled metal components making each individual piece subtly unique.
12

Engine Block Coffee Table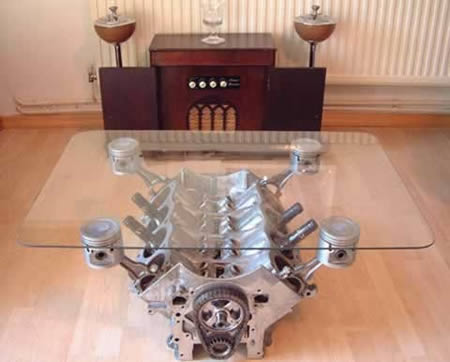 Poor white trash: engine block out in front yard as lawn ornament. Rich white trash: engine block inside as coffee table.