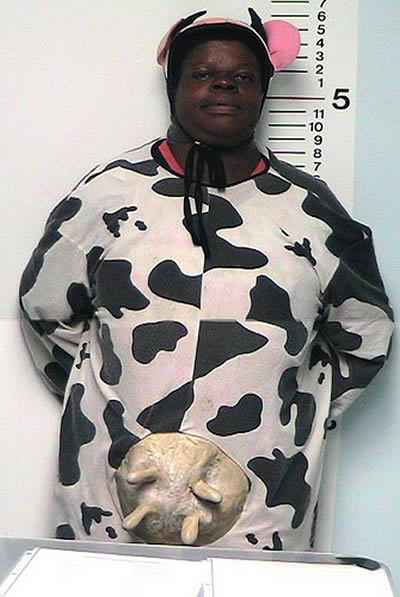 Michele Allen, 32, of Middletown, Ohio, was arrested after neighbors reported witnessing her chasing children, blocking traffic, and urinating on a porch. The officer who arrested the belligerent bovine said she smelled of alcohol. Allen was charged with disorderly conduct.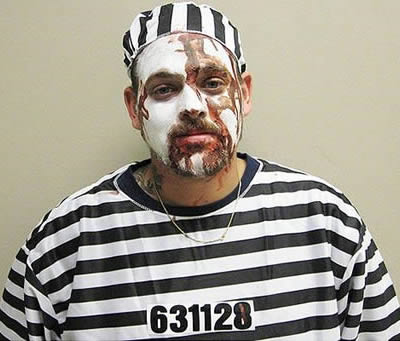 Adam Ballingall was dressed appropriately for his arrest for possession of drugs.
Spencer Taylor of Three Rivers, Michigan, was arrested on July 27th, 2008 for trying to steal Batman paraphernalia from the lobby of a cinema. Taylor, dressed as Batman's nemesis the Joker in a purple cape and fearsome face paint, was restrained by theater employees until police arrived.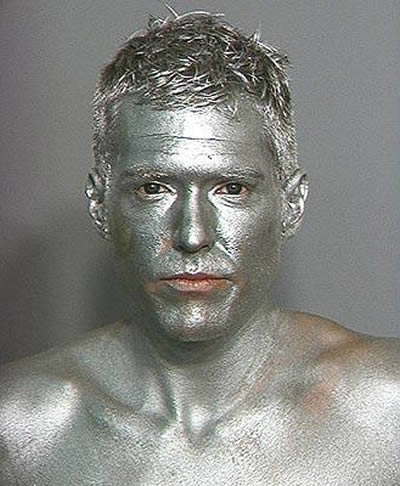 A Halloween mugshot: Travis Stone was arrested in Las Vegas on a drunk driving charge after he lost control of his Mercedes and ran it into a wall, while covered in silver body paint.
Unemployed Oregonian Dusten Jacob Williams, 20, was caught red-faced on April 24th, 2006, waving a gun around outside a middle school. According to police, Williams pressed the weapon, a BB gun made to resemble a Glock, into the stomach of a student. He then rode away on his skateboard, but was nabbed a few blocks away.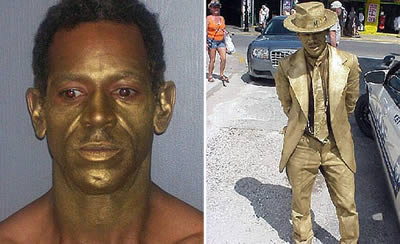 In Key West, Florida, police arrested a street performer known as "Gold Man" on a warrant for the charge of selling crack cocaine to an undercover cop. When he's not entertaining tourists, "Gold Man" goes by Daryl Brooks, and apparently spends his days chasing all that glitters.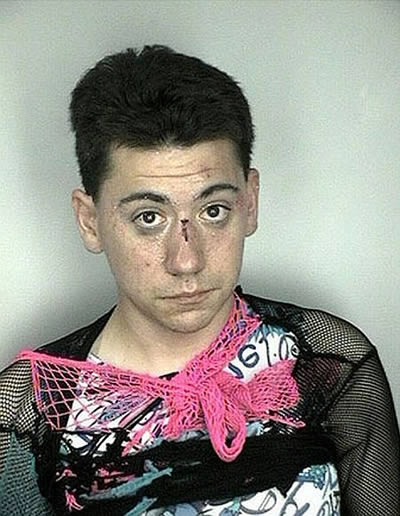 From the mug shot collections at TheSmokingGun.com comes this young man, dressed as a misguided pop princess, with big sad doe eyes to match.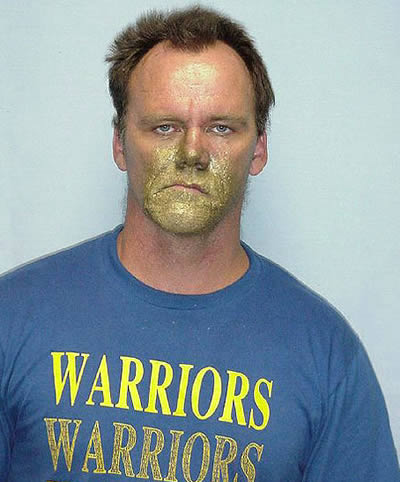 A Warriors fan who went a little too far.
Note from reader Ann: "Based on his picture he appears to have been "huffing" spray paint. Rumor has it that the metallic colors (especially gold) are the most potential. Huffers spray the paint into a bag which they clasp around their mouth, thus resulting in the pattern you see on this unfortunate soul."
Tears of a clown were all too real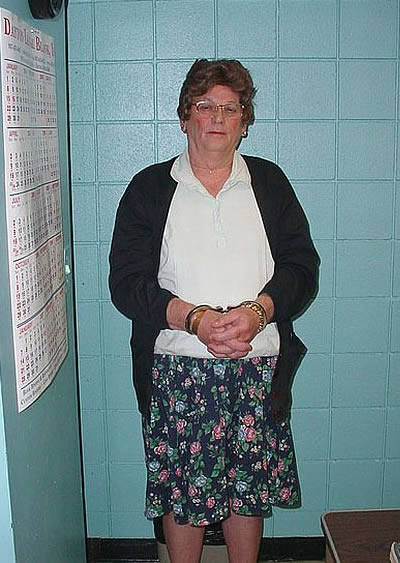 Wearing more of a lifestyle than a costume, Samuel McGilton of West Virginia was arrested after security cameras captured the 72-year-old pleasuring himself in a public library; he claimed he was just pleasure … reading.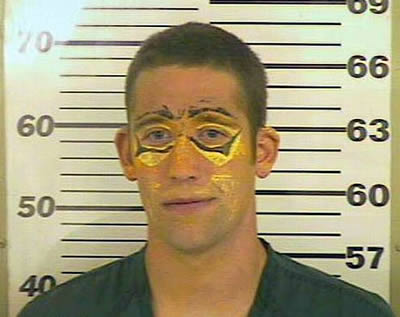 In another case of pre-Halloween lawlessness, 21-year-old Will Johnson was arrested in Savannah, Georgia, on October 30th, 2005, for running around in traffic, performing pelvic thrusts, screaming profanities at cars and otherwise causing a commotion, all while dressed up as Lion-O from Thundercats. For those unfamiliar with the classic cartoon, a Lion-O costume involves a blue leotard and an orange mane-wig. And, of course, feline face paint.