1

Red Sea Star Bar: world's first underwater bar, restaurant and observatory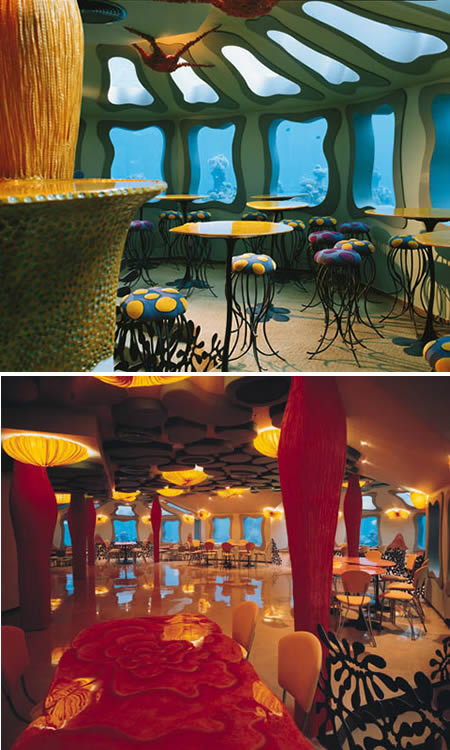 Submerged six meters below the Red Sea is the world's very first underwater bar and restaurant, the Red Sea Star Restaurant, Bar and Observatory. Each table has two windows on the side and one above, giving dinners an octopus eye-view of the kaleidoscope beauty of the undersea kingdom. Ironically, the guest's attention tends to get torn between the magnificent sea creatures in the colorful coral garden outside and the marine looking creatures and shapes inside such as the jellyfish stools and anemone lighting fixtures. The restaurant offers continental cuisine with the main course priced between USD$10-20. It seats 105 guests and is open daily including weekends and holidays from 10 am to 1 am.
2

Skeleton Bar: decorated with skeletons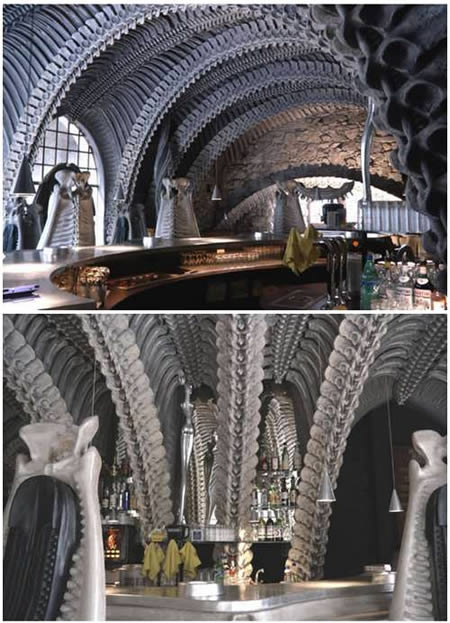 I bet you feel like you're having a drink in a bar built by the Alien. And in a way, you kind of are, because this odd-looking establishment was designed by Hans Rudi Giger (HR Giger), who worked as a designer on the Alien movies, receiving multiple awards, including an OSCAR for best special effects. Giger did great work on this museum-bar, you must feel like you're somewhere in the Alien universe or inside the skeleton of a monster. In any case it's very original and refreshing.
3

Hobbit House Bar: a bar served only by dwarves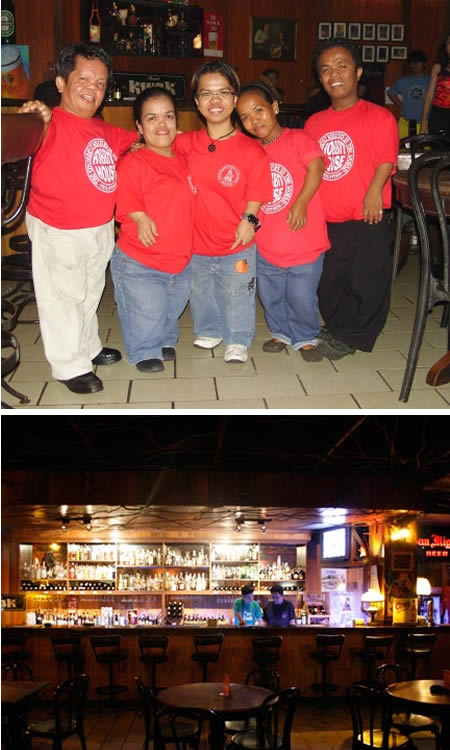 Hobbit House is a world famous bar and folk house in Manila, Philippines. Based on that J.R. Tolkien Trilogy, all the waiters at this bar are dwarfs. From the front door up to the cashier, you will be taken care of by friendly, charming and always smiling little people. Every night aside from their jobs as waiters, they can also be seen happily posing for pictures with tourists and travelers alike. The bar has a dark, smoke-filled ambience where 100 different kinds of beer from around the world are offered.
4

Chillout: made entirely out of ice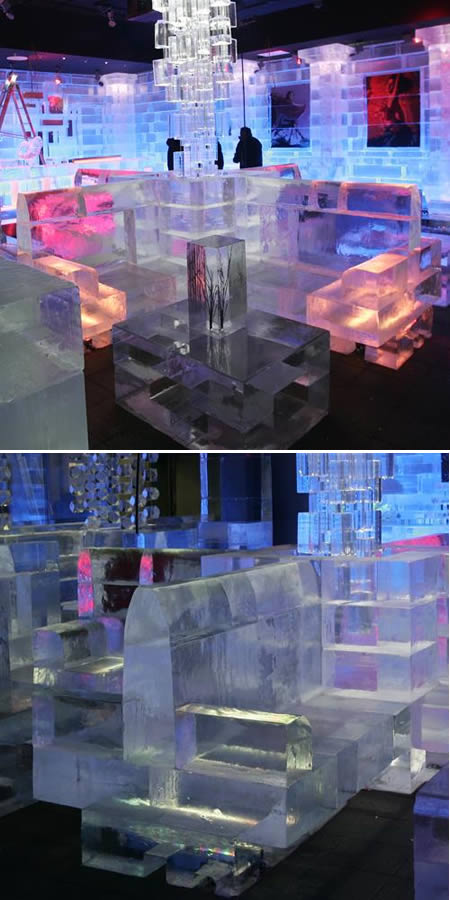 Chillout' is the Middle East's first ice lounge. Almost everything at the restaurant is sculpted out of ice. Dinners will sit on ice benches or chairs, eat at ice tables, out of ice plates, drink from ice glasses served from a bar made of ice. The $17 cover charge gets you one drink and the rental of a hooded parka, woolen gloves and insulated shoes.
5

Casa Pocho: a bar where you need to insult the bartenders to get a drink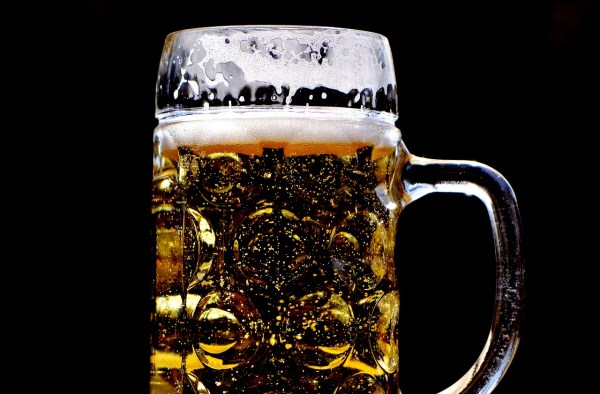 A bar in Spain is serving up free beer and tapas to recession-weary customers who insult its bartenders as a way to let off steam. Casa Pocho in the beach resort town of Cullera near Valencia has a promotional gimmick that works like a charm. Bernard Mariusz, the bar's Polish-born co-owner, said the free alcohol and snacks go only to those who come up with truly original insults. "They can't call me S.O.B., but they can call me jerk, idiot, clown, that kind of thing," Mr Mariusz said. "This works, because even people in their 70s come to insult me." Mr Mariusz said he and Michal Lotocki, his business partner, came up with the idea to help people relax during the hard economic times. Rather than argue about money at home with their spouses, he suggested they stop by and take it out on him.
6

Clinic Bar: a bar themed as a hospital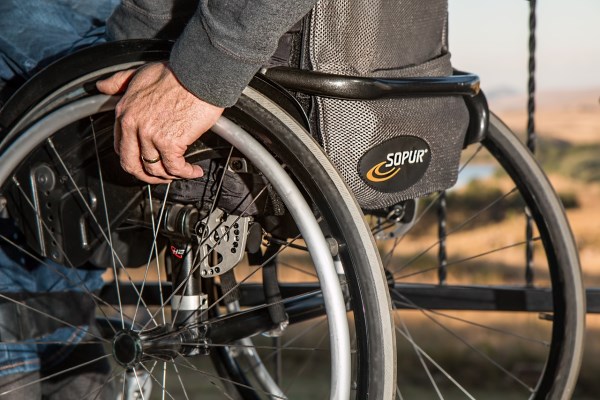 Inside the extravagant indoor shopping and entertainment area of Clarke Quay, you will find Singapore's hospital themed bar, The Clinic. It has over 15,000 square feet and is designed with labyrinthine style pill shaped rooms that help give it a "drug" trip effect. The decor and the ambiance of the nightclub was designed by architect Damien Hirst (15 of Hirst's original artwork are displayed throughout the bar) to resemble a medical clinic by introducing syringes, drips, test tubes and other medical paraphernalia. (You drink out of IV bags!)
The Clinic is located in Clarke Quay in downtown Singapore. It's a pricey establishment but for those looking for something a little different, a little weird, a little off-beat, head to The Clinic Bar next time you are in Singapore.
7

Zetors Bar: decorated with tractors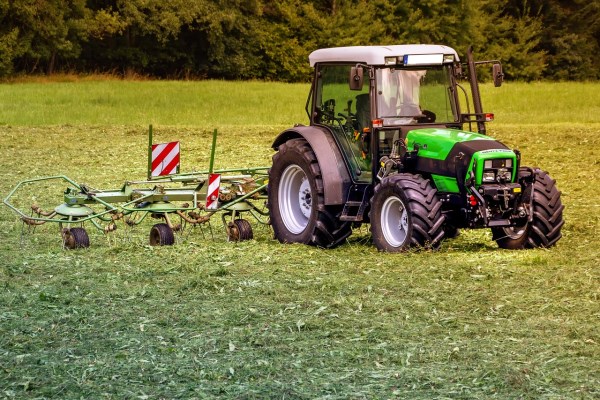 Located at Helsinki's, Finland tractor pub Zetor, named after the Czech tractor brand popular during the Cold War, is really something. The pub, owned by Aki Kaurismaki, was decorated with Zetors fitted with a bar counter so you could sit on or around the tractors enjoying your beer. Almost like home.
8

Eternity Bar: a bar in the shape of a coffin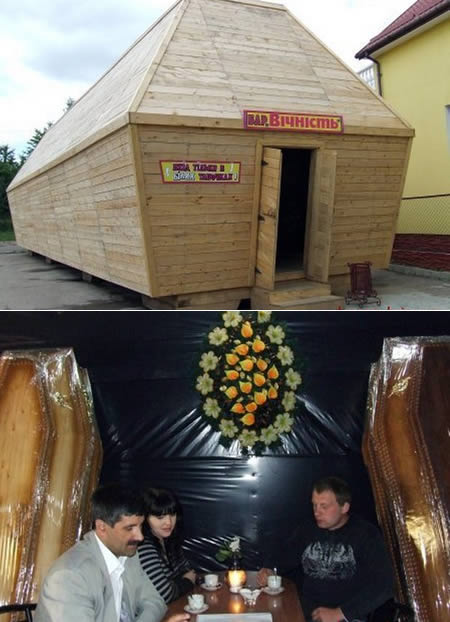 Feeling down? Why not drown your sorrows in a gigantic coffin-shaped bar at Truskavts, Ukraine, called the "Eternity Bar".
9

DM Bar: devoted entirely to Depeche Mode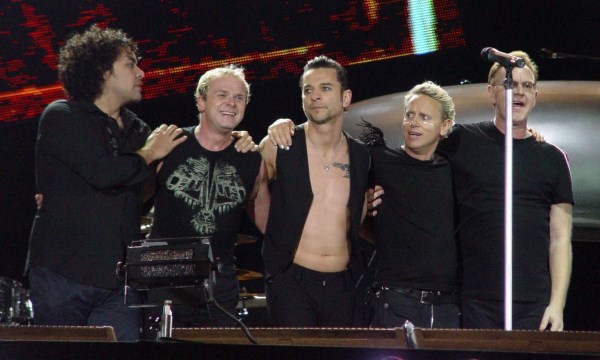 Devoting a bar to a favorite band might be a cracking idea for a really, really popular artist. Perhaps a U2-themed bar in Dublin, or a Red Hot Chili Peppers pub in California? Heck, even an Acca Dacca pub in Sydney would probably go down a treat. But a bar entirely devoted to Depeche Mode in the Baltics? Erm... Never let it be said that the owners haven't gone the whole hog though. For the undoubted millions of Estonians who just love, um, whatever great songs Depeche Mode happened to do, there is a whole host of memorabilia strung up along the walls. This includes a picture of a distinctly non-plussed member of the band in the bar, looking probably more frightened than he's ever been in his entire life. Oh yes, and you'll not need two guesses to work out the music policy. Non-stop Mode hits until closing time...
10

June Barugh's bar: a bar in a house garage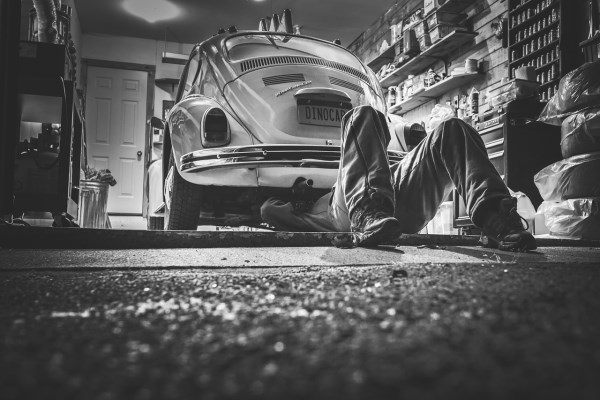 It is hardly the most glamorous location for a bar, but police have accused a middle-aged woman of running a pub from her dingy garage. June Barugh's home was raided with police claiming they found a fully functional bar with a price list of alcoholic drinks and bar snacks, a jukebox and a fruit machine. But the 52-year-old denies ever selling alcohol and claims the bar was not functioning.