1

A Texas State University dorm room gets a $2000 makeover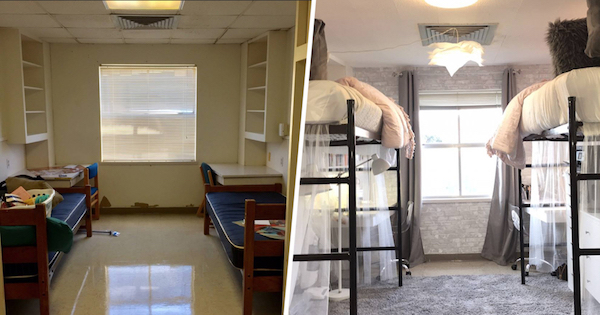 Texas State University freshmen Adeline Vela and Skylar Bantz became roommates after bonding on Facebook. The duo quickly realized that they had a similar design aesthetic and went to work.
Together with her parents and Skylar and her mom, Sheila Ybarra, of Houston, Texas, the girls went from drab to fab as they transformed the 16-by-16-foot space over 10 hours with $2,000 in decorative touches.
The pair combed Target, IKEA, and Bed, Bath and Beyond for the right wallpaper, accessories, and curtains to give the room a much more dignified and classy feel. They even chucked the standard school-issued furniture and rented lofted beds for more usable living space. "We were able to put a set of drawers under there, a television, a printer, and a coffee station, as well as a mini refrigerator and freezer. It was a win-win for the room since it is notorious for its small size," Ybarra said.
2

An Alabama A&M University student wows the Internet with her decorative knack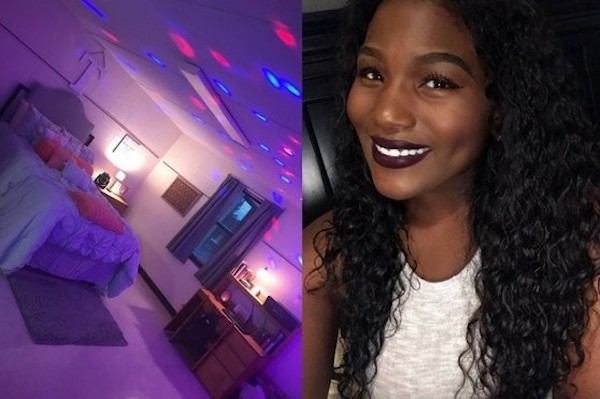 When Alabama A&M University student Tamia Barnes shared pics of her dorm makeover on social media, she didn't think her photos would go viral. They did, and are now inspiring college students everywhere to step up their game. Her makeover included a sleek new headboard, purple uplighting, some stylish organization and lots of pillows. "I really just wanted to make it comfortable so that it felt more like being at home," said Barnes. "I got my inspiration from watching YouTube videos and looking at Pinterest."
3

An Ole Miss duo adds a shabby chic design element to their living space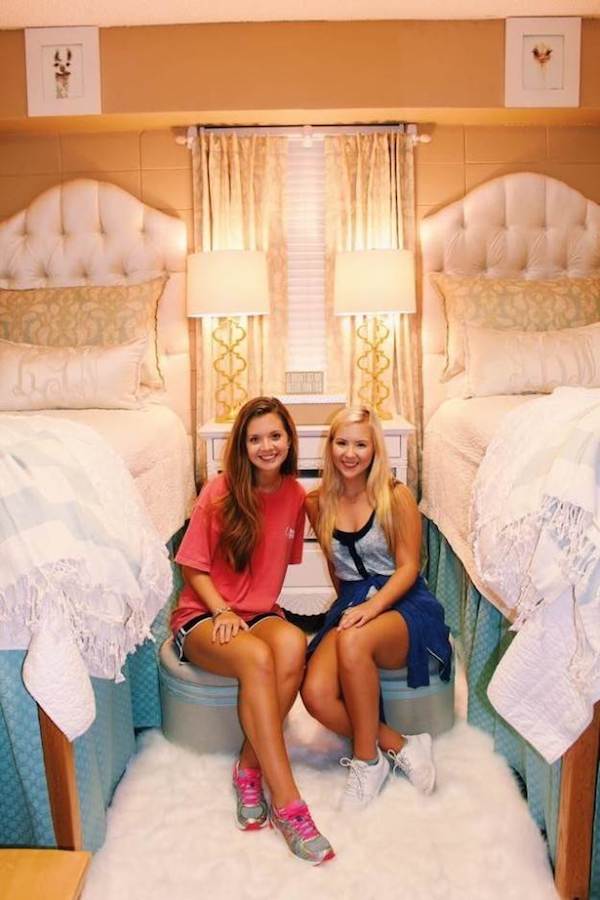 One of the most competitive sports at the University of Mississippi isn't played on a field but battled out in the residence halls. It's dorm room decorating, and the students at Ole Miss take it VERY seriously (as you can see by the photo above.)
Lindy Goodson, of Illinois, and Abby Bozeman, of Mississippi, created their paradise with tufted headboards, mirrored furniture, and matching monogrammed pillows. Dorm rules forbid holes into the walls, so the girls resorted to hanging everything in their room with Command Strips. Using T.J. Maxx, Marshall's, and antique stores as their guide, Lindy and Abby transformed their dorm room into something special on a shoestring budget.
Abby mentioned that she did consider interior decorating as a career and it's something that's she picked up through the years. "I feel like it's a skill that we just acquired from our moms," she said.
4

A University of North Texas dorm room features a putting green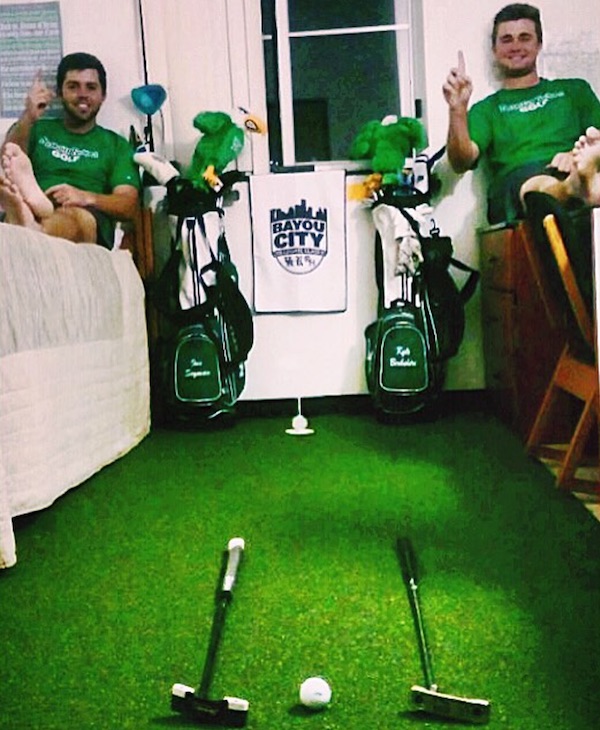 The only guys on our list, from the University of North Texas in Denton, decorated their room in a very utilitarian fashion—these avid golfers lined their floor with a putting green.
5

A sophisticated dorm room design at Ole Miss goes viral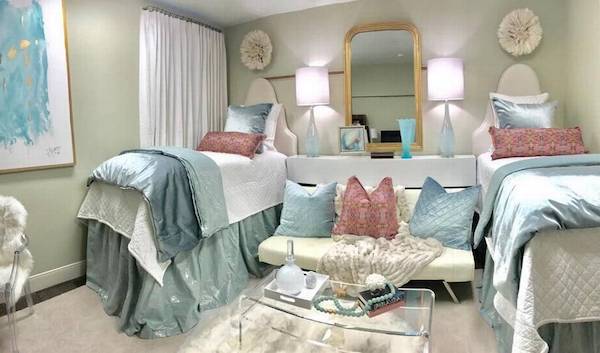 There's definitely something in the water at Ole Miss—this dorm room was designed by After Five Designs, based in Jackson with retail space in Oxford. The cream and dusty teal room is dotted with accents of oh-so-current millennial pink. A variety of textures in the custom-made bedding, layers of blankets, and sophisticated, but youthful, accessories also highlight the space.
6

A college student's retro sensibilities influence her dorm room design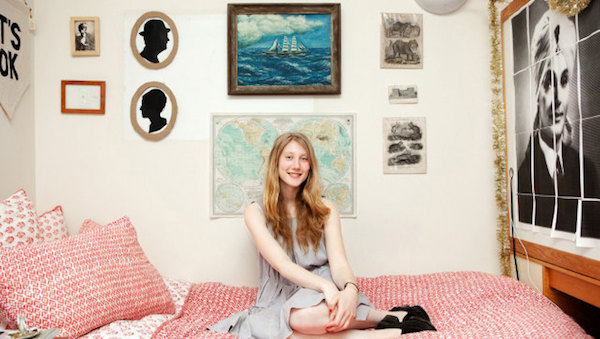 Augusta Dayton's room is not that of an average college student. She is all about retro and filled her living space with antique maps, Boy Scouts posters, and an acupuncture ear model. She believes that each item should be thoughtful and symbolic, and knows the importance of making a dorm room feel like home.