1

The dancing pallbearers from Ghana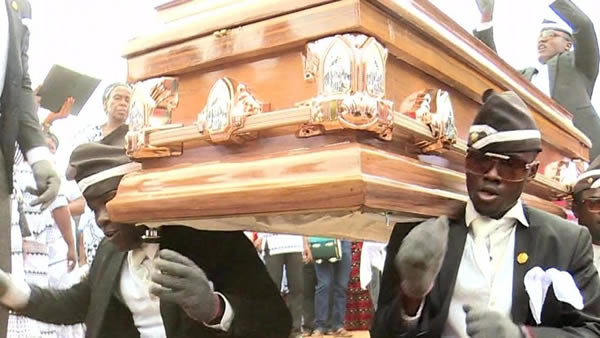 Families in Ghana are increasingly turning to troupes of dancing pallbearers to send their loved ones off in style, and bring some joy to what is usually perceived as a very sad event.
They not only lift the casket at a funeral, but they also boost the mood of attendees by putting on a show. They parade the coffin on their backs and shoulders, while at the same time executing complex choreography that often involves spinning around, dropping to the ground, and even pretending to drop the casket, all to the delight of the audience. It's an unusual display, but families in Ghana are increasingly paying for the services to give their loved ones an upbeat send off.
Benjamin Aidoo, who started a business around the trend currently employs around 100 men and women and trains them to execute the choreography to perfection. He invests heavily in their outfits as well, for a more impressive visual effect.
2

The teens who volunteered as pallbearers for a war veteran who had no family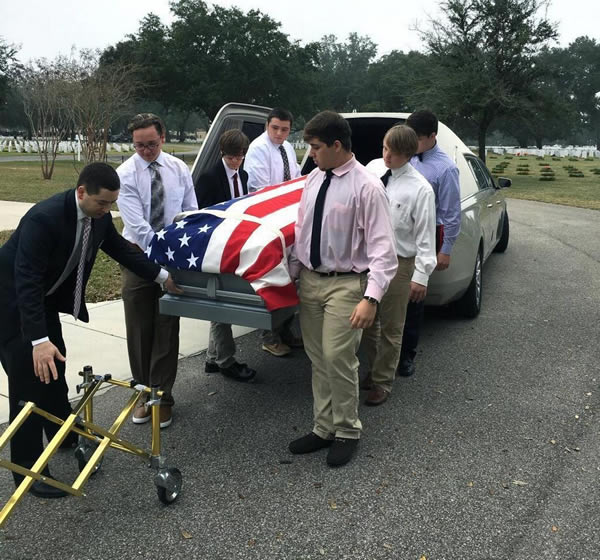 Last year, six young men from Long Beach High School in Mississippi gave up a morning of their Christmas vacation to pay final respects to a man they didn't know.
The teens, all upper classmen, served as pallbearers for Jerry Wayne Pino, who died Dec. 12, 2016, at the age of 70. He served his country in Vietnam and wanted to be buried at Biloxi National Cemetery. Pino pre-arranged his service, but something was missing—pallbearers.
"He was an unclaimed veteran," said Cathy Warden, who works at Riemann Family Funeral Homes, which handled Pino's services. She turned to her son Bryce for help.
Unfortunately, Bryce already had accepted an invitation out of town, which he nearly canceled to serve as one of Pino's pallbearers. So, he texted some classmates, and within minutes, Boomer had six young men to serve as pallbearers. JT Tripp, Bailey Griffin, Joseph Ebberman, Jake Strong, Kenny McNutt, and James Kneiss paid their respect for the Navy veteran who joined the military in 1970 in New Orleans and left the service as a petty officer third class.
3

The pallbearers who were led by Mickey Mouse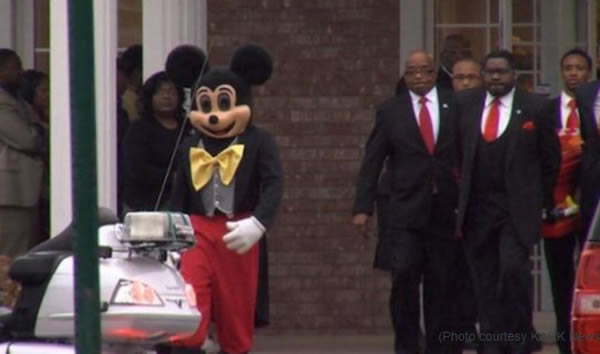 In 2016, 3-year-old Acen King died after a shot was fired into the car his grandmother was driving in southwest Little Rock, in an alleged road rage attack. (A few days later, Gary Holmes, 33, turned himself in.) Acen's favorite Disney character, Mickey Mouse, led the pallbearers to his final resting place. About 300 people attended the service, which shows the impact Acen had, only three years into life.
4

The teenagers who donned pink robes for a friend's funeral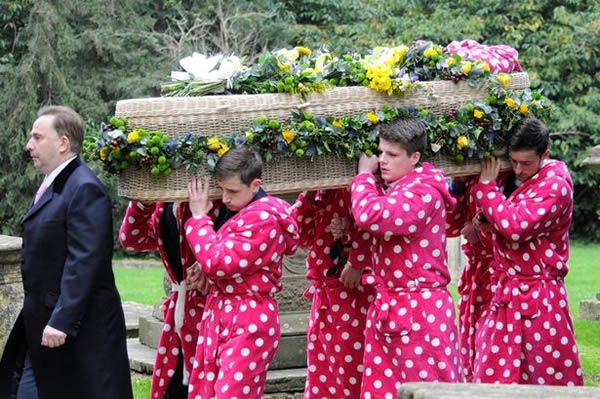 Hundreds of mourners at a teen's funeral paid tribute to him by wearing his favorite item of clothing—a pink polka dot robe.
Max Lewis, 19, died when the car driven by his friend Dan Palmer, 22, collided with a van in 2014. His grieving mother Nicola had asked mourners to wear something that showed her son's "sense of style," so dozens of friends—including the pallbearers and even the reverend—donned the robes, which was one of the teenager's trademark articles of clothing.
5

The pallbearers who dressed as a 7-year-old's favorite superheroes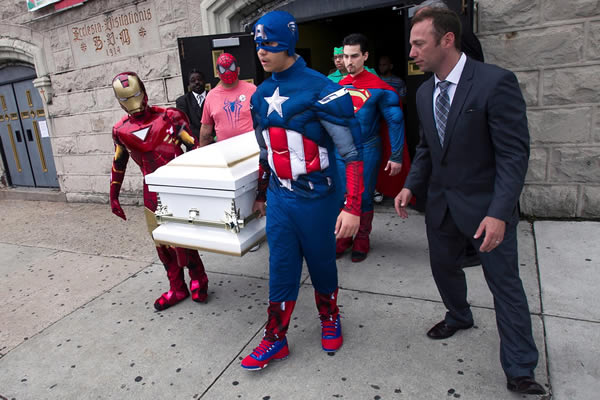 In 2014, pallbearers dressed as 7-year-old Sebastian Gerena's favorite superheroes to carry his casket during his funeral mass in Philadelphia. Sebastian was just days short of his 8th birthday when he passed away from a heart condition.
6

The brave 4-year-old whose Star Wars coffin was surrounded by Stormtroopers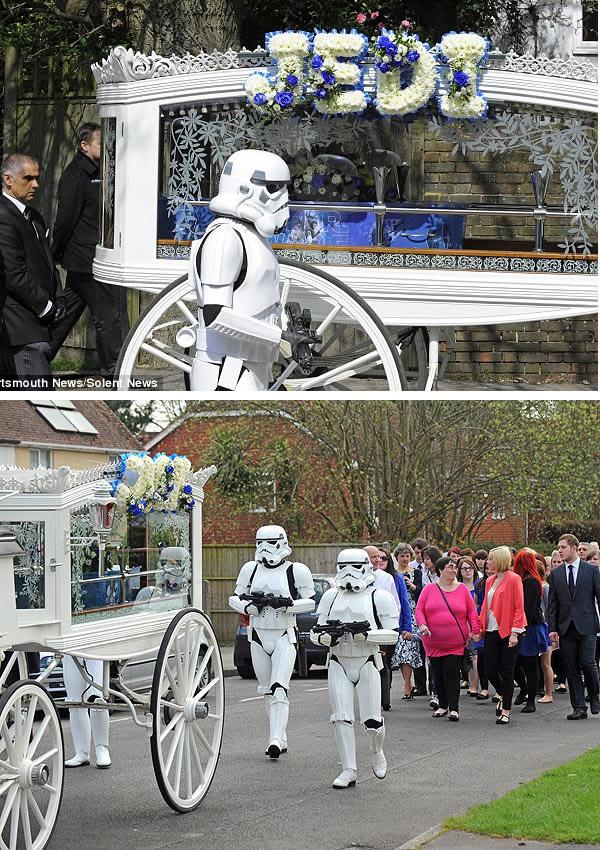 In his short life, Jack Robinson's fight against an inoperable brain tumor inspired his heroes, Gary Barlow and Matt Smith, to help him complete his bucket list. But the four-year-old's final wish could only be fulfilled when his family and friends said goodbye to him at his Star Wars themed funeral.
His parents, Terence and Marie Robinson, were determined to celebrate their son's life and passions, and had his body carried in a Star Wars coffin on a white horse-drawn carriage surrounded by stormtroopers. The carriage was covered floral tributes, including one reading "Jedi" and its wreaths in the shape of a lightsaber, Yoda, and R2-D2.
7

The ironically funny photos of a clown's funeral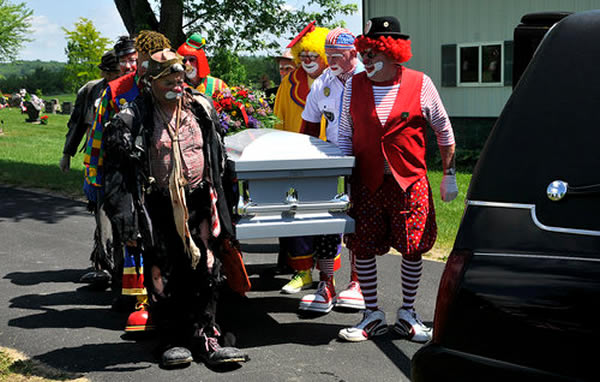 This photo was taken at Fairview Cemetery, in Springfield, Nebraska, where 79-year-old Norman Thompson, a member of the Antioch Shrine Funster Clown Unit, was buried in 2009. His fellow clowns dressed up for the occasion and honored Norman for the last time. Apparently, this is a tradition for clowns and magicians as a sign of respect to their fallen colleagues.
8

The Peruvian tradition of Black pallbearers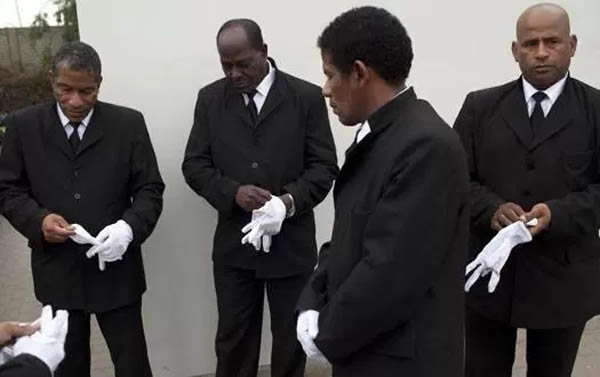 These men are pallbearers precisely because of the color of their skin. The phenomenon is unique to Lima, Peru which was the regional seat of Spain's colonial empire for more than three centuries.
The pallbearers routinely bear the caskets of ex-presidents, mining magnates, and bankers to their tombs in Lima. It is not a profession chosen by the men but is instead thrust upon them by a lack of opportunity—and racism remains so deeply ingrained in Peru that many don't consider the practice discriminatory.
Peru's most prominent funeral director, Agustin Merino, denies the tradition is in any way racist. His funeral home offers Black pallbearers by default unless clients ask for another option.