1

The Mexican Tarahumara woman who won an ultramarathon in sandals and a skirt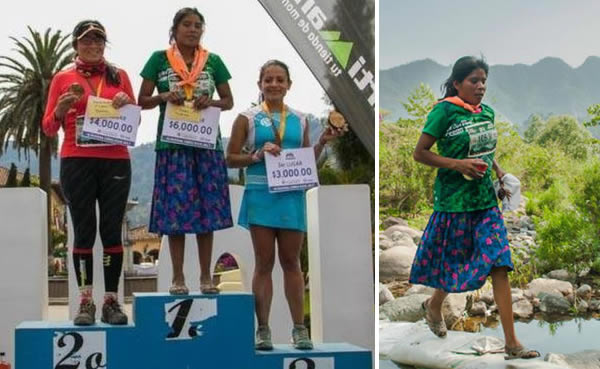 A 22-year-old indigenous woman from Mexico came in first place during a 50km ultra marathon, defeating 500 other runners. While her fellow marathoners wore running shoes, María Lorena Ramírez, who is Tarahumara, ran the full 31 miles in huarache sandals. What's more—her sandals were made of recycled tire rubber.
The Tarahumara, also known as Rarámuri, hail from the hills and valleys of northern Mexico's Copper Canyon and are renowned for their running endurance.
Ramirez's full running outfit included a long skirt, T-shirt, and sandals. She allegedly has no professional training. When she's not going viral by winning marathons in huaraches, Ramirez, who won the race in seven hours and three minutes, herds goats and cattle and walks between six and nine miles every day. She won $320 for coming in first and she zipped past runners from 12 other countries.
2

The Utah family who ran an Indiana mini-marathon in Crocs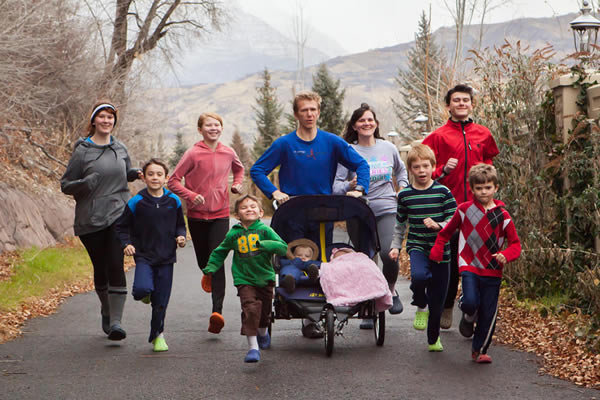 In 2017, several members of a Utah family posted impressive finishes at a marathon in Indiana despite wearing plastic clogs instead of traditional running shoes.
Benjamin Pachev, 18, was photographed wearing khaki-colored Crocs as he placed 16th in the 500 Festival mini-marathon in Indianapolis with a time of 1:11:53. His father, Alexander Pachev, said he and his other ten children wear the shoes as a cheap alternative to expensive running shoes. He stumbled upon the unique substitute footwear one day when his kids refused to take off the Crocs before a run, despite urging them to "put on real shoes."
"I said, 'OK, let's see how it goes,'" Pachev explained. "And they ran, at fast speeds, and I could tell their form was better in Crocs. It looks more natural...maybe there's something to it."
Pachev said he and his children have worn the shoes ever since, including when he placed 44th in the 500 Festival mini-marathon, and his 16-year-old daughter placed ninth overall in the 500 Festival 5K. He said Crocs are more durable than most running shoes and don't cause blisters.
3

The mother of five who ran an entire marathon wearing high heels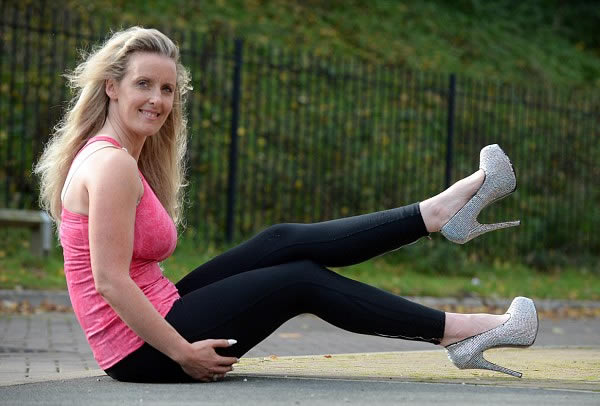 In 2014, Natalie Eckert—a mother of five—attempted a Guinness World Record for completing the fastest marathon in high heels. The then-37-year-old was inspired by a similar accomplishment by Germany's Julia Plecher, who ran a 100-meter-dash in 14.531 seconds in high heels.
For the race, Natalie had chosen a pair of three-inch fuchsia stilettos from Marks & Spencer. Although Eckert completed the marathon in seven hours, seven minutes and three seconds, her time was voided because she had to remove her heels during the 7th mile for treatment to her feet.
4

The London Marathon runners who wore 22-pound rhino suits the during race
It's hard enough running 26.2 miles, but going the whole way in a 22-pound rhino costume is another beast entirely. That's just what 15 competitors running for Save The Rhino did in 2013 to raise awareness and money for the charity. The fastest runner clocked in at just under 5 hours.
The suits have become a symbol for the organization and were first introduced in 1992 at the London and New York marathons. They've since been to Paris, Dublin, Boston, and the top of Mt. Kilimanjaro.
5

The man who ran a marathon wearing firefighting gear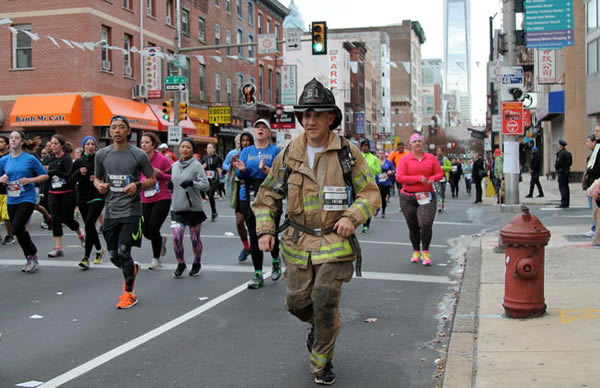 Another runner who is not afraid of adding a few extra pounds to his frame is Steve Bender, a volunteer firefighter, who ran the Philadelphia marathon in full gear in 2015. "It's much harder," Bender said, explaining that it also adds about two hours to his finish time.
Bender, who has run 20 marathons, says he does it to raise awareness of the Firefighter Five Foundation. The foundation, which he started in 2013, aims to motivate first responders to maintain a healthy lifestyle.
6

The man who ran a marathon wearing a suit as a marketing stunt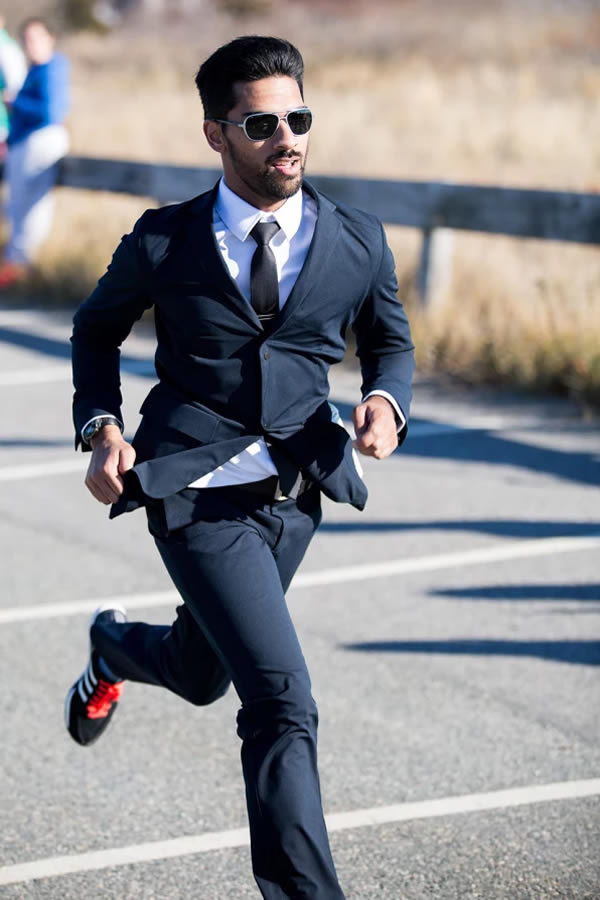 Gihan Amarasiriwardena runs an apparel company, Ministry of Supply. He introduced the suit known as the "Aviator II," to the market in 2016, and decided to test it by running a half-marathon in it. In the process, he wound up setting a Guinness World Record for his finish at the Half MerryThon in Gloucester, Massachusetts that year. Amarasiriwardena saw that a man had set a Guinness World Record running a half marathon in a suit by another company, and felt he could do even better in one of his own suits. (On top of being an entrepreneur, Amarasiriwardena is also an athlete.)
Amarasiriwardena came in at 1:24:41, with a win over the previous half-marathon-in-a-suit guy.
7

The runner dressed as Elvis who won the Vegas Rock 'n' Roll Marathon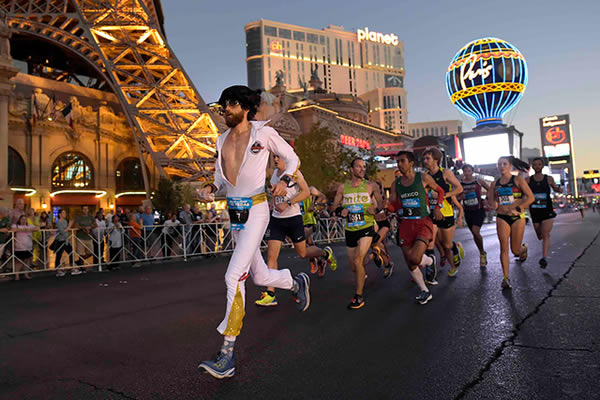 A 42-year-old runner dressed as Elvis won the Las Vegas Rock 'n' Roll Marathon in November 2016, setting a record for the fastest marathon run by someone dressed as "The King."
Michael Wardian of Arlington, Virginia, finished in 2 hours, 38 minutes and 4 seconds, a feat he accomplished while wearing a black Elvis-style pompadour, gold sunglasses, and a white jumpsuit with gold sequins. He broke a Guinness World Record for the fastest marathon run by someone dressed as Elvis.
His friend Ian Sharman set the previous record in 2009 after completing a Seattle marathon while dressed as Elvis in 2 hours, 42 minutes and 52 seconds.
8

The woman who ran the London Marathon on her period without a tampon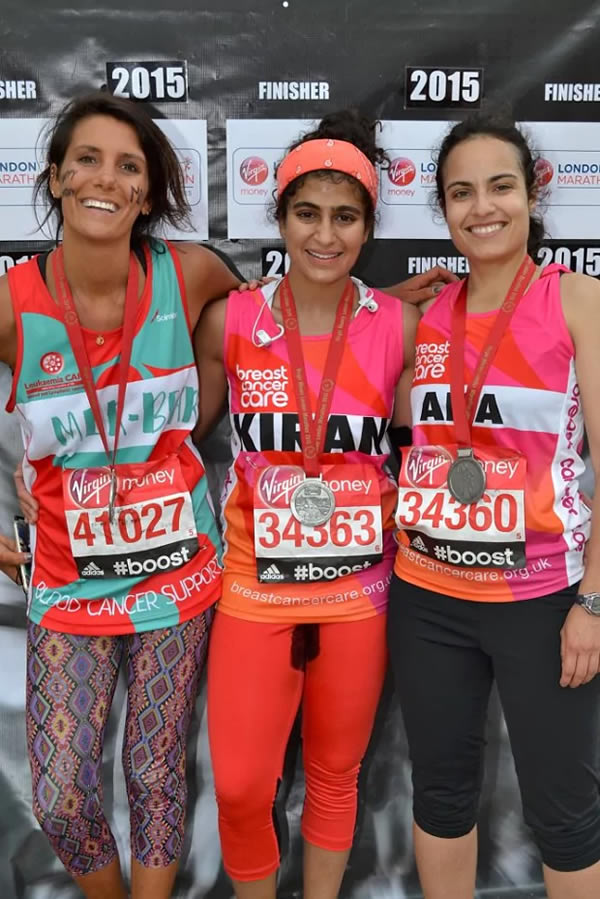 The night before she was set to run her very first marathon, Kiran Gandhi got her period. After a year of training, she refused to miss the important moment because of biology. She had two choices—she could run the 26.2 miles with a tampon, or she could bleed freely.
She chose the latter.
Gandhi went without a tampon during the London Marathon in April 2015 to fight period-shaming. She wanted to take a stand for women around the globe who don't have access to menstrual products or who have to "hide [their period] away like it doesn't exist."
9

The man who ran a half marathon barefoot at -20°C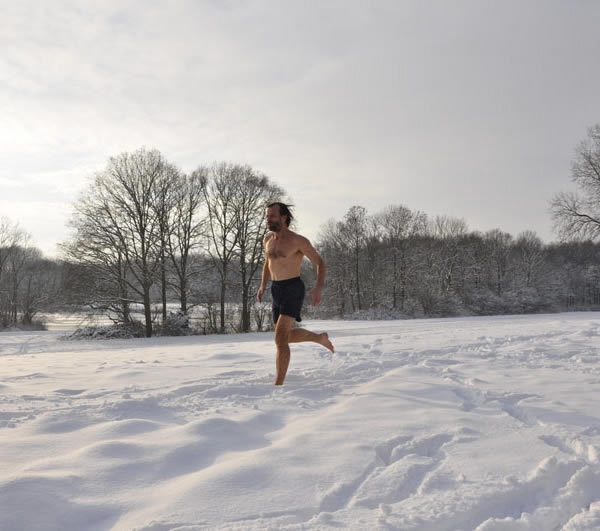 Wim Hof is a Dutch daredevil, commonly nicknamed "The Iceman" for his ability to withstand extreme cold, which he attributes to exposure, meditation, and breathing techniques. Hof holds 26 world records, including a world record for longest ice bath.
In 2009, Hof completed a full marathon above the arctic circle in Finland, in temperatures close to ?20 °C (?4 °F). Dressed in nothing but shorts, Hof finished in 5 hours and 25 minutes. The challenge was filmed by Firecrackerfilms, who make productions for BBC, Channel 4 and National Geographic.