1

Banksy, 2009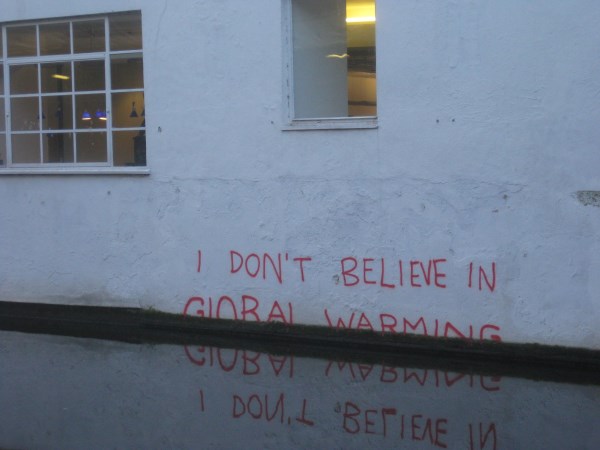 In 2009, graffiti artist Banksy marked the end of the Copenhagen climate conference with a series of murals, including one on global warming. The four works appeared along the Regent's Canal in Camden, north London.
One mural includes the phrase: "I don't believe in global warming," with letters disappearing below the water.
2

Lorenzo Quinn, 2017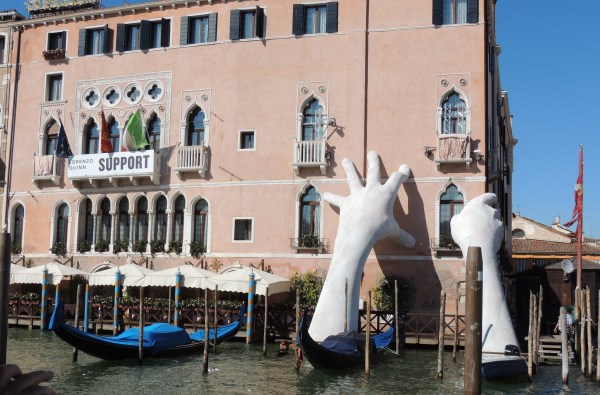 Global warming is a ticking bomb that we need to defuse before it explodes. To raise awareness about this issue, Italian artist Lorenzo Quinn built a monumental sculpture for the 2017 Venice Art Biennale. Titled Support, this project depicts two huge hands, rising from a canal to support the Ca' Sagredo Hotel. "Venice is a floating art city that has inspired cultures for centuries," Lorenzo Quinn said. "But to continue to do so, it needs the support of our generation and future ones, because it is threatened by climate change and decay."
3

Nele Azevedo, 2009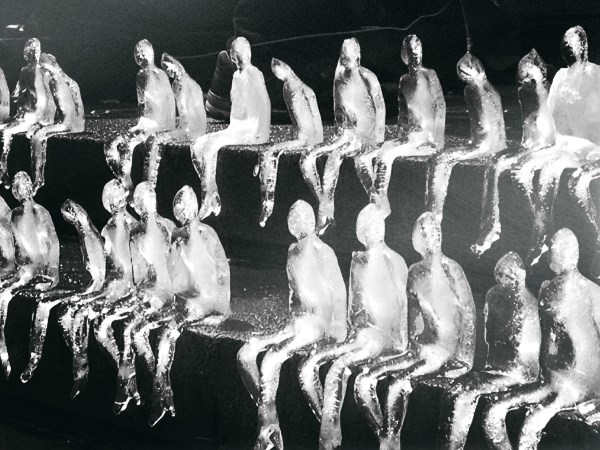 In 2009, Brazilian artist Nele Azevedo carved 1,000 Melting Men out of ice and placed them in Berlin's Gendarmenmarkt Square to bring awareness to global warming.
As part of the Festival of Queens in Northern Ireland, she created a similar installation to remind people of the melting ice caps in Greenland and Antarctica. She has installed Melting Men in cities across the globe and is becoming known internationally for her climate change art.
4

Un Cadeau pour la Terre and Biome, 2015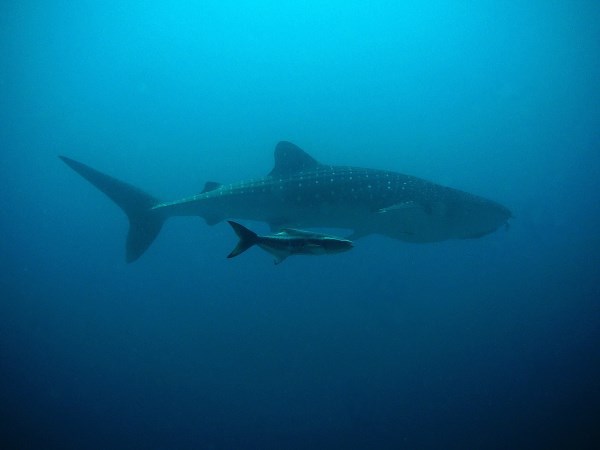 On the left bank of the Seine in Paris, a massive metal sculpture of a blue whale was erected in 2015, to remind negotiators and world leaders that threatened species are among those who will suffer if their talks don't lead to concrete action.
The blue whale is considered endangered by the IUCN Red List and is still recovering from hundreds of years of whaling—as well as the new threat of climate change. The 110-foot sculpture is in the image of a whale named Bluebell, caught by whalers a hundred years ago.
5

Jason deCaires Taylor, 2015
In 2015, British artist Jason deCaires Taylor made waves with his bold installation on the bank of London's Thames. Aptly named The Rising Tide, the sculptures were exposed each time the waters receded, evoking the Four Horsemen of the Apocalypse and hopefully sparking discussion of the powers that be failing to act in the interest of conservation efforts.
It's no accident that the sculptures were located less than a mile from the Houses of Parliament, as the artist specifically designed this project to draw attention to the damaging decisions made by its members.
6

Mojoko/Foenander, 2012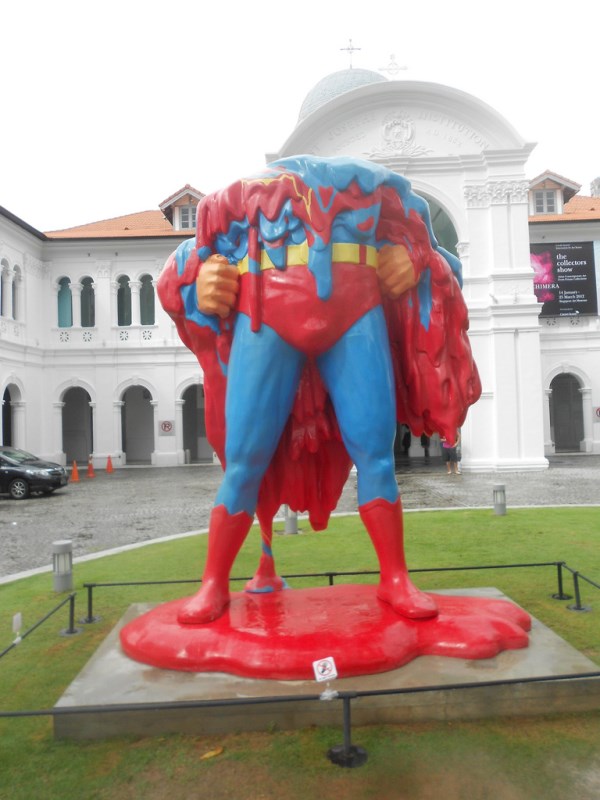 Mojoko and Eric Foenander created this melted sculpture of Superman in 2012 and installed it on the lawn of the Singapore Art Museum. The larger than life sculpture, aptly titled No One Can Save Us Now, was created to reminds us that a superhero is not immortal after all, nor is it as "super" as it is thought to be. According to Mojoko, "It's a comment on global warming. The fact that the superhero is melting gives us little hope for the future."
7

Isaac Cordal, 2014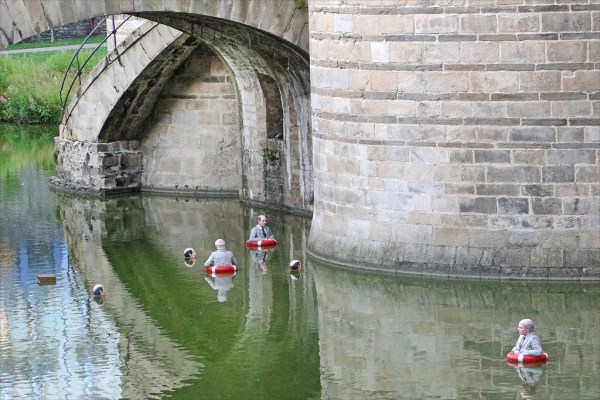 In 2014, artist Isaac Cordal offered a new perspective on global warming through his provocative series of tiny cement sculptures that challenge our views of society.
Cordal is famous for tackling big political issues through a small medium. In his series Waiting for Climate Change, he created a set of partially submerged installations to draw attention to rising sea levels. These grim, apocalyptic scenes, laced with black humor, show the consequences of inaction and apathy to environmental issues. The theme of rising floodwaters and drowning are repeated throughout his work and reference both climate change and the state of our sinking society.
8

Eden TV, 2009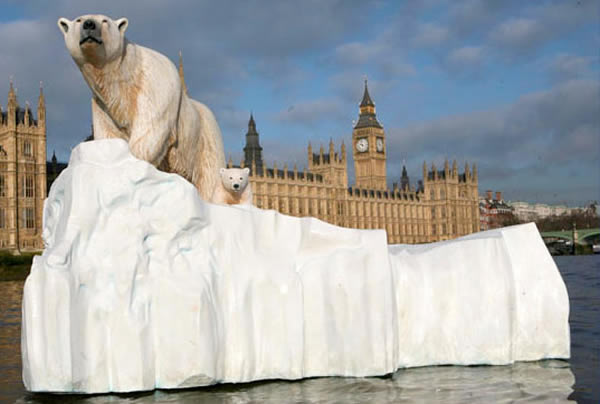 In 2009, this giant sculpture of a polar bear stranded on a block of ice floated 7.5 miles from Greenwich towards London to highlight the melting ice caps. The bear was promoting the launch of a new television channel dedicated to natural history.
The 1.5-ton sculpture was created by a team of 15 artists, who worked for two months to create the 20-feet by 20-feet sculpture. The mamma bear and her cub started their journey at 6:30 am and traveled for 7.5 miles to reach their destination, where they had their photos taken by the press.
9

Rio de Janeiro Federal University students, 2015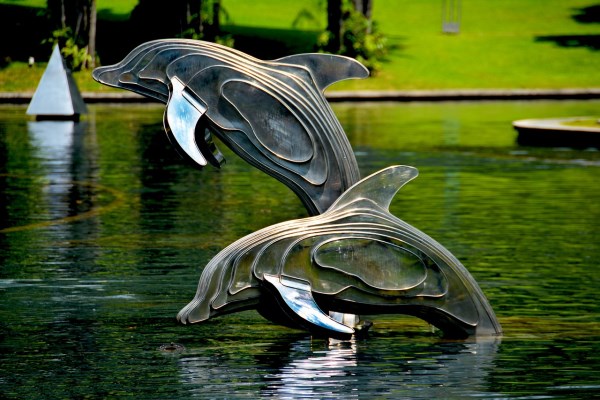 This sculpture of a dolphin with a tire around its neck was exhibited at Rio de Janeiro Federal University as part of an exhibition entitled The Sea Isn't Made for Fish, in Rio de Janeiro in 2015. Art students took advantage of materials they have in endless supply—trash—to draw attention to the fetid state of the city's Guanabara Bay.
10

Spencer Tunick, 2007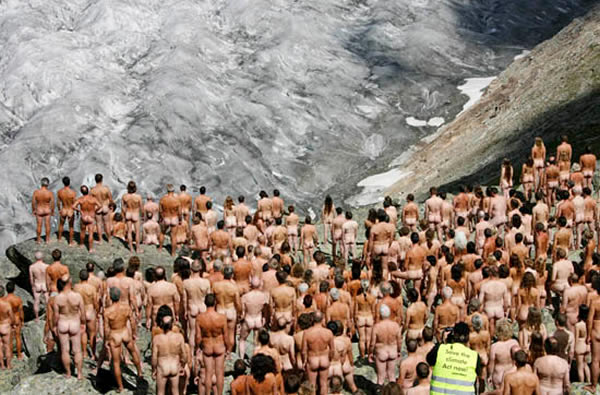 In 2007, approximately 600 naked people braved the cold to promote Greenpeace's message about the impact of climate change on the Aletsch Glacier in the Swiss Alps. The nude volunteers posed for renowned naked installation artist Spencer Tunick, who is collaborating with the environmental organization.