You can't move the bear out of the town, but you can't take the town out of the bear.
Roccaraso is a small town of about 1,500 in central Italy, best known for its ski resort. But lately, the community has received a new claim to fame — they have a bear problem.
It's not that Roccaraso is completely run over with bears, though. It's just one bear and the town just doesn't seem to be able to get rid of him.
The two-year-old Marsican brown bear, whom the locals have dubbed Juan Carrito, coexisted more or less harmoniously with the townsfolk for a long time. But after he broke into a bakery to devour a batch of biscuits, the Roccarasians decided it was time for Juan to leave.
However, Marsican bears are critically endangered, so Juan got to keep his life. Instead, he got relocated to a remote wilderness area — twice.
It seems that no matter Juan goes, his heart will always be in Roccaraso. He has now returned to the town for the third time.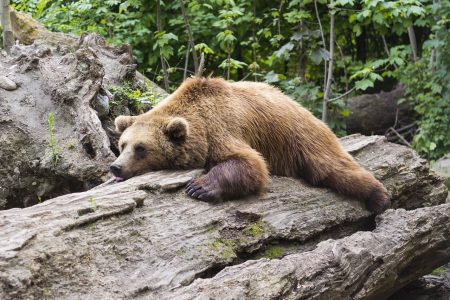 A Bear-able Guest
As we mentioned, Juan had been living in Roccaraso for quite some time. And the residents didn't mind him, since the young bear seemed perfectly acclimatized to urban living.
Juan often made journeys into the town in search of food. He'd browse through trash cans, feasting on slices of leftover pizza and thrown-away sandwiches, according to The Guardian.
When he needed to wet his whistle, Juan would go get a drink at the town's fountain. If Juan stayed overnight, he politely slept among the pines near the town's entrance.
When ski tourists arrived in late 2021, Juan turned into a local attraction. According to reports, he would stand up on his hind legs to pose for the tourists.
All in all, things were good between the bear and the local residents. But then Juan turned to a life of crime.
The First Capture
Marina Valentini and her husband run the Dolci Momenti (Sweet Moments) bakery in Roccaraso. One night in late November 2021, Valentini had just baked a fresh batch of goodies.
Around 9 p.m., her husband decided to go check on their store for some reason. He was in for a surprise.
"My husband had popped to the bakery. I was at home, expecting him for dinner when he called and said, 'Marina, there's a bear in the bakery.'"
"My first response was, 'Have you been drinking?'" Valentini recalled.
But Valentini's husband hadn't hit the bottle. Instead, Juan had smashed a window, climbed into the bakery, and eaten the freshly baked confectionary.
"He must have smelled them wafting down the street. I had baked so many, some were on the table, the rest were in the oven. … The doors were slightly open and he managed to pull out all the trays and eat the biscuits," said Valentini.
After the break-in, the town decided Juan had gotten too comfortable around people. In December, forest rangers tranquilized Juan, loaded him onto a helicopter, and took him to the Majella National Park, some 15 miles from Roccaraso.
The Second Capture
However, the rangers clearly should've taken Juan much farther away. No more than a week late after his first banishment, the bear was back.
In early January, locals spotted Juan in Roccaraso, being tailed by a barking and biting dog. The bear apparently took the harassment in stride, not seeming to care about the dog at all.
Although the bear had never harmed another living being, the locals didn't want him around again. More than 600 people signed a petition to kick Juan out again, reported The Guardian.
This time, the rangers used bait to lure Juan into a tube trap — essentially a short portion of metal pipe with locked gates. Once inside, they gave him a dose of anesthetic.
Instead of being taken away, Juan spent a while in an enclosure so he could learn to eat other things than just garbage. He did well in captivity and was soon taken to his new home, another wilderness area around 100 miles away.
The Bear is Back
Juan's latest relocation took place in March. It seemed that this time the trick had worked — authorities said that for weeks he lived like a bear, eating and sleeping in his natural environment.
But it turns out that wherever you take him, Juan yearns for the mountains of Roccaraso. Over the weeks, he began to trek across the Italian heartland.
By mid-April, he had made it back to Roccaraso. The locals spotted Juan outside the town's train station.
"It's a bad thing to say from a nature point of view, but for him, it seems natural to be in Roccaraso, where there is activity, people, and other animals," Lucio Zazzara, president of the Majella National Park told The Guardian.
Juan probably won't get to enjoy being home for too long, though. The local authorities are monitoring his every move and preparing to capture him — once again.
We'll have to see how long he'll stay away this time.