And the hot weather is the reason why.
Alligators live in abundance in Florida, so spotting them is nothing new. But the number of close encounters has risen in recent days, and apparently, it's the heat making this happen.
The rising temperatures are causing the alligators to feel extra hungry, and horny.
A family in Fort Myers woke up to an eight-foot alligator in their lanai in the middle of the night. On another side of town, a motorist pictured a huge alligator taking a stroll along a busy road.
The mating season is underway and it's making the reptiles more randy. But one expert has said it is more than that.
Since the weather is getting warmer and the temperatures are rising, the alligators are experiencing a higher metabolism and thus, they are more hungry.
"They have to find some food so that's when we'll find them on sidewalks and people's pools," Brian Norris of Florida Fish and Wildlife said. "They're really just out there browsing around."
The alligators might even be looking for chickens. A motorist in North Port called the cops after leaving a chicken wing restaurant and finding an alligator under his car.
Then, over in Polk County, an alligator was found outside a local jail. In Palm Beach Gardens, a 300-pound gator went for a swim in a families swimming pool. And side note, their yard was completely fenced in.
In Panama City at St. Andrews State Park, a woman was fishing for mackerel. What she caught was an alligator, on camera, coming out of the water for a little sunbathing on the beach.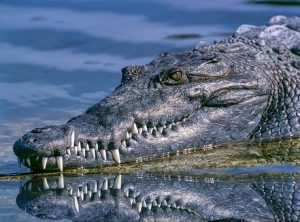 Last month authorities got a three-legged, 12 foot, 650 pound alligator. This gator was estimated to be between 60 and 70 years old.
Florida Fish and Wildlife says to expect more sightings of gators out in the open and on the move. The courting period begins in April and they are busy mating into May and June.