He might wrap it in rubber, but his heart is solid gold.
Let's take a trip to Colchester, England. Picture yourself arriving at this town, sitting near the southeastern coast of Essex, on a bright summer's day.
You can see all the famous local sights at their finest. You can marvel at ancient Roman fortifications, the stunning Balkerne Water Tower, the ruins of Saint Botolph's Priory, and a man in a skintight latex bondage outfit.
Wait, what?
Yes, that's right. You've come across the Gimp Man of Essex, a bizarre local celebrity.
The Gimp Man dons his finest rubber every week or two and ventures forth into the world. Sometimes he does his shopping at a local supermarket, but most of the time he just goes around town on a leisurely walk.
But you won't have to fear any kind of impropriety from this fetish gear enthusiast. He's not doing what he does for pleasure (at least not entirely) but for awareness.
In fact, in an ideal situation, nobody would even notice the Gimp Man. All he wants is to make people realize that gimpy guys and gals like him are just like anybody else — they just like to dress in rubber.
Well, he does also raise money for mental health services. What an outstanding latex man.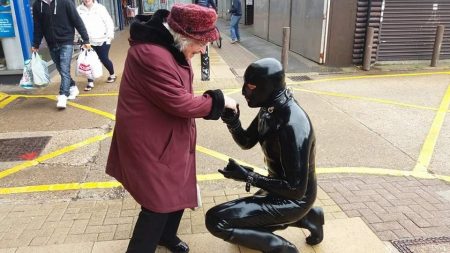 'I Heard It Was Going to Rain'
The Gimp Man — also known by the pseudonym Robert Jubbly — first revealed himself in his latex-y glory to the world in 2013. He wanted to raise awareness of the gimp community and show they're just regular people like everybody else.
That didn't prevent him from being nervous, though. He was worried about what kind of reaction he was going to get from the general public.
But when he finally bit the bullet and stepped outside, he was flabbergasted.
"There was just complete silence. People didn't even notice me. If they did, they'd just glance over but not much else," the Gimp Man told iNews.
"By the end of the trip, I had gone from being so nervous to being so confident. A woman asked me why I was dressed in my gimp suit, and I just said, 'I heard it was going to rain.' We both started laughing."
The Gimp Man has kept his stunt going ever since. In that time, he's transformed into a small celebrity in Colchester.
His outlandish service to his community proved particularly valuable during the pandemic lockdowns. Even then, he continued to walk outside, appropriately masked — which may have been only a bonus to him.
"During lockdown, people were very low and told me that I had brightened up their day. Now sometimes people point and say, 'That's the Essex Gimp!'" the Gimp Man said.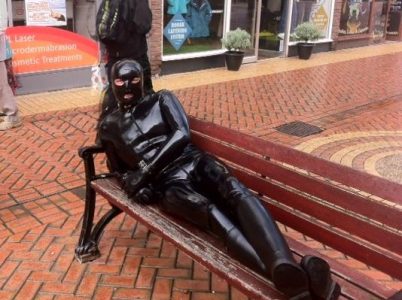 'They See the Fun Element'
During his walks, the Gimp Man makes an effort to behave as normally as possible. Sometimes he gets some negative comments, but he says the harasser's friends usually tell them to knock it off.
"To be honest … 99% of people react positively. Obviously, you are walking around in a mask, but if you actually talk to people, they usually react really well. They see the fun element," said the Gimp.
He says that he understands that some people will inevitably think of him as a weirdo. But he compares his lifestyle to cosplayers attending comic or video game conventions — only, instead of dressing up as an anime character, he puts on some tight latex.
"The Essex Gimp is my alter ego, my downtime, my chance to be someone else for a short bit of time," he muses.
He also wants to highlight the fact that he doesn't do anything obscene. He's fully clothed — even if he's wearing latex — and he makes sure to do his walks at hours when there are as few children out as possible.
"One woman tried to get a photo with me and her child. I just laughed and said, 'I don't think the kid should be in the photo,'" the Gimp said.
"Just because someone's wearing latex clothing doesn't mean they're a monster. But then we have the Somerset Gimp."
You Give Gimps a Bad Name
Indeed, the Somerset Gimp might as well be the Essex Gimp Man's archnemesis. The Somerset Gump was a notorious man in the villages of Yatton and Claverham who went around in the dark, scaring and harassing people in his gimp gear since 2016
On October 22 this year, the police finally arrested a man suspected of being the notorious Somerset Gimp. The Essex Gimp Man couldn't be happier about it.
"When I first saw the Somerset Gimp, I thought, 'This is 100% wrong.' This guy has undone everything the gimp community is trying to do. It gives us all a bad rep," he said.
"Jumping out on women, however you're dressed, isn't right. There are innocent guys like me who go out on walks in their gimp suits. This guy is hiding around in the dark at night and scaring people lifeless — that's different."
Fortunately, the Somerset pest's antics don't seem to have soured the Colchester public to their local gimp. Perhaps his efforts have borne fruit and the people have understood that just because he's covered head to toe in rubber, he's just your average Joe.
Rubbered Up for the Greater Good
But the Gimp Man isn't just about improving the image of the gimp community. Within his -wrapped chest beats a heart of gold, and he's raised a lot of money for Mind, a UK mental health charity organization.
"A lot of people ask me for a photo when I'm in my suit. So now, for every photo people take with me, I donate a pound to the charity. That way, everyone's a winner," the Gimp Man said.
In total, he's managed to raise more than $4,000 to help people struggling with their own minds. But despite all the good he's done, the Gimp prefers to remain anonymous.
"I don't think my family would particularly understand," he admits.
The public can get a glimpse at the man behind the mask only through the eye and mouth slits of his rubber hood. But then again, that's just the way he likes it.