The wild pig first ate the man's pizza while he swam in a nearby lake.
The sow had two piglets with her when she grabbed the bag containing the laptop and ran off.
Amidst the cheers of fellow park goers, the man chased down the boar and got back his computer.
Animals in Germany have decided they want a piece of human consumerism. Did you read our story about the fox who stole over 100 shoes from Berliner's front yards? It gnawed on some, but investigators found most in good conditions and returned them to their rightful owners. The culprit was likely a vixen wanting to provide an array of toys for her playful kits. For the wild board in this story, her piglets must have wanted more high-tech games. The boar, with two piglets, ate a man's pizza before making off with a bag containing his laptop. 
Pictures Worth A Thousand Words
You can head to the Instagram page of Adele Landauer for the originals photos of the incident, and her first-hand account. The theft took place in one of Berlin's public parks, which allows nudity. Plenty of Germans practice nudism while sunbathing as part of the Freikörperkultur movement. It embraces a naturalist attitude towards community and nature. Nude sunbathing is nothing to gawk at in Berlin.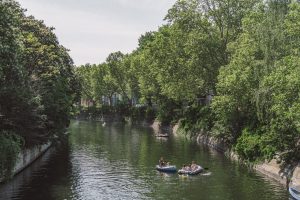 Last week, Landauer watched as a wild sow and her two piglets rifled through a fellow sun bather's belongings. She and other park visitors feared the pigs, but she wrote that "they seemed to be peaceful."
"After they ate a pizza from a backpack of a man who was taking a swim in the lake, they were looking for dessert." 
That's when they grabbed a plastic bag, carrying it and its contents away with them. It was that the man, who'd been swimming until that point, realized that they had his laptop. The man gave chase, hollering, and clapping to persuade the wild pigs to put down his belongings. 
Nature's Now More Comfortable In Cities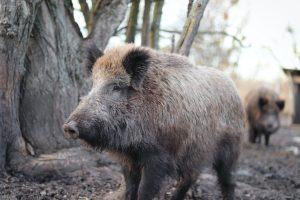 Since the coronavirus lockdown in Europe, wild animals feel more comfortable exploring cities. They are also bolder in parks and open spaces. Close encounters with boars are nothing new in Germany, especially in parks and suburban areas. Both wild and feral pigs are problems across Europe and the United States. In the US, most people regard feral pigs as vermin. The US is home to over six million aggressive feral hogs, who ruin crops and destroy property in the 36 states they roam. However, (some of) the boars in Germany are radioactive, representing a very different risk. 
Eventually, the sow dropped the bag, and the man returned to the field of sunbathers with his belongings. 
"Everyone of us adored him for his focus," said Landauer, "we all clapped and congratulated him for his success."