If you didn't already read Frontier Airlines Attendant Made a Bad Baby Joke:  Part One, use the link to check it out. Because this is part two.
And allegedly this was all before the attendant demanded the mother take the baby into the bathroom until he stopped crying.
"She was guilting this mom over her crying baby," Nicole states, "apparently with @Frontier Airlines you need to pay an extra fee for respect," she added in the caption. "DO BETTER."
Others shared their terrible tales from Frontier airlines as well saying:
"They changed my flight from a direct flight to one with a 16 hour layover," wrote a user. "I had a newborn with me … never again."
"They tried to charge my wife and I for our carry on that fit under the seat. Never again," echoed another.
"Frontier canceled my flight while the whole plane was on board already and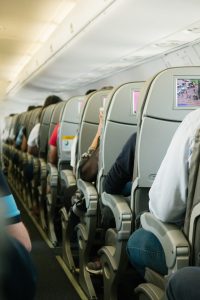 delayed for 3 hours," alleged a third.
"On Instagram, I tagged Frontier airlines on my story with the TikTok link.  A bot responded to my DM's, but stopped answering after I gave my flight information and the passengers on my reservation. I have also filed a complaint with Frontier by emailing them, but it said that there is high demand and it might take up to 7 days for them to respond," she explained. "I haven't heard anything yet. I wanted to say something on the flight when I got off the plane, but the flight attendant was hiding in the back and had her ID tucked in the entire time with her name, so it wasn't visible on her uniform."
"Personally, I wish the flight attendant that said the inappropriate things to the mother with the crying baby should lose her job. It was completely unacceptable and no one should be treated that way. The mom was left in tears," she continued. "I apologized to the mom multiple times telling her that was completely not okay for the flight attendant to say that to her and I'm so sorry she had to experience that. The mom was wiping her tears saying 'thank you' to me and appreciated the support."
Wow, what a mess on the plane, especially for the people but for the airlines, too.
"Long term, I hope Frontier has stricter training with diversity and inclusion along with customer service," she stated. "The people she was picking on were minorities, and the people she gave free shots to were white. It was honestly sickening to see the difference of the way she treated the passengers. At this point, I wish I only had to deal with the delayed flight, not with what I witnessed on the flight!"
Wow, as a former flight attendant myself, this is disgusting. As people, we need to give others grace and kindness and this is not it.