And by bad baby joke, I mean she joked about throwing a crying baby off the plane. 
Along with the bad baby joke, a TikTok user called out Frontier Airlines after several negative experiences on a recent flight. This is not the first time that people have called out the airlines.
The airline has been looked down on for how it handles its passengers, unclear policies and for incentivizing employees for each carry-on they make flyers purchase just outside of the gate. 
Now, TikTok user Nicole (@nicskelly) says that her recent experience on the airline will stop her from flying with the airline "ever again." 
In a video with over 26,000 views, Nicole discusses several issues including changing the flight to day after without letting her know. She only knew of the flight change after looking on her app and seeing her old flight had been canceled. (And this was way before the bad baby joke.)
After boarding her new flight, she noted that the flight attendants were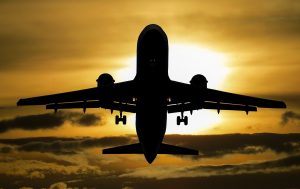 aggressive, with non-whites, especially so. "I have never, ever, ever seen a flight attendant treat people like this in my life," Nicole stated.
There was a situation where two flight attendants approached a man on his phone with the sound on, something Nicole said was coming from all around her as they boarded the plane. 
"I didn't even hear it, so it couldn't have been that loud," says Nicole, who was sitting close to the person who was confronted. 
The man said that he would stop watching the videos aloud but asked that he be approached with more respect. The flight attendant responded by threatening to kick him off the plane. 
Later a baby began to cry on the plane. Not only did the flight attendant make a bad baby joke about throwing the baby off the plane, they even offered people seated in front of the baby shots of alcohol. 
For the rest of this story, read Frontier Airlines Attendant Made a Bad Baby Joke: Part Two.