These media challenges really need to stop.
Maybe cancel culture can help cancel these challenges, sesh.
A legal resource for the relatives of children harmed by social media, the Social Victims Law Center, announced it had filed two wrongful death lawsuits on behalf of the parents. Lalani Erika, 8, and Arriana Jaileen Arroyo, 9, both from Wisconsin, took part in the deadly 'Blackout Challenge." It lead to them both to their tragic deaths.
The suits filed in the Superior Court of California, allege that TikTok's algorithm 'intentionally and repeatedly' pushed the 'Blackout Challenge' onto the victims' For You pages, motivating them to participate.
The suit also argues that 'the design of the app results in an 'addictive product' that isn't safe for users, failing to alert minors and their parents that it is 'addictive and pushes harmful content' into their recommended feeds.'
Matthew P Bergman, founding attorney of SMVLC said: "TikTok needs to be held accountable for pushing deadly content to these two young girls. TikTok has invested billions of dollars to intentionally design products that push dangerous content that it knows are dangerous and can result in the deaths of its users."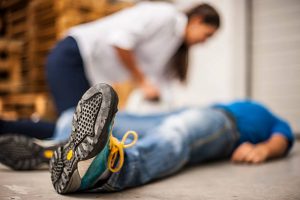 The SMVLC said that Erika was gifted her first cellphone on her eighth birthday party, soon downloaded TikTok and quickly began using it to share videos of herself singing and dancing. Arroyo had her phone since she was seven and also downloaded the app for the same purposes.
Erika passed away July 15th, 2021, and Arroyo, from the same causes, on February 26th, 2021. As sad as it is, this isn't the only case of its kind. Numerous children have died in recent years after participating in dangerous social media trends and stunts.
Two 12-year-old boys died last year after trying the Blackout Challenge, in separate incidents.
Medical professionals continue to warn families to educate their children on these issues and warm them of the dangers of these social media challenges.
When the trend began circulating on Snapchat, Dr. Nick Flynn said, "What is actually going on in the brain is a lack of oxygen similar to when someone is drowning, choking, or having a cardiac arrest. If you have low oxygen to the brain for over three minutes you can get brain damage and if you have low oxygen to the brain for over five minutes it can result in death."
RIP kiddos.