A Russian tourist identified only as Yuri is to be deported after taking nude photos in Bali. He posed completely naked from the waist down on the highest point on Mount Agung, widely believed by Hindus to be the home of the gods.
Indonesian authorities stated that Yuri's behavior showed 'no respect' for Balinese culture or customs.
The peak is known as home to Mahadewa according to the Hindu Balinese. Mahadewa is the supreme manifestation of Lord Shiva, considered the most superior of all gods.
You need to obtain a permit just to climb the culturally-significant mountain. The Russian tourist took the photo standing on top of the mountain, arms spread wide, wearing a black hoodie and basically nothing else.
Yuri's pants hung down by his ankles and he was angled facing the mountain range with his back (and butt) facing the camera. His Instagram post has since been deleted, but not before going viral over the weekend for all the wrong reasons.
The picture isn't the only issue here either, as Yuri and six of his friends reportedly climbed Mount Agung without any permission. The photo caused issues everywhere, from the perception of the island itself to social media commenters who flooded the post.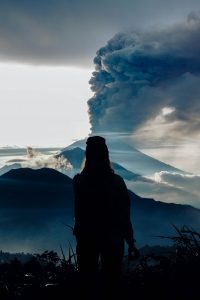 "He violated norms and showed no respect for our culture," Bali Law and Human Rights Office head Anggiat Napitupulu said. Russian Yuri has pinned an apology to his page in place of the offensive photo post.
He captioned the video: "I want to apologize for my actions that desecrated the sacred volcano for the local population.
"There is no excuse for my actions," the Russian tourist continued, "the only thing that led to what happened was my personal ignorance. Ignorance of the peculiarities of the local religion." Yuri ended the post claiming: "I am ready to take part and financially support the ceremony of offerings to the gods."
Yuri is banned from re-entering Indonesia for at least the next six months and has been permitted to star for a short time while he promotes 'good behavior,' all thanks to his apology.
The Bali Sun reported: "Although Yuri said that he was prepared to be deported should that be a suitable punishment for his actions, it appears at this stage that he will be permitted to remain in Indonesia and play an active role in promoting good behavior by becoming a model tourist."
No final decisions have been made yet on whether the Russian will be deported from the island.