That's a lot of days of detective work...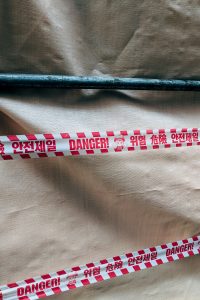 Only the most hardcore true crime fans know about the Hwaseong serial killings. The killing spree from 1986 to 1991 took the lives of 9 women, with details gruesome enough to capture international attention. The case eventually went cold in the 90s, but police never stopped investigating the deaths of the women, who ranged in age from early teens to their 70's. Victims were strangled with their own stockings after being bound and gagged. Their mutilated bodies were dumped in dimly lit alleys and paddy fields after being abducted during the early morning hours or late at night.
Only two witnesses were able to provide police details to create the original sketch depicting the suspect. One was a lone survivor of an attack, the other a bus driver who happened to glimpse the killer.
DNA evidence linked Lee Chun-jae to three of the victims in mid-September, but at that time he denied the allegations. Inspectors built rapport with Lee through a series of interviews and he eventually admitted not only to the 9 known murders but to 5 additional victims during the same timespan.
Lee was already imprisoned in Busan serving a sentence for the 1994 rape and murder of his sister-in-law. A veteran team of profilers continues to meet with the 56 year old man, as there've been inconsistencies in his admission. Due to the DNA evidence and the hand drawn maps of the crime scenes Lee provided, police remain confident they've found the right man. Lee volunteered information about an additional 30 rapes and attempted rapes he committed while working for a construction company after completing his mandatory military service.
Unbelievably enough, South Korea had a statute of limitations for murder before 2015. Crimes committed before 2015 are protected by the statute, leaving Lee safe from indictment for the serial killings. Police officer Ban Gi-soo spoke in September about the Police Agency's dedication to the truth for the sake of the victim's families as well as for historical truth. Regardless of authorities ability to press charges for the murders, the confession isn't without consequences. Prior to the discovery of the new DNA evidence and subsequent confession, he was a model prisoner and soon to be eligible for parole. Now his parole eligibility is revoked and he will remain in prison, for the 1994 murder for which he's already been convicted.
During 1.8 million days of police work, investigators interviewed over 21,000 men in their efforts to find a suspect, including Lee Chun-jae, but there wasn't evidence to connect him to the rapes and murders at that time. A 2003 movie, Memories of Murder, dramatized the terror felt across the country as young women were abducted, raped and murdered.
The Hwaseong killer is not South Korea's most prolific serial killer. That distinction goes to Yoo Yung-Chul, a murderer and cannibal who confessed to killing 21 people, most of whom were sex workers or wealthy older individuals. In 2006, Yoo predicted that the Hwaseong killer must be in prison for an unrelated crime, or dead, because of the abrupt end to the killings.
Want to tell your strange story?
Tell us about it
and it could be featured on Oddee. You can remain fully anonymous.