Coffee, cupcakes, and steak? For us, it doesn't get much better than that...
If you love coffee as much as we do, you've thought about cooking with it at least once or twice. While some people might think that beans from a coffee roastery are only good for drinking, many different recipes out there call for coffee as an ingredient.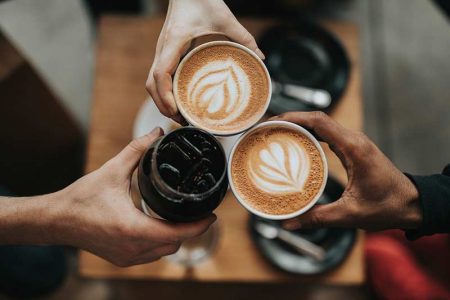 From savory to sweet, there's something for everyone. And what's even better is that these recipes are actually pretty easy to make. So, if you're looking for a way to impress your coworkers (or just yourself), read on for some delicious coffee-infused dishes you can bring to the office.
Chocolate Comfort Cake
1 cup (2 sticks) unsalted butter, at room temperature, plus more for the pan

2 cups sugar

3 large eggs, at room temperature

1 teaspoon pure vanilla extract

2 cups all-purpose flour, plus more for the pan

3/4 cup unsweetened cocoa powder

1 teaspoon baking soda

1/2 teaspoon baking powder

1/2 teaspoon salt

1 cup well-shaken buttermilk

1 cup strong hot coffee
Comforting and perfectly moist, this is not your typical chocolate cake. Adding coffee enhances the chocolate flavor and keeps the cake nice and moist. 
Be sure to use good quality cocoa powder in this recipe. This cake is best served with a dollop of whipped cream or a scoop of ice cream. Comforting and perfectly moist, this is not your typical chocolate cake. 
Be sure to use good quality cocoa powder in this recipe. This cake is best served with a dollop of whipped cream or a scoop of ice cream. 
Preheat the oven to 180°C. Butter the sides of three 25cm round cake pans and line the bottoms with parchment paper. Butter the paper and dust the pans with flour, tapping out the excess; set aside. 
Whisk together flour, cocoa, baking soda, baking powder, and salt in a bowl.  In another bowl, whisk together buttermilk and coffee. With an electric mixer on medium speed, beat butter and sugar in a large bowl until pale and fluffy. Beat in eggs one at a time, then add vanilla extract.
Add the dry ingredients to the batter in three additions alternately with the wet ingredients, beginning and ending with dry ingredients; mix each addition just until incorporated before adding the next one.
Use a rubber spatula to divide the batter evenly among pans; smooth tops.  Bake cakes until a toothpick inserted into the centers come out clean, about 30 minutes.
Let cool in pans on wire racks for 10 minutes; remove cakes from pans and let cool completely on racks, about 1 hour. Serve immediately or store airtight at room temperature overnight.
Special Mocha Cupcakes
1 cup of strong coffee

1/2 cup of unsweetened cocoa powder

1/2 teaspoon of baking soda

1 teaspoon of baking powder

1/4 teaspoon of salt

1/2 cup of butter

2 eggs

1 cup of sugar

1/2 teaspoon of vanilla extract

1 1/2 cups of all-purpose flour

Heavy cream and chocolate for the frosting
Can't get enough mocha in your life? Then you will love these special mocha cupcakes. These cupcakes are made with real coffee, and the frosting is a rich chocolate ganache. 
To make the cupcakes, mix the dry ingredients: flour, sugar, baking powder, and salt. Whisk together the wet ingredients in a separate bowl: eggs, oil, and vanilla extract. Add the wet ingredients to the dry ingredients, and mix until well combined.
Finally, stir in a cup of strong coffee. The batter will be very thin, but that is normal. Pour it into a muffin tin lined with paper cups and bake at 180°C for 18-20 minutes. While the cupcakes are baking, make the frosting. 
Start by heating heavy cream in a saucepan over low heat. Once it is hot, pour it over chopped chocolate in a bowl. Stir until the chocolate is melted and the mixture is smooth. Allow it to cool slightly, then spread it over the cupcakes.
Coffee Butter
Making coffee butter is a simple process that yields a delicious and versatile product. The first step is to brew a pot of strong coffee. Once the coffee is brewed, add one cup of butter for every two cups.
Let the mixture simmer until the butter is melted, then remove it from the heat and set it aside to cool. Once the mixture has cooled, blend it in a food processor or blender until it reaches the desired consistency. 
Coffee butter can be used in various ways, from spreading on toast to baking cakes and cookies. It can also be added to savory dishes to add a touch of flavor.
Coffee-Rubbed Steak
To make coffee-rubbed steak, you will need:
400 grams steak ( flank, skirt, or ribeye)

1 tablespoon coffee grounds

1 tablespoon olive oil

1 teaspoon chili powder

1/2 teaspoon smoked paprika

1/4 teaspoon salt
First, combine the coffee grounds, olive oil, chili powder, smoked paprika, and salt in a small bowl. Rub the steak with the mixture, then wrap it in plastic wrap and refrigerate for at least 1 hour, or up to 12 hours.
Heat a grill or grill pan over medium-high heat when ready to cook the steak. Grill the steak for five to seven minutes per side, or until it reaches the desired level of doneness. Let the steak rest for five minutes before slicing and serving.
Cooking with coffee may seem strange, but it can add a lot of flavor to your food. Coffee has a rich, complex flavor that can enhance the taste of both sweet and savory dishes. Plus, coffee is highly versatile and can be used in a variety of ways. 
For example, you can use it to make a flavorful steak or chicken marinade or add it to desserts like chocolate cake or tiramisu. 
If you're feeling adventurous, you can try making coffee-flavored ice cream. So don't be afraid to experiment with cooking with coffee – you might just be surprised at how delicious it can be.