It's said that art imitates reality, but in this case it's the other way around
Have you ever seen The NeverEnding Story? If you have, then you will remember the horse in the swamp scene. It's one of the most heartbreaking moments in film history and seeing it as a child scarred many of us for life.
An incident very reminiscent of the infamous clip played out near Bognor Regis on the southern coast of the UK. Only this time, the horse had a happy ending.
On the evening of July 29 a white horse named Millie got herself stuck in deep mud. She's even the same color as Artax, the horse from the movie. It's just too uncanny.
Around 6 p.m. that night, the West Sussex Fire & Rescue Service got a call for help from Millie's owner. According to the owner, Millie was stuck shoulder deep in a muddy pond.
Firefighters from the Bognor Regis Fire Station and officers from the service's Technical Rescue Unit rushed to Millie's aid.
The TRU Crew Manager Adrian Kirkpatrick said they arrived to a scene that wasn't quite as dramatic as the one in the movie. Sure, Millie was stuck but she seemed calm and the owner wasn't wailing.
"We found Millie standing quite calmly in the water, but she was unable to climb back out again as the bank was so muddy, and quite steep," Kirkpatrick recounted.
The rescuers began the operation by doing the same thing they do whether dealing with people or animals – talking.
"The first and most important action you can take is to try and talk them in to the side without having to go into the water yourself," said Kirkpatrick.
"But despite all our reassurances, and those from the owner as well, Millie was having none of it and was unable to climb out on her own."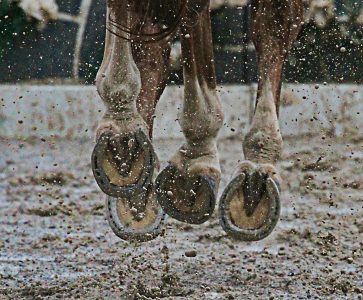 Time for Action
And so, the rescuers decided it was time to get down and dirty. Two officers from the team, trained in swift water rescue, geared up and got into the water.
Carefully wading waist-deep through the mud, they reached Milly and fitted her with a harness. But even though they tried several tricks to get her moving, the horse wouldn't budge.
"It became clear quite quickly that she would need to be lifted out as she wasn't going anywhere under her own steam," Kirkpatrick said.
He complimented Millie's owner for deciding for calling the rescue service.
"The owner was right to give us a call to get Millie out of the water, as we would never advise members of the public to attempt a rescue from water – especially when there is a large animal involved."
With horse- and manpower having failed, the rescuers decided to rely on machinery. They connected the harness wrapped around Millie to a winch attached to one of the rescue service's off-road vehicles.
"After lining the bank with some thick plastic sheeting so she wasn't injured as we hauled her out, we pulled her slowly back up onto dry land," said Kirkpatrick.
Unlike Atrax in the movie, Millie rose from the mud and laid down on the ground beside the pond. But all was not yet well.
Further Complications
Despite her having gotten out of the water, Millie made no effort to get back on her feet. Could it be that she had been injured by the operation?
Luckily, that was not the case. Kirkpatrick explained that not all horses will happily bounce back onto their feet after such an ordeal.
"Their legs can go to sleep if they've been in the water for a prolonged period of time, and sometimes the shock of the situation they find themselves in can all just be too much," he said.
It wasn't the rescue service's first time helping out a horse and they knew just what to do. With great care, they rolled Millie over from laying on one side to the other.
"This did the trick," Kirkpatrick said. "This was the adrenaline rush she needed to get back up again."
For all their strength, horses can be surprisingly delicate creatures. Especially their legs are prone to various injuries and ailments. So, a lot could have gone wrong during the operation.
"Horse rescues can be incredibly complex, and this one was no exception," said Kirkpatrick.
"Thankfully, Millie was none the worse for wear for her ordeal, just a little damp and wet from being in the water."
Cause for Concern
This particular horse rescue ended well, but it's one more number in a concerning statistic. Incidents with sick or injured horses in West Sussex – and all of the UK – have gone up during the coronavirus pandemic.
Between March and May 2020, West Sussex alone had 32 such cases, reported Spirit FM. While Millie ended up stuck by accident, a lot of the other cases have sadly involved intentionally abandoned horses.
The Royal Society for the Prevention of Cruelty to Animals (RSPCA) said that equine welfare charities were already under immense strain. A lot of horses were taken in to different charities some ten years ago due to the 2008 market crash.
Now, with the coronavirus cutting into horse owners profits, cases have increased again. Charities are buckling under the increased number of cases and the financial strain they cause.
Those of our readers wanting to help save UK horses from the impacts of coronavirus can make a donation to the RSPCA.
Want to tell your strange story?
Tell us about it
and it could be featured on Oddee. You can remain fully anonymous.