Well a couple things, but still.
People steal things all the time, this is no surprise. But usually, when things are stolen and if they are recovered, they are typically not in better shape than when they were taken.
That is not the case in this in this story. Well, it is and it isn't. Here's what happened.
A Prius was stolen, but then found. It had two upgrades including a full tank of gas and filled tires. But, the Crocs that were in the car had been taken, along with a couple of other things.
After finding out that his Crocs had been stolen, the company delivered four pairs of the shoes to his home, including a new pair of white ones to replace the lost ones, as it were.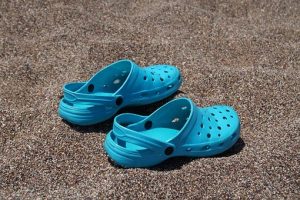 Crocs proclaimed on the new pair, "WE BACK," and had this to say about the incident. "We were all sorry to read about your plight but, to be honest, we are kind of thrilled that people left your car and stole the Crocs. That's how popular we've become."
Glenn Cable, 27, woke up Saturday morning to find that his normal parking space was empty, his car had been taken. His first thought was that the car had been towed, but his apartment complex does not tow cars. 
Cable was not optimistic about finding his car but he did file a police report anyhow. "At that point, I thought it was as good as gone," Cable said. 
But the car was found Tuesday morning by the San Antonio police. It was parked in a neighborhood near Nelson Wolff Stadium and although it had dirt all over it, it was mostly intact. 
According to Cable, "It just looked like they went joy riding in my Prius." But when he turned the car on, he noticed that the gas tank had been filled up and that his tires were also filled as he remembered the light being on before the car was taken.
"My Prius has never drove better," Cable joked. "I was hoping that I'd check my finances and they paid this month's car payment too."
Everything was still in the car with the exception of his  glitter backpack, his bulky Halloween costume, a Freddy Mercury Pop toy and one of his prized possessions. "I am most heartbroken that they stole my white Crocs," Cable said. "I have three pairs of Crocs. They were my favorite pair. If you see anyone with a pair of white Crocs and great fashion sense, let the police know."
Cable does plan to park in his complees garage from now on but says, "It made me really appreciate my car. I always felt a little less masculine because I drive a Prius. I'm not complaining any more."
Want to tell your strange story?
Tell us about it
and it could be featured on Oddee. You can remain fully anonymous.