Travis Gienger of Minnesota grew the prize-winning pumpkin during lockdown.
The pumpkin weighs 2,350 and earned him a $16,450 prize.
I've seen enough B horror movies to be suspicious of giant vegetables. Everyone knows that size is just the first step to sentience. But I'm not going to hate on anyone filling the hours of lockdown this year however they see fit. A horticulture teacher from Minnesota spent his time nursing a pumpkin to a truly gargantuan size until it weighed more than a 1969 Volkswagen. The prize-winning pumpkin tipped the scales at 2,350 pounds.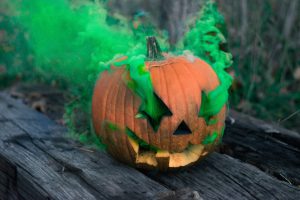 Travis Gienger, the pumpkin-grower, drove the pumpkin 35 hours from Anoka, Minnesota, to a pumpkin contest in Half Moon Bay, California. Why? You're probably asking. There's got to be pumpkin growing contests in the Land of 10,000 Lakes. There are, but the 47th World Champion Pumpkin Weigh-Off in Half Moon Bay pays out $7 per pound for the winning pumpkin. So Gienger walked away with $16,450 from his pumpkin adventure.
Giant pumpkins aren't just a U.S. phenomenon–the 2,600 world record pumpkin hails from Germany. These pumpkins are just massive. But if you're envisioning a pumpkin the actual size of a Volkswagen, you're going to be disappointed. There's a lot of water weight in the squash, so they're usually six to eight feet across. They also grow in blob-shape because of their size. 
It's Just a Matter of Time Until They Come For Us
If you're a Goosebumps fan, you know that it's only a matter of time before pumpkins turn on us for retribution for all the years of pies and carving. And a behemoth like this one will probably become their great leader, alá Mad Max: Fury Road.
For those of you who want to cultivate your own pumpkin overlord for the end of days, it takes some serious time and preparation. There's a reason Gienger credits lockdown for his ability to grow the beast. But, if you're career has suffered because of coronavirus, there's some professional potential in the pursuit. Modern Farmer claims that if you win one of these world championship competitions, you can see the seeds from your prize-winner for up to $1000 each. 
You need to cultivate your seeds in late winter/early spring, so it's the perfect time to shop around for a high-pedigree super seed. You don't need to spend a grand; they're available for anywhere from $10 to $100, but you'll need to buy a few of them to cultivate the most ambitious seed. 
Is it worth it? Devoting almost 300 square feet of your yard to a pumpkin? "Oh my gosh," says Gienger, "It's been incredible."