You might not be crazy – the pigeons cooing in the backyard actually do sound more attractive
The COVID-19 pandemic is still going strong, with rates of new infections indicating that we might be heading towards a new spike. And with very well thought out responses from authorities – such as Florida lifting all coronavirus restrictions – it seems that the virus will not be going anywhere any time soon.
But at least the 'Rona has opened up a treasure trove of scientific opportunities. Some of the discoveries we've previously covered include the psychology of toilet paper hoarding and that refusing to wear a face mask might mean you're a sociopath.
It's not just humans that scientists have turned their curious eye on, though. Just this week we wrote about the Finnish dogs trained to sniff out coronavirus infections.
Speaking of animals, have you noticed that the birds have sounded a lot sexier than usual lately? If you have, then first of all, that's a bit weird. But second, you're actually correct.
A brand-new study published in the journal Science has found out that male birds are singing to a different tune. It's all thanks to lower noise levels as people have been isolating themselves from society.
White-crowned sparrows in the San Francisco Bay area are now able to sing more softly and still be heard, the researchers have found. This has allowed them to expand their vocal range and sing songs that are much more likely to get lady birds (not the bugs) in the mood.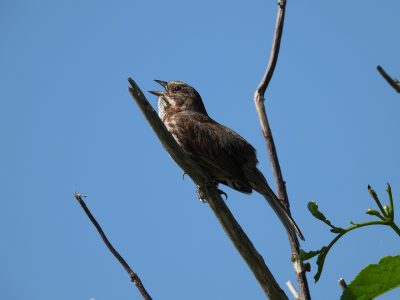 Hey Little Mama, Lemme SCREAM IN YOUR EAR
In case you haven't been to San Francisco, it's usually pretty loud in the city. There's a lot of traffic and yelling and other kinds of sounds that we the people like to emit.
Imagine then being a little birdie boy in the city, trying to find a hot chick to woo. You sing and sing until you're hoarse, but no one listens.
That's because no one can hear you.
"When the city was loud, [the sparrows] were singing really loudly," the new study's lead author Elizabeth Derryberry, a behavioral ecologist from the University of Tennesee, summarized to ScienceAlert.
Surely you've noticed a similar effect yourself when at a particularly loud bar or party. It's hard to whisper sweet nothings into someone's ear when the music's so loud you have to scream bloody murder so they can hear you in the first place.
"Birds holding breeding territories in areas with higher noise levels sing higher amplitude songs, a common response to noise known as the Lombard effect," the researchers state in the study.
"This improves signal efficacy by increasing communication distance, but it can come at a cost. Males that sing at higher minimum frequency often have lower vocal performance, which here is the ability to produce rapid trills at wide frequency bandwidths."
To put that in plain terms, the birds have to sing so loudly that they're unable to perform the voice tricks that get girl birds all hot and bothered. Basically, they're expecting Tom Jones but are getting George Fisher.
Think what you will about their respective styles of music, but it's pretty clear why Tom is a sex symbol and George… Isn't.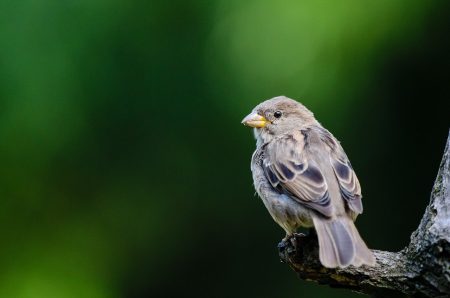 Those Sexy, Sexy Birds
But now, with COVID-19 forcing everybody to stay home, San Fran has quieted down. So much, in fact, that noise levels in the city are lower than what they've been in decades.
Traffic on the Golden Gate Bridge has crashed to something we haven't seen since 1954, the study states. Considering how many more cars there are around now than there were 70 years ago, that's pretty astounding.
Even in the city, the ambient volume has fallen by 50% ever since the stay-at-home orders came into effect. The sparrows noticed that their surroundings had gotten quieter, too, and started singing differently.
Derryberry says that the male birds are now singing much more quietly, and are able to hit much lower notes than before. And what girl bird could resist the deep crooning voice of an avian Barry White?
"Their songs also sounded better. They sounded sexier," says Derryberry. "They were better competitors, and they sounded like better mates to females."
The study notes that the volume of the sparrows' song fell by as much as a third. Despite this, their tweeting carried over twice the distance as before the coronavirus.
According to the researchers, these results are consistent with reports from people saying that birdsong has become more audible over the summer.
"A doubling [in the birds' communication distance] would allow people to hear birds at twice the previous distance, or effectively four times more birds than usual," the study reads.
So what's the takeaway from all this? Derryberry says that the results show just how quickly birds adapt to environmental changes, and that curbing noise pollution could have positive effects on biodiversity.
Maybe we can also infer that ladies prefer a steamy ballad to brutal death metal. But that'd probably depend on the lady in question.