We've heard about "blood lust", but this is ridiculous.
We usually associate animal behavior with cuteness. Whether they're running, jumping, bouncing, nibbling, or anything else, it's usually adorable, right?
But if you're read Oddee at all – or paid any attention to nature for that matter – you'll know that just as often animals aren't quite as innocent as we make them out to be. In fact, they can get downright disturbing.
For an example, you could go read our story about naked mole rats and their infant-enslaving ways. You can then come back here for the latest chapter in our series of wanton animal cruelty.
This time around, we'll be taking a look at the banded mongoose. These animals engage in something that in general is pretty exclusively human behavior – they wage war.
If you were to see a mongoose battlefield, you might think it sort of resembles something out of The Lord of the Rings. The critters will arrange themselves in battle lines and await the command of their leader before charging into the enemy formation.
But there's nothing so noble as defeating a Dark Lord motivating this battle. A recent study has found has found that banded mongooses will march to war for one reason only.
The female leading the army wants to mate.
And you thought human dating got messy.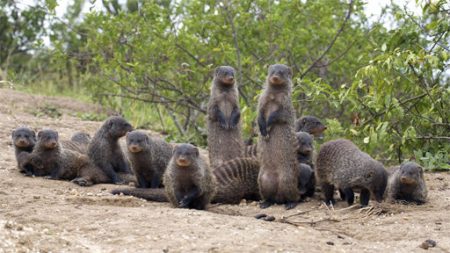 A Mongoose Explained
As we usually do with articles like this, let's first answer question: what the heck is a banded mongoose?
These 1.5-feet-long critters live in the grasslands of sub-Saharan Africa. They get their name from the dark bands that run across their otherwise brownish-gray fur.
The banded mongooses are carnivorous and will eat pretty much anything small enough, such as insects, crabs, birds, eggs, and snakes. Unlike most other mongooses, they live in packs of 10-40 individuals that move between burrows and other hiding places every few days.
At the head of the pack stands one dominant female. However, when a female goes into heat, he may find his position is not quite as all-powerful as he might think.
Unwanted Attention
According to the new study, when a banded mongoose female enters estrus – the fertile period of her reproductive cycle – she will understandably start attracting the attention of the males from her pack. Only, that may not be what she wants.
Michael Cant, a biologist at the University of Exeter and one of the authors of the study, said that nearly all inter-group mongoose battles are initiated by females in estrus.
"We think females play a role in inciting these conflicts to escape the males in their own family groups during the confusion and chaos of battle," Cant told the Associated Press.
Banded mongooses are usually extremely loyal to their birth pack. They live together, they guard their burrows together, and they raise their pups together.
This loyalty, however, seems to fall apart when a female starts looking for a mate. The researchers found that females take the lead in steering their packs into places where they're likely to run into competing mongoose bands.
"This is fascinating research on a pretty unique situation," said biological anthropologist Michael Wilson from the University of Minnesota, who was not affiliated with the mongoose study.
"What's driving this is partly the dilemma the females find themselves in."
A dilemma? What is he talking about?
A Bloody Distraction
Wilson is talking about incest, that's what. Since the mongooses live in such tightly-knit groups, inbreeding can become a real problem.
To avoid this situation, Wilson said the female mongooses have a strong drive to find mates from other mongoose groups.
"But it's really hard to do that because as soon as they come into estrus, they get followed doggedly by a male in their own group. The only way they can shake him off is to visit the neighbors and start a fight," Wilson explained.
And so, the female will lead her lusty followers into bloody battle. After forming into the aforementioned battle lines, the males of two mongoose armies will charge each other with fire and fury.
"They bunch up into writhing balls, chaotic and fast-moving, and you hear high-pitched screeches," Cant described the battle.
So Violent They're Almost Human
While the mongoose warriors are tearing each other to pieces, the instigating female will sneak behind enemy lines and mate with their males. And so the mongoose pack receives new genetic material – bought with the blood of their own.
According to Cant, this is a classic example of "exploitative leadership". The instigating female benefits at the cost of her own pack.
"The findings do not fit a heroic model of leadership, in which leaders contribute most to aggression and bear greatest costs, but rather an exploitative model, in which the initiators of conflict expose others to greater risks while contributing little to fighting themselves," he said in a statement.
You could argue that the group does end up benefiting from the battle in the long run by avoiding inbreeding. The study found that 20% of a banded mongoose band's pups are fathered by males from different groups.
Still, the immediate result of a mongoose war is that good number of a pack's males will be either severely injured or dead. No matter how good it was for the instigating female, you can't help but ask whether it was worth it.
But the large numbers of casualties highlighted another curious fact that the researchers picked up on. Apparently, the mongoose battles aren't extraordinarily bloody when compared to some other war-waging species.
"The mortality costs involved are similar to those seen in a handful of the most warlike mammals, including lions, chimpanzees, and – of course – humans," the researchers said.
They also found that the exploitative leadership model is very much human-like.
"A classic explanation for warfare in human societies is leadership by exploitative individuals who reap the benefits of conflict while avoiding the costs," they added.
Seems the mongooses are painting a caricature of humanity. And it's not a pretty picture.