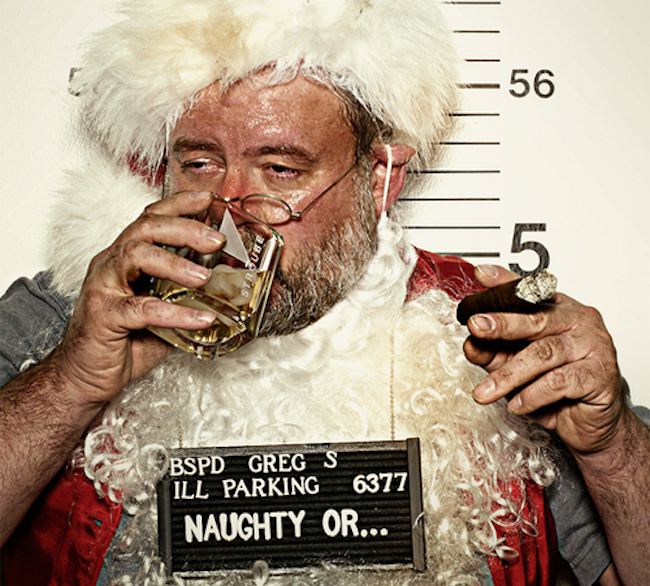 Santa knows when you've been naughty and when you've been nice, but we've got some news for jolly Saint Nick: we know the same about him. Yeah, not feeling so jolly now, are you Nick?
While you may think the worst thing Santa can do is knock the milk you've left him onto the carpet or damage your roof while parking his sleigh, there are actually times when the world's pre-eminent reindeer driver displays behavior that makes you wonder if he should turn in his sack of toys, be spanked with his trusty black belt or forced to shave his beard (seriously, what is he trying to hide with all that facial hair?). Heck, his behavior goes way beyond naughty and straight into the realm of criminal that no mall Santa worth about $14 an hour salary would condone.
Take a look at some of these antics which came courtesy of people dressed as Santa Claus and let's just hope the Easter Bunny can be even just a little bit more of a law-abiding citizen to restore our faith in holiday mascots.
Santa Loves Kids. Like, Really Loves Them
Taylor Blaul got himself into some hot egg nog when he dressed up as Santa and took photos with kids during a holiday party an animal shelter in Huntley, Illinois. Blaul is a registered sex offender who wound up getting probation for the stunt and if you're wondering how he managed to land the gig, let us explain: he reportedly worked at the shelter and when the man originally slated to play Santa couldn't make the job, Blaul took his place, even though his boss reportedly knew about that whole pesky sex offender thing. Anyone would've been a better choice. Anyone, even Madge the dwarf secretary with that wicked case of rosacea.
Ball felt "uncomfortable" about being tasked with the part, but elected to just go along with it because, well, we're guessing he wasn't exactly thinking with his head.
A woman who went to high school with Blaul called police after spotting him when she came in to adopt a dog, proving once and for all that it is truly impossible to escape the agony of high school, no matter how hard you try.
Busting Santa Is No Pipe Dream
From the North Pole to South Hackensack, NJ you can find this misbehaving Santa. That's where police pulled over 66-year-old Charles Smith during a routine traffic stop and found a crack pipe in his car…right next to a Santa costume.
For good measure, authorities also discovered crack, heroin and a hypodermic needle, all of which makes us realize that while we've seen pictures of Santa smoking a pipe, we're not too accustomed to seeing him smoke this kind of pipe.
A man with this much drug paraphernalia hauling a Santa costume is probably a meth-od actor (sorry, had to do it).
Santa Shoots to Kill
With apologies to Billy Bob Thornton, this may be the ultimate bad Santa. Randal Gaston Jones has a name like a presidential assassin with the record to match: he was dressed as Father Christmas and hosting a Halloween party at his home in Austin, Tex. when he shot one person to death and hurt four others. Surprise, surprise: he was drunk.
Jones had gotten so wasted that partygoers urged him to go to bed, but, you know how it is talking to people who are blitzed, right? They don't understand logic. Jones retreated to his bedroom to get a gun and then returned to the crowd, spraying gunfire.
Cops arrested Jones, with one official saying he knew all the victims, noting, "This was not a random act of violence."
It's unclear if Jones had any sort of beef with the people he shot.
This Santa Doesn't Take the Chimney
You think Harvey Weinstein is the most frightening person in Hollywood? Police in Los Angeles are trying to track down a man wearing a Santa hat who's been breaking into homes in Studio City. "In each incident, the suspect knocks on the front door or rings the doorbell at homes, and, if no one answers, he breaks in through the back of the homes by either smashing a rear sliding door or back window," reports the New York Post. "Once inside, the suspect removed cash, jewelry, safes and firearms before leaving," police said.
The mystery bandit is not acting alone, either. Authorities say he's been fleeing the scene in a dark sedan which someone else is driving. Dare we suggest it's Dasher?
A Pot-On Santa Impression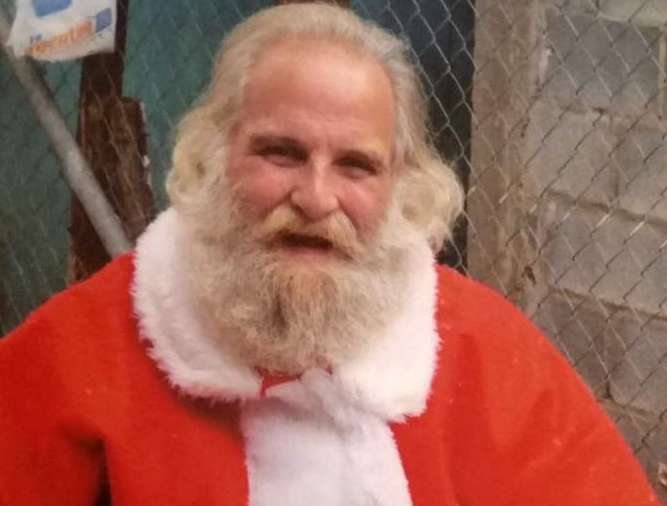 James Earl Bailey has moved around more than Santa traversing the globe delivering presents on Christmas Eve. That's because the 69-year-old spent 14 years on the run, earning money playing Santa, before authorities in Mexico finally tracked him down and he returned to the U.S. on charges of manufacturing over 100 marijuana plants.
Bailey, a self-proclaimed hippie, had been avoiding the law since he jumped bail in 2003 and managed to keep himself afloat by portraying Kris Kringle in the town of Nuevo Laredo, earning the moniker Papa Noel, which is how many people in Latin America refer to Santa.
Bailey's problems started way back in 2002 when officers in San Antonio found 40 pounds of pot and 230 marijuana plants during a raid on his home.
Bailey isn't exactly the head of a cartel or anything, but he had a nice operation going: "The pot was for himself, and he got good," his lawyer said. "He had a good product. People began buying it from him."
A Drop Dead Scary Santa
"Zombie Santa Claus" sounds like some horrible B-movie, but just imagine if you woke up to find one where you live. A 14-year-old boy and his 16-year-old were scared out of their stockings when a drunk man dressed as a zombie Santa came into their home. The girl hid in a closet while her brother called 911 for help and ran to a neighbor's home.
The undead Santa, who was cited for trespassing, also threw up and had no idea where he was when he woke up. Perhaps not so coincidentally, a zombie bar crawl was happening in the area that day.
Santa Needs Some Cash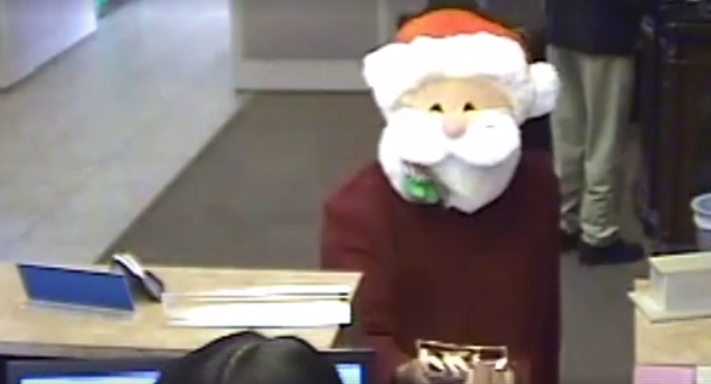 A man in Memphis who was all gussied up as Saint Nick made a name for himself by handing out candy canes to bank customers before holding up the Memphis City Employee Credit Union with a note asking a teller to give him all the money she had. No one was injured and the man made a getaway.
You gotta hand it to him. At least he didn't pass off any of the dirty work to one of his elves. Maybe he needed the money to buy another outfit. Seriously, doesn't anyone think it's weird that Santa wears the same thing every year? Can't Mrs. Claus sew him something a little more hip?
Santa (Ex)Con
SantaCon is an excuse for millennials to dress up as Santa, get hammered out of their minds, act like complete buffoons and then endure the inevitable hangover before returning to work on Monday for that job they just took a month ago and plan to leave next month because they're disenchanted they haven't made the impact they envisioned when accepting their $24,000 a year offer.
Well, that's usually the case, but not for one unidentified 24-year-old in New York City, who was arrested after he got into an altercation with a bouncer and a bartender. He resisted arrest and injured one officer's wrist. Damn millennial.
CHECK OUT OUR ARCHIVES FOR MORE ODD NEWS STORIES AND FOLLOW ODDEE ON FACEBOOK and TWITTER.