So you know that girl is about to be walking at any second...
Parents Tezra Finn-Johnson, 31, and partner Emily Derrick, 23, noticed their baby girl was strong since birth. Lula was born on January 31, 2020, weighing just 5 lbs, 9 oz.
But her size didn't stop her from shocking them all. The parents from Bristol UK, were truly shocked when Lula began to stand at just eight weeks old.
It was not long before Lula could support her own head, and now at 15 weeks, this baby is standing unassisted. Her dad, Tezra, said  "Pretty much from the day we left hospital she was able to support her head a little bit more than we thought she should be able to."
He went on to say, "She was holding it up for a few seconds and that shouldn't be for a few weeks, but pretty much straight away she was able to do that."
He said of himself and Emily, "Then we watched this Babies documentary on Netflix and on there they said babies are inherently programmed to crawl from birth."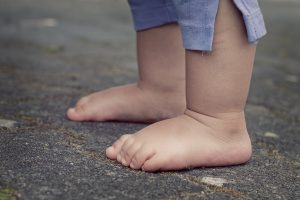 So of course they wanted to see what she would do once she was put down onto the ground.
"So I put her down on the mat and she was trying to crawl a bit. Then I put my arm behind her and she was able to push herself up the mat – propelling herself from my hand with her legs."
"She can also do it lying on her front as well. We noticed that and she was able to do that first time, so that was impressive."
Terza says that he watches strongman competitions, and jokes that he may have accidentally inspired his baby girl by watching the clips together on YouTube.
Mom Emily shared saying: "When I give her rattles and stuff to play with, she doesn't seem young enough to want them. She just seems a lot older than she actually is. I'm just like, 'Oh don't grow up yet!'"