Maybe the next time someone finds it, it'll have gone a little further...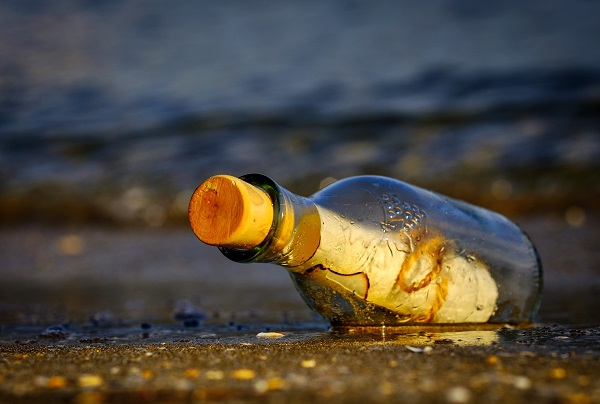 We all want to be remembered fondly (or at least most do). Personally, this is a great way to be remembered…
Texas Man's Ashes Found In Florida
A beach-goer found the bottle near Miramar Beach, Florida and handed it over to local authorities at the beginning of September. Inside were ashes, $4 and a note. Sgt. Paula Pendleton of Walton County Sheriff's Office said that she cried with reading the note, which included the deceased's family's number. His mother had placed $4 to cover any calls in hope that someone would call with an update on her son's journey.
The Note
Hello,
This bottle contains the cremation ashes of my son, Brian, who suddenly & unexpectedly passed on March 9, 2019. More than anything, he longed to be free, so I'm sending him on one last adventure. This bottle was launched from Destin, Florida. If you find it, please call or text me & let me know. I have left $4 to cover the call. Feel free to add your own note, then kindly set him free once again. My son was 39 years old at the time of his passing & he was deeply loved. Please keep him traveling.
Blessings (Heart)
Hi,
My name is Peyton & I am Brian's daughter. When my father passed, I was 14 years old. It struck our whole family pretty hard and, so far, it has been a very hard road. But, as my granny said, he loved to be free. So that's exactly what we are doing.
In The Sargent's Hands
"I was overwhelmed with emotion," Sgt. Pendleton said. Sgt. Pendleton is recently widowed and said that she was glad the note found her. "Who would have known when it washed up on our shore that is would have gone to me?"
Finders Aren't Always Keepers, However, This Is Good In This Case…
"I am putting the note back into the bottle with Brian's ashes and delivering it to a friend who is a charter boat captain," she wrote to them. "He has offered to bring Brian way out into the Gulf so he can continue his adventure. But, before that, I want you to know he got to do a ride-a-long with a deputy before drifting out once again." From Destin to Miramar is only a little over 8 miles. Brian's next trip should be significantly longer. Brian was set out to continue his journey on September 6th, according to what Walton County Sheriff's Micheal A. Adkinson Jr. posted on Facebook.