If you've ever wanted to own a relic of modern history, here's a pretty good one to go for.
Apple or PC, that is the question. There have been entire marketing campaigns built around the rivalry, but let us be diplomatic here and say both kinds of computers have their uses.
No matter which can you're in, though, it'd be hard to deny that Apple computers have shaped the way we think about personal computers in significant ways. Many of such basic things as a graphical user interface were popularized – if not necessarily invented – by Apple.
It's no wonder then, that Apple has built the kind of cult following that the company still has. Many of its early machines are masterpieces of popularly available computer technology of their time.
But these are old, old computers and exceedingly rare. If you happen to collect for whatever reason, finding one can be hard – and best not to talk about whether the thing will be in working condition.
Now, though, RR Auction has available a thing so rare you wouldn't even think it exists. We're talking about the original, the one and only Apple I computer, and you can make a bid to buy it.
Or you can try, if you have $50,000 lying around that you don't need. And that's just the starting price, so you'll probably have to dig a lot deeper.
For example, in 2019, another Apple I unit sold for $470,000. But there's a good reason why this one might go for even more.
That's a bit of a mark-up from the original price of $666.66.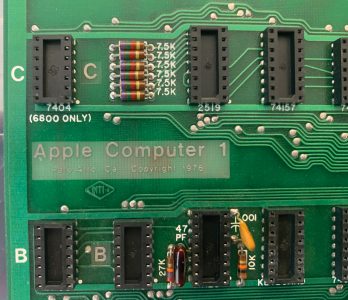 A Functional Fossil
You might be wondering why anyone would part with tens of thousands of dollars of hard earned cash for an antiquated computer. This is not just any old Apple I we're talking about here, though.
To begin with, this thing actually works. It was manufactured in 1976, and it's still in working order.
Or, well, it's been returned to functionality, we should say.
"This Apple I computer was restored to its original, operational state in September 2020 by Apple I expert Corey Cohen," says RR Auction on its website.
"The system was operated without fault for approximately eight hours in a comprehensive test."
But so what? It's still just an old computer, right? If you still think that, you're not quite grasping just how rare the Apple I is.
Apple – still just a tiny three-man startup operating out of the garage of Jobs' parents in 1976 – only ever made 200 of these computers. Out of that batch, 175 were sold.
So, to even find one anymore is a real challenge. But for the computer to be actually functional?
Let's just say that by all probability, this thing should not be.
A Box! A Box!
Oh, but it gets even better. The lucky winner of the auction won't just get the original Apple I motherboard.
No, they will get the whole shebang, everything you need to get the most out of an ancient computer. In addition to the Apple I unit itself, the auction includes original manuals, the Apple Cassette Interface, a power supply, a vintage Datanetics keyboard (in an age-old wooden case), a 1976 Sayo monitor, and another cassette player by Panasonic.
Yeah, about those cassette players. Computer programs used to come on cassettes. Man, this thing is old.
To quote the late Billy Mays, though, there's more. The cherry on the top of this computer history cake is that it comes in its original packaging.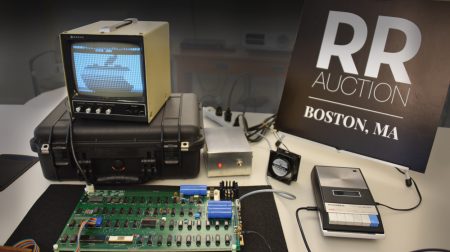 It might seem to like just an old cardboard box. If you like collecting old stuff, though, you'll know that having them in the original shipping box can make this stupidly valuable.
But wait, says the ghost of Billy Mays, there's even more! The box is signed by Steve Wozniak, the man who built the Apple I computers with his own hands in that tiny California garage.
If you're looking to own a piece of personal computing history, it doesn't get much better than this.
It Belongs in a Museum
And what a piece of computing history it is. Apple was the world's most valuable company between 2012 and 2018, and still is the biggest tech company in the world. And it all started with this thing.
"The Apple I is not only a marvel of early computing ingenuity, but the product that launched what is today one of the most valuable and successful companies in the world," says RR Auction.
But still, we are talking about history. The Apple I is old, almost prehistoric when comparing it to modern computers.
To begin with, if you had bought one of these boxes in 1976, you wouldn't have gotten a computer as you might think of it today. All you got was a caseless motherboard.
Apple never even manufactured a case. You would have to house the motherboard in whatever box you had available. Briefcases were apparently a popular option.
Still, Apple I was ahead of its competition at the time. All you needed to use it was a keyboard and TV to act as a display. Other computers required extensive programming and additional hardware to even put out text.
The relative simplicity caught the eyes of investors, and just a year later the Apple II came out. That one resembled a modern computer a lot more, and set Apple on the path that would eventually lead to the Macintosh, the iPad, and the iPhone.
That's a whole other story, though. But if you have a few hundred grand burning a hole in your pocket, you might as well try bidding for the first chapter of that story.