Dear extraterrestrials, please stop leaving your weird metal constructs on public land.
Are we alone in the universe? Or do alien creatures occasionally – or maybe even regularly – descend from the skies to walk on Earth?
Some people certainly think so, and not all of them are UFO-hunting crackpots either. For example, you could go read our story of the ex-U.S. military boss who thinks we should have a defense plan against UFOs.
But if aliens do visit Earth, why don't we ever see anything they might've left behind? Sure, there's an occasional purported alien artefact – in addition to whatever what was involved in the Roswell crash – but if there were regular extraterrestrial visitors to Earth, you'd think they'd leave behind otherworldly sandwich wrappers or something.
But now we may have just found something. State officials in Utah have discovered a strange object sticking out of the ground in the middle of the desert.
What they found sure looks alien. It's a 10-foot-tall shiny metal monolith, jutting out of Utah desert.
Anyone who's watched 2001: Space Odyssey should be having chills right about now. The find is eerily similar to the black ominous rectangle responsible for human evolution that was depicted in the movie.
But what on Earth is the strange object? Is it even from Earth?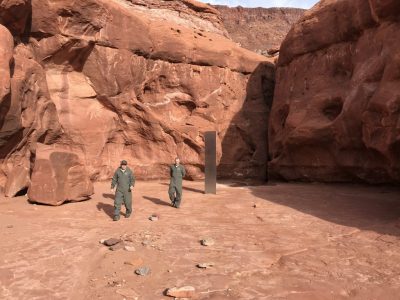 A Strange Discovery
The strange object was discovered on November 18 by officials from the Utah Department of Public Safety, who were giving a helicopter ride to their colleagues from the Utah Division of Wildlife Resources.
They had taken to the air to perform a count of bighorn sheep in a part of southeastern Utah. As they were flying over the Red Rock Country – a particularly famous desert landscape – one of the biologist onboard the chopper noticed something on the ground.
Between the red rock faces, something metallic was shining.
"One of the biologists is the one who spotted it and we just happened to fly directly over the top of it," the helicopter's pilot Bret Hutchings told KSL TV.
"He was like: 'Whoa, whoa, whoa, turn around, turn around!' And I was like: 'What?' And he's like: 'There's this thing back there – we've got to go look at it!'"
Not one to turn down such an enthusiastic request, the pilot identified a suitable landing spot. He brought the craft down, and the officials began to walk toward the thing they'd found.
And there it was. In the middle of nowhere, hidden between tall cliffs, stood a rectangular, polished silvery metal monolith.
"I'd say it's probably between 10 and 12 feet-high," Hutchings said.
The Out-of-place Oddity
Not only was the monolith itself strange, but its location made it even more eerie. There was no immediate indication of who had brought it there.
The officials found no footprints or car tracks. It was as if the thing had fallen out of the sky and buried itself in the ground.
What's weirder, the soil around the spot is particularly hard-packed. It would've taken some serious effort to dig and cut a hole big enough to hold the monolith upright.
Yet, there was no sign of such activity either.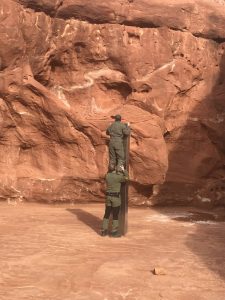 "That's been about the strangest thing that I've come across out there in all my years of flying," Hutchings told KSL TV.
"We were kind of joking around that if one of us suddenly disappears, then the rest of us make a run for it."
The crew couldn't figure out the purpose of the object, either. They speculated that it might have some space-based applications.
"We were, like, thinking is this something NASA stuck up there or something. Are they bouncing satellites off it or something?"
Maybe it was NASA. Or maybe it was… Aliens.
Alien Artwork?
Well, probably not. At least the helicopter crew doesn't think so.
The thing is definitely an artificial construct, but the helicopter crew figured that it's more of an art piece than any alien object.
"I'm assuming it's some new wave artist or something or, you know, somebody that was a big Space Odyssey fan," Hutchings said.
Whatever the monolith's purpose, Utah Bureau of Land Management is currently determining whether it warrants a further investigation. Meanwhile, they've decided not to reveal the object's exact location to the public.
"It is in a very remote area and if individuals were to attempt to visit the area, there is a significant possibility they may become stranded and require rescue," Utah Department of Public Safety said.
Yeah, right. That sounds exactly the kind of story they'd come up with to keep us in the dark about alien encounters!
Speaking of aliens, if the monolith is of extraterrestrial origin, its owners might be in for a hefty fine if Utah officials catch them trying to retrieve their metal rectangle.
"It is illegal to install structures or art without authorization on federally managed public lands, no matter what planet you're from," the Department of Public Safety reminded.