Because having a website for your business is no longer merely optional...
As one of the world's leading website building platforms, Wix has almost 100 million users. Known for its intuitive interface and affordable plans, Wix allows you to build a site within just a few minutes. With fancy integrations and top-quality design features, Wix is a compelling option for small business owners and corporations alike. If you're looking for a well-rounded site builder, Wix is a great pick.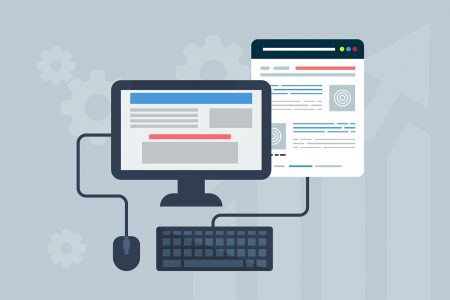 The Pros
Hundreds of designer templates
Easy use
Great web apps
The Cons
It's hard to change templates
The basic plans have limited features
Limited storage
Using the Wix Site Builder
According to information provided by Wix, a user can build a site in just six steps. It all begins with signup, where you'll choose the type of site you wish to create. Then, you'll choose a template for further customization, or you'll get a site made. Sites can be customized with drag-and-drop features such as vector art, galleries, videos, text, and more.
To give a Wix site additional functionality, users can add an e-commerce store, booking systems, a members-only area, and a blog. After the site has been created, publish its content. By going live, you can build an online brand for yourself or your business. With advanced search engine optimization tools and built-in marketing solutions, users can drive traffic to their sites and watch their online presence grow.
Responsive Site Themes
With over 500 themes, Wix has a selection of templates for all sorts of businesses. Each template—whether it's for a blog, a restaurant, or a store—is designer-crafted and looks professional. For a user who's not sure how to build a site, Wix's ADI or artificial design intelligence quickly designs a visually appealing site after asking some basic questions. If you know your way around a site builder, though, Corvid by Wix is an open platform that allows users to build web apps and deploy projects.
No-Cost Hosting
Along with its site builder, Wix offers free and secure web hosting, storing your data on secure servers and allowing sites to load faster. Wix's advanced security monitoring keeps sites compliant with international requirements.
Once your site is up and running, the free hosting feature is implemented automatically, with no need for separate installations. With 99.9% uptime, Wix offers top-class reliability so sites can stay live.
Wix Videos and Pro Gallery
The site builder also comes with access to multimedia options like Wix Videos and Wix Pro Gallery. The latter helps to refine the appearance of a site's images. By adding a video to your site's background, you can significantly change its appearance. Unfortunately, video backgrounds aren't displayed on a Wix site's mobile version.
Wix App Market
With more than 250 apps, Wix's app market is a great place to find integrations. Pick from a range of premium and free apps to create online quizzes, manage events, set up stores, or change your website's appearance.
How Much Does the Wix Site Builder Cost?
While there's a free version of Wix's website builder, it's very limited in terms of functionality and features. As a free user, you'll get:
500 MB of storage and bandwidth
A URL
Customer service
However, your site will be populated with Wix ads, and you won't get to pick a domain name. Similarly, you won't have access to priority customer service and Google analytics.
Wix Site Builder: Is it Good Enough for E-Commerce Stores?
Wix's online store builder offers over 500 templates that are customizable for mobile and desktop displays. Additionally, users can manage their stores from one place while selling on multiple platforms. The store builder offers several secure payment options, and you can manage your store with SEO, automations, promotional videos, coupons, chat bots, email marketing, and other industry tools.
It Gets the Job Done
Site building is a complex process, but with Wix's drag-and-drop functionality, users can get sites up and running with just a few clicks. The site builder's selection of templates comes with a significant level of customization and flexibility, giving sites an edge over the competition. With the free or premium plan, you can make an appealing website that's optimized for mobile devices. With a user-friendly interface, secure hosting, and other great features, Wix's website builder is a great option for those looking to build a personal or business site.