He went so far as to say he would let her sit in prison for him, if he had been able to escape.
Clauvino da Silva is a Brazilian drug trafficker and gang leader, serving his prison sentence. He thought he could get away by dressing like his daughter. It didn't work out how he was hoping though.
He tried wearing a silicone mask and a wig and attempted to "switch places" with the 19-year-old. He is 42 years old.
He tried to sneak out of prison on Saturday with the disguise. He was in a  prison complex in Rio de Janiero. 
Da Silva's outfit was a silicone mask, wig, black bra, and a tight t-shirt with pink donuts on it. Three pink donuts, to be exact.
His prison stay is for 73 years, a sentence he got from drug trafficking. And with the disguise, he would have left his daughter in prison while trying to escape. Not cool. 
His plans were foiled though, and he was caught. The guards could see da Silva through the disguise as he was requesting his daughter's ID while attempting to leave.
Da Silva confessed to his identity and came clean about his disguise.  Prison footage showed him removing his disguise and taking the silicone mask, that mimicked his daughter, off of his face.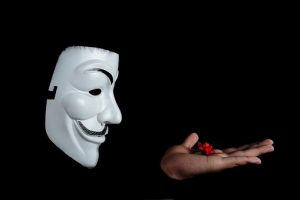 Da Silva was one of 31 other prisoners who also attempted to escape via the sewers. His daughter was arrested due to suspicion of attempting to help her father escape. 
He was moved to a different jail and will face punishment for the attempted escape. Da Silva was one of the leaders of the Red Command before his arrest. He was a powerful Brazilian criminal that controlled drug trafficking throughout Rio.
Want to tell your strange story?
Tell us about it
and it could be featured on Oddee. You can remain fully anonymous.