And this is what happened.
Unfortunately, a customer turning on an employee has been steadily on the rise for a while now. Call it stressed out or just plain rude, we all know how people can be.
But this was different. There was still a customer and there was still an employee, but there was also a complaint and it escalated from there.
The thing is it wasn't your typical escalation.
As in, it was the employee that went after the customer, so to speak. And here's the story.
The incident happened in a Chipotle located in Baltimore. The situation started because of a late meal and a complaint.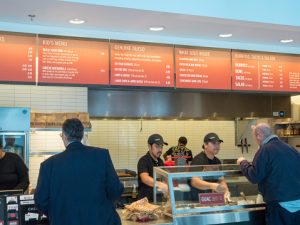 A video posted to Facebook shows Anthony Evans, 56, who stated that he waited for a mobile order for 20 minutes. He asked twice about it before a female employee started yelling at him for complaining. 
"You messed up my order, and then I come and I complain and you just get ignorant and start clapping your hands," Evans is heard saying. "This is going right on Facebook."
The woman said her name was Nicole and that she was the manager at the Mount Vernon Chipotle. The man asked other employees to verify this. "You can call whoever you want to, b*tch," she said, before chucking a pair of scissors at Evans. 
Police were called to confirm that officers responded to the incident of aggravated assault on August 10th around 1:00 p.m. EST. Officers did talk to Chipotle's district manager to relay the incident. 
By the time officers arrived on the scene, the employee was gone. She is currently wanted for the aggravated assault charge. 
"At Chipotle, the health and safety of our guests is our greatest priority," said Laurie Schalow, chief corporate affairs officer for the company. "We have spoken directly to the guest regarding this matter, and have terminated the employee in question."