If you dig deeper into the history of jewelry, you will be surprised to discover that rings, earrings, and pendants were typically men's accessories. In the antique world, people couldn't imagine that a woman can rock these purely male insignia. But times have changed and today, an earring in a guy's ear can be viewed as exceptionally a daring accessory. Many people believe that men's ear accessories are only for movie and music stars or rebellious teens. While there is nothing really special in ubiquitous rings and chain necklaces, earrings are yet to gain the status of 'regular, normal, and ordinary' jewelry pieces for the sterner sex. Nevertheless, chances are that soon enough we cease to perceive men's earrings as something extraordinary.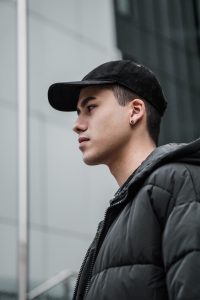 Centuries ago, earrings had much more meaning than they do now. Sailors obtained the right to pierce their ears when they crossed the equator. In the middle ages, scammers and crooks used earrings to denote their belonging to the underworld. In Eastern Europe, an earring was a sign that a boy was the only child in his family and therefore, he couldn't be sent to war.
Today, earrings don't really mean that much. They are just another way to express masculinity, a pretty badass way though. The most difficult thing to do is to choose an earring that will adorn you, and learn how to wear it correctly.
Shapes and Models
Today, a man looking for earrings is unlikely to choose fancy models as those worn at the court of French kings. Back then, femininity dominated in fashion so chandelier-like earrings by no means were outrageous for a guy. Today, however, the main fashion trend is naturalness. When picking earrings to make your look complete, all you have to do is listen to your inner voice. However, we noticed this thing – no matter how different men and their tastes are, they gravitate toward simple and restraint models. More often than not, men's earrings have these features:
clear geometric shapes;
angularity instead of curved lines;
massiveness;
simplicity (they rarely feature patterns or in-your-face encrusting).
Studs
The evergreen classic of men's earrings is studs. Small and neat, studs can be worn in the office, on a night out, at a party…anywhere. They are a tiny accent that immediately refreshed your look. A man wearing these designs as if declares his personal style and audacity with which he flaunts it. Studs of any design, including those with diamond inlays, look very elegant. Tiny dots in the ears of a man can tell a lot about this sexuality and masculinity.
Hoop Earrings
Hoop earrings are chosen by men who value freedom. Most often, you can see those in people boasting creativity (artists, musicians, directors, etc.) and motorcyclists. These biker earrings can be of different diameters ranging from modest 5 mm to impressive 30-40 mm. It is hard to say whether it is a good idea to show up with those in an office or business meeting… As a rule though, people who choose hoop rings do not work in offices. In any case, such jewelry requires an appropriate wardrobe. Worn jeans, a voluminous scarf, a knit sweater or oversized jacket will hit the spot.
Tunnels and Plugs
Tunnels and plugs are crazily popular among youth. The huge holes in the earlobes make a lasting impression. But girls say they like it … Anyways, such accessories visually increase the earlobes due to holes. Tunneling is perhaps the most difficult type of male piercing. Maybe because it is really painful to stretch the earlobes many believe that tunnels add more masculinity to a man's image.
The tradition to make such punctures came from African and Asian countries. However, people made such "sacrifices" not in the name of beauty but exclusively for sacred purposes. For example, Buddha or Shiva had tunnels in their ears.
So, what is the difference between tunnels and plugs? Tunnels are inserted into a large-gauge hole in the earlobe. This is an earring with an empty middle, i.e. you can look through it. Plugs are similar to tunnels but they do not have a 'window' in the middle.
Clip-Ons
If you fancy the idea of wearing earrings but hate needles, clip-on earrings are just what the doctor ordered. At first glance, they do not differ in any way from traditional earrings. However, you can wear them without any pain. There are many styles and designs available meaning you'll have a virtually unlimited range to choose from.
Men's earrings are a cool way to add some spice to their image. If your jewelry is cohesive (i.e. it is crafted in the same style and of the same material) you'll create an impression of a neat and attentive to details person. We recommend rocking silver and black-coated earrings since they go well with outfits of any style and color.