For many people, suggesting to friends and family you want to visit a casino is treated with phrases like, "The house always wins" and "Las Vegas was never built on winners." And sure enough, casinos have an advantage in nearly every game, from slots and video poker to baccarat and blackjack.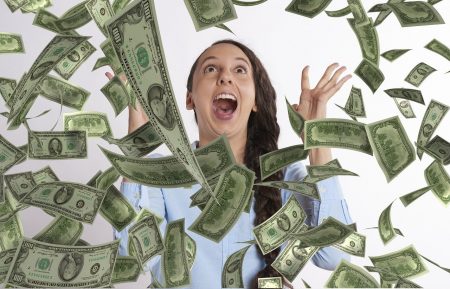 Still, to be clear, not everyone loses money to casinos. For the people whose stories we've shared below, the house can be beaten. Some of these jackpot winners never thought they could win so much money. Still, they took a risk and reaped the benefit by winning millions of dollars.
1: Insomnia Turned $12M from Norwegian Student
In 2011, a lucky Norwegian student unable to sleep after watching a movie decided to spend some time playing online slots. It was unusual of him—the student usually preferred to bet on sports. But for this one night, he risked his money in the slot section, on NetEnt's Mega Fortunes to be precise.
Then the unexpected happened, he hit the game's progressive jackpot worth €11,736,228 ($12M). Needless to say, the college student became too excited that he didn't sleep at all. Perhaps he played online slots at this site: https://www.slotozilla.com/pl/darmowe-gry-hazardowe-na-telefon.
2: Canadian Wins $11.6M from Mega Moolah
In 2016, the famous progressive jackpot from Microgaming was in a generous mood. It paid out four jackpots worth over $1M each. The biggest of these grand prizes was nabbed by a Canadian, Marcus Goodwin, who won CA$11.6M in November 2016.
Mega Moolah is one of the most played online progressive jackpots for a good reason—it pays out a lot. In 2015, another Canadian won CA$7.5M playing this game through an android device. In the same year, a British ex-soldier took home $20M, the biggest ever online slot jackpot at the time.
Is there a secret for winning Mega Moolah? It's a game of pure chance, so the secret is to play the game often and hope to be lucky. It's a volatile game, though. You can try Mega Moolah and other online slots available in Canada here for free. This will allow you to test and decide whether you like a particular slot game or not before playing with real money.
3: The Biggest Jackpot Win in Vegas — $39M
The world's biggest payout from a slot machine happened in the world's gambling capital in 2003. As the story goes, a 25-year-old software engineer was visiting family members in Los Angeles when his uncle suggested that he play the Megabucks ® jackpot slot.
After sinking $100 into the machine, the software engineer began losing attention and turned away. But upon glancing back to the machine, he was treated to winning symbols and a message showing he had just won $39M from the IGT machine.
4: A $35M Win and then a Horrific Tragedy
Cynthia Jay Brennan was an energetic waitress doing extra shifts to save money for her wedding. Then she tried her luck on the Megabucks slot machine in 2000. And by the stroke of luck, the waitress won $35 million. Immediately, she knew her life would be turned for the better.
But as a loyal employee, Cynthia showed up to work the following morning. Then she extended her stay at the Monte Carlo Casino for one month and even volunteered to train her replacement. Days passed by and the former waitress did her wedding.
Then she spent her honeymoon with her husband in Fiji.  A few days after coming back, unfortunately, Cynthia and her sister, Lela, had their car rear ended while at a traffic lights spot. Lela died on the spot while Brennan was paralyzed from the waist down for life.
5: A Regular Gambler Wins $680,000 then $27M in Two Months
If you're like many people, you would probably take a break from gambling after winning $680,000. But for a sixty-year-old vacationer in Vegas in 2018, that's not what she did. She continued to play slots regularly. And after two months, her efforts paid off—she won $27 million from the Megabuck slot.
6: British Afghan Soldier Wins $20M
As we mentioned earlier, the biggest online casino win happened in 2015. And it couldn't have happened to a more deserving guy. An Afghan soldier back from war, broke and with a father ailing in hospital. Lucky for him, he also loved to play slots.
Better yet, he paid Mega Moolah when luck was by his side. After winning GBP13.2M, the then 26-year-old said his first goal would be to find quality care for his father. Then he would upgrade his car from a Fiat Punto to a Bentley and invest the rest.
7: A $24M Win in Finland
Before the British ex-soldier broke the world record for an online slot win in 2015, the record was held by a Finnish man. He won €17.6M ($24m) playing NetEnt's Mega Fortune. The best part, though, is he won so much money betting minimally—his winning bet came from a 25-cent spin.
Like many people, though, the Finnish jackpot winner opted to hide his identity. The only known details about him was the game he won through, his country of residence and that he was in his forties.
8: Another Mega Moolah Record–€18.9 million
They say all records are meant to be broken. Unsurprisingly, the online slot win set in 2015 in Britain was shattered in 2018 by a man playing 75 cents per spin on Mega Moolah. He won €18,915,872 or $22.8 million. Like many of his compatriots, this winner also opted to remain anonymous.
9: A 92-Year-Old Veteran Wins $21M
Winning a jackpot at any age is always a life changing experience. But not many senior citizens can say they won millions of dollars playing slots. For one 92-year-old veteran, though, winning at slots is what he does best.
First, he won $4.6 million from the Megabucks slot. But he didn't call it quit. Instead, he kept playing the same game over and over until he won $21 million. How did he spend the money? With the first jackpot, he took a vacation in multiple countries. With the second jackpot, he donated most of the money to hurricane Katrina victims.