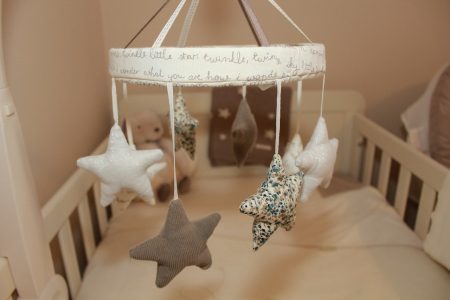 Having a baby can come with all kinds of challenges. From pregnancy aches and pains to long sleepless nights, welcoming a baby into the family means making all kinds of adjustments to your routine. One of the biggest changes will be finding space in your home for all of your baby's new belongings. While everyone dreams of an expansive, luxurious nursery, lots of new parents find themselves with minimal space to work with.
If you only have a small space available for your little one, there are plenty of creative ways to transform your little room into an adorable peaceful sanctuary for your little guy or girl. Here are ten genius ideas
Make a Floor Plan
Before doing anything else, start why making a floor plan for your space. Think about where you'll put the essential items like the crib, the changing table, and the nursing chair. Start with large items. Imagine where you will place them in the room.
If you haven't already purchased your nursery furniture, take the time to make some measurements. Plot out areas in the room so you can visualize the different pieces of furniture in the space before you buy anything.
When you make your floor plan, think about the flow of the room. Imagine yourself a few months in the future using the room with your baby. Make sure you leave enough space around the crib and the changing table for you and your partner to stand and move around. The last thing you'll want at 4 in the morning is to be bashing your elbows or toes on poorly placed furniture.
Go Mini
Luckily for you, your little one is going to be pretty small. They won't need a large crib or dressing table. Go for a super cute miniature look for the entire nursery. A miniature crib and dressing table will save a ton of floor space, plus they will make the room feel much larger and taller.
There are plenty of small cribs available online that are perfect for smaller nurseries. Make sure to check the crib's safety standards and ensure your mini crib is fully certified.
Get Creative with Storage Space
Once you've got all the big pieces of furniture in the room, start thinking about creative ways to fit extra storage into the room. Is there space under the crib for a small toy box? Or maybe you can fit a secret storage compartment in the window seat. Brainstorm clever ways to hide away your baby items in and among your furniture.
Changing Table and Dresser Combo
A great way to save some space is to think about clever ways to combine your changing table with other pieces of furniture. Changing tables are crucial, but they take up a ton of much-needed space. Try creating a dresser-changing table combo.
Instead of decorating the top of your baby's dresser with cute photos and trinkets, use the flat surface for a padded changing surface. If you can't find a dresser-changing table online, you can even create a changing table surface yourself.
Hanging Organizer for Diaper Products
Even though babies are small, they use a whole lot of products, especially when it comes to diaper changing. Lots of parents fall into the trap of sorting their baby changing products into little baskets and placing them next to the changing table or on Newark by shelves. Try using a hanging organizer instead.
A hanging organizer will give you some extra shelf and table space or decorative items or toys and books. These items look much nicer than diaper products when displayed. Your baby changing essentials will stay orderly and neat when tucked away in a hanging organizer, plus you won't have to use your precious display space for these unseemly items.
Make Matching Outfit Hangers
Baby clothes are undeniably some of the most fun baby items to purchase. If you are tight on space, try doubling up your baby's clothes on one hanger. Put together a series of adorable outfits, one on each hanger. This way, you can simply grab a hanger, and you'll have everything you need for the day (until they need that midday change, that it is).
If you're still looking for some cute, unusual options for your newborn, have a look at Bitsy Bug's amazing collection. Their products are of great quality and super affordable. With tons of cute options for babies of all ages, you're sure to find a few great outfit sets to put straight on your hangers.
Use Flat Bookshelves for Picture Books
This unique nursery design hack not only saves space, but it also looks absolutely adorable. Use thin shelves, or even one side of a thick picture frame, install some makeshift thin shelves around the walls. Instead of using a bookshelf, which takes up tons of space, place your books on these shelves around the room flat against the walls.
While this unique design hack will save you space, it also looks fabulous. Plus, it will be easy for you and your child to choose your favorite books after a long day when you can see all of the front covers at a glance. You'll thank yourself later when you don't have to squat down to a low bookshelf to sift through a row of books.
Use Interior Design Tricks: Colors, Mirrors, and Lighting
When it comes to design, light colors tend to make your space feel bigger and brighter. Choose a light cream colored rug to maximize the floor space. Opt for bright, cheery wall colors, and thin, breezy curtains to make the space feel airy and light.
Try hanging a mirror somewhere in the room to help make the room look larger. Mirrors reflect natural and artificial light, making the space feel brighter and more spacious.
Try to keep the room bright and well-lit. Make sure any windows in the room are unobstructed and invest in a few extra lighting fixtures to brighten up the space.