Because we all like a nice space.
No one wants to spend hours a day cleaning their place, but everyone wants to be in a clean space. So what do we do? Here are a bunch of ideas to keep your house tidy without spending your whole life cleaning.
File Folding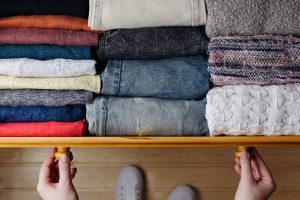 Have you ever heard of this? It's a great way to organize but it also saves a ton of space in your drawer, your suitcase and even your car. Folding things like towels and t-shirts upright not only allows you to see everything in the drawer with just one glance but it also allows you to add about half as much to your space. If you really want to get into it, you could coordinate by color or even article of clothing.
Hang Pots and Pans
Newer builds actually have a good amount of space in the kitchen but older houses and apartments usually don't. Save space on the counters and in the drawers by hanging stuff on the walls. Pots and pans especially take up a lot of room in cabinets or pantries, so this is perfect for the wall. Pro tip: use command hooks, they won't ruin the wall. Extra pro tip: start with your larger items, then place your medium-sized items and finish off with your smallest things.
Hang Your Toiletries
Add a second tension-mounted shower curtain to your shower, close to the wall. This way you can use hanging clips to store your body wash, shampoo, conditioner or other soaps. They won't get water logged this way and will give you more space and a cleaner look. What a great way to keep your house tidy, even in the bathroom.
Double up Your Hangers
That is, hang two things up together. Done this way, you will use half the space. It can also be a fun way to pair possible outfits together. Seeing clothing paired on hangers could help you to see a new combination you haven't thought of before. On the reverse, it's nice to hang things that you wear together, together. Grab one thing out of the closet and you're good to go.
Create a "Drop Zone"
This is to make a place where you can just put whatever you have. Instead of letting clutter pile up around the house, you can limit it to one place. It may seem backwards, but if you have one place for your "stuff" than your stuff won't take over your place.
Use a Dresser Drawer for Storage
This is really cute for under the bed. It's a great flat space to store things and slides well with the drawer handle. What a perfect repurposing idea for keeping your house tidy.
Magazine Holder for Water Bottles
This sounds strange, but hear me out. We all have a bunch of water bottles, because it's better for the planet and a lot of them are insulated now, too. But the point is, we have too many and nowhere to put them. If you stack a magazine rack/holder sideways, it's a great way to hold all your water bottles.
Use Your Narrow Spaces
Don't forget about the skinny spaces! The place where your fridge and the wall or counter is can be used as storage for canned goods, bagged foods or even rice and pasta with the right narrow storage in place.
Use Your Entryway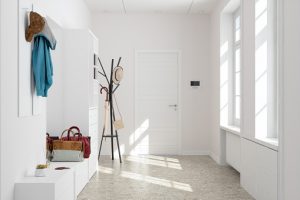 Most people have a coat rack or maybe a mat for shoes, but there is so much you can do for your entryway. Adding tall shelving is one way to help keep your house tidy and have space for things like coats and boots in the winter months. Hooks and a storage bench can also provide the space you need and the convenience you want.
Turn a Picture Into a Storage Cabinet
The trick is to sneak cabinets behind picture frames in the bathroom, which almost all need more space and spots for items. Try these cool hidden shelves to add "décor" to your bathroom and some extra space, too.
What's your favorite way to keep your house tidy so far? Here is 10 Ways to Keep Your House Tidy: Part Two.