Are you seeking innovative ways to engage your clients and grow your business? SMS marketing is an excellent way to stay in touch with your customers, all the more so now that most people are always on their phones. By implementing SMS into your current marketing plan, you can easily engage and communicate directly with your clients.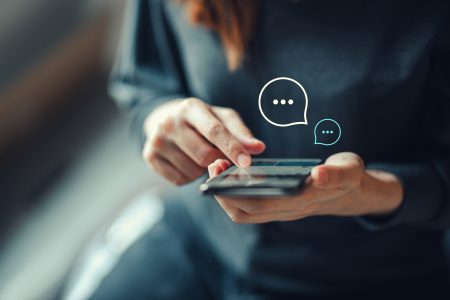 If you're a business owner concerned about SMS marketing, you're not alone. The two most frequently leveled criticisms of SMS are that it's an old-fashioned form of marketing and excessively intrusive. On the other hand, enlightened reality paints a different picture. Businesses should notice SMS as a powerful, efficient, and effective method of communicating with customers. The following are a few reasons why SMS communication may be the most successful marketing approach for your business.
1. SMS Messages are More Likely to be Opened than Other Modes of Communication
One of the primary benefits of SMS marketing is that up to 98 percent of texts sent by your customers are opened. As a result, SMS advertising has a higher open rate than other forms of advertising. Emails can easily be lost in spam folders, and a customer can easily discard a mall flier. On the other hand, text marketing shouldn't be overlooked, considering the widespread use of mobile phones and texting.
Almost usually, your clients will open and read that material. SMS services like Drop Cowboy Ringless Voicemail & Text and similar companies can help if you wish to communicate more consistently with your consumers.
2. You Have the Option of Creating Special Offers
While SMS marketing enables direct communication with clients, the objective is to improve or build engagement. If your clients have opted in to receive text messages, it's a good idea to thank them for participating in your SMS campaign. Sending unique SMS offers to your SMS clients via text messages is an excellent approach to establish rapport.
By treating your clients like VIPs and providing them with discounts not available to the general public, you can deepen your relationship and increase loyalty.
Additionally, you can significantly increase your sales via SMS marketing by giving exclusivity since it draws clients to spend money at your location. They'll now direct their business to you as a result of the pricing you provided.
3. Attract a Receptive Audience
If your consumers have provided you with their phone number, this indicates that they wish to communicate with you and your business. You may choose to pursue SMS marketing now that this guarantee is in place. Through SMS marketing, you can notify customers of upcoming deals/promotions, confirm orders, and provide updates.
For most customers, texting is a more convenient method of contact, and they'll have a better experience. By enhancing their expertise, you can increase the likelihood of future communication.
4. You Will Receive an Immediate Acknowledgment and Response
SMS texting's quickness is one of the reasons why it's so effective. When you send a text message, it's immediately received by your customers. They're not only received but also monitored in real-time. The majority of SMS is opened within a few minutes of being sent. It means that your message will almost probably be viewed immediately after being sent. Attentive mobile campaigns, especially ones on top SMS marketing platforms such as Emotive, are one of the best ways to reach your customers right away.
Your mail will almost definitely be immediately received and analyzed. Numerous individuals will read their texts in less than three minutes. With such prompt responses, you may anticipate immediate reactions, which can increase conversions. 
5. You Can Reach Customers Anywhere
Consumers frequently choose text communication over other modes of communication, as mobile devices have become an integral part of their daily lives. Businesses can better attract their customers' attention by interacting with them in their preferred methods and locations.
SMS marketing helps businesses engage with new and existing customers quickly and directly, encouraging them to interact in person or online with your brand. SMS marketing with its high open rate can drive substantial client interaction.
One of the most attractive benefits of bulk SMS marketing is the opportunity to customize your messages to attract and retain client attention. Casual or laid-back texts are modest and accessible to millions of people worldwide. 
As previously stated, text messages have a very high read rate. Your customers will quickly understand what you have in store for them. Additionally, they won't be charged for data or minutes used on calls if they're interested.
They can instantly obtain extra information by responding with the message's keyword. Furthermore, you may tailor your messaging to a specific location or demographic, as well as a customer's previous purchase history. 
Reselling to an existing customer is significantly easier than finding a new one. As a result, personalizing your marketing operations and cultivating consumer loyalty boosts conversion and retention rates.
6. Acquire a Clientele and Earn Their Trust
Customers can participate in your SMS marketing campaign by texting a business's unique phone number, sharing it on social media, by email, or in person. Customers who opt-in to receive marketing emails will receive special offers, rewards, and vital corporate information.
Businesses can utilize these incentives to demonstrate their appreciation and value for their customers. Additionally, SMS texting provides a personalized touch, which increases brand loyalty and customer retention.
7. You Can Personalize Your Messages to Fit Your Brand
SMS technology has affected firms' perceptions of marketing personalization. Customers are more likely to do business with a business that provides individualized service. The bulk of text message service providers make it relatively simple to personalize all outgoing text exchanges.
Businesses can use these customization tokens to address text receivers by name. Consider this from a customer's perspective: would you respond to an email sent to "dear customer" or to your first and last names?
8. You Can Utilize Data to Enhance Your Business's Performance
After sending SMS marketing messages, you may track the results of your marketing efforts in real-time and see how much your bottom line grows. The number of sales attributable to each campaign is mentioned, including the open rates and cost per message.
Businesses can use these facts to develop more targeted marketing and better understand their clients, resulting in improved campaign performance.
SMS marketing is a time-tested technique that may benefit businesses of all sizes and sectors. Businesses must integrate SMS marketing into their point-of-sale system to avoid dealing with third-party applications, additional logins, and contracts. It enables firms to manage their whole operations from a single location, facilitated by the power of SMS marketing.
9. It is Quick and Straightforward
SMS has remained relatively stable and adaptable in the face of ever-changing advertising trends. Moreover, it's an easy and convenient method of communication. Bulk SMS enables you to send a message to hundreds of customers quickly. You can increase product upsells and lead conversions without placing your marketing and customer support teams under unnecessary strain.
Additionally, you can leverage SMS's simplicity to accomplish other objectives, such as enhancing your customer support offerings. Establish a 24-hour Auto-dialer or use SMS to respond automatically to frequently asked questions about your services. 
This way, you can spend less time responding to repetitive questions about your business and more time directing your in-house agents to more critical matters that worry your followers.
You must maintain a current marketing strategy as new marketing methods your firm develops each year, which isn't always easy. SMS, on the other hand, is unquestionably here to stay and has demonstrated its value.
10. It is Capable of Supporting and Integrating with Additional Channels
SMS is no exception to the norm that all channels in a marketing mix must communicate effectively with one another. While SMS is an excellent independent channel for marketing, it can also supplement and assist other social media and email channels. In addition to being a powerful medium on its own, SMS may be used to increase and support other popular consumer mediums such as social media and email.
They can, for instance, remind customers to read an email sent by a business several hours or even days prior. A simple follow-up SMS inquiry, "have you read our email?" can significantly boost open email rates by 20%–30%.
SMS Practices That Can Benefit Your Business
Now that you know why SMS is suitable for your brand, here are the best practices you can do to maximize its advantages.
Before sending text messages to them, you must obtain their authorization. Suppose you don't have their express consent. In that case, you won't only violate the law and risk legal ramifications, but you'll also appear spammy, establish a negative image for your brand, and annoy your audience.
Thus, what is authorization? How do you obtain it? If your subscriber opt-in via text messaging, you already have it. If you're manually uploading a list or manually adding contacts one by one, you'll require written authorization. It's likely the most critical best practice for any SMS marketing campaign.
One of the most common SMS blunders firms makes is failing to deliver messages consistently. Their logic is sound: they don't wish to spam their customers. On the other hand, communicating seldom causes consumers to forget why they joined up in the first place. When they do receive communication from you, it may come as a surprise and may be undesired.
Consistent messaging is well-received by consumers. Effective text advertisements like effective social media campaigns, maintain a continuous and consistent timetable.
Consider what it means for someone to subscribe to your messaging service when determining the type of text to send. Here's a hint: they're providing you with the most direct and intimate method of communication. As a result, successful campaigns offer value to their subscribers.
By repeating incentives in your email, Instagram posts, and SMS blasts, you might dissuade customers from signing up. One example is avoiding material or offers that have been repurposed from social media or other sources. Each text you send should be relevant to and unique to your SMS list.
Refrain from misusing the privilege if your users have indicated an interest in communicating with you. Keep your SMS marketing messages lighthearted, engaging, and brief. Make an intriguing offer or provide critical information. If you don't strike the appropriate balance, you risk opt-outs and a quickly dwindling contact list.
If done right, your consumer may pay you the same attention as they would a friend's text. Additionally, simplify the opt-out process. If clients can't opt out, they're likely to complain to their cellphone carrier, resulting in future message blocking.
By establishing a text messaging service, you commit to a mode of communication that enables instant message delivery. Within one minute of getting a text message, 20% of individuals read it. If you're considering using two-way texting for customer support or sales, responsiveness is critical.
You may schedule a certain number of hours each week to observe how you and your team handle the scenario. After that, you can expand your operating hours. In other words, it's preferable to avoid overcommitting and disappointing clients.
Text During Regular Business Hours
Text messages should be delivered only during normal/anticipated business hours. Maintain a pleasant demeanor toward your subscribers. They'll resent receiving your SMS messages in the wee hours of the morning. Consider how inefficient it is to communicate with them outside of your business's optimal hours.
One of the numerous benefits of text marketing is that it motivates your subscribers to take instant action. Nobody is likely to act in the middle of the night.
Effective marketers are aware of their efforts' effectiveness and can demonstrate a positive return on investment. Another significant advantage of text marketing is that it provides a direct, quantifiable, and trackable marketing channel when done effectively.
It enables you to quickly assess which messages and promotions are effective and ineffective, assisting you in optimizing your SMS campaigns and marketing communications across all channels. The most advantageous feature is gathering leads and all text-based responses and questions for subsequent sales follow-up.
Takeaway
Text messaging services for businesses are critical for leveraging a brand and developing effective sales and marketing strategies, regardless of whether the organization is small, medium-sized, or large. By utilizing SMS text messaging, your business will get a competitive edge. Once you have your clients' phone numbers, you can instantly send customized and professional SMS marketing messages using your company's phone lines.