Her daughter was born last month, but this Youtuber has been branded cruel and selfish after revealing the name of her new daughter.
Social Media Star Trisha Paytas. 34, announced the baby name on social media. She was forced to deny speculation that their then-unborn daughter was in fact not the reincarnation of Queen Elizabeth II.
People of course have choice words for the new name.
Paytas used she/they pronouns along with a series of photos of the new family.  "She has arrived. Malibu Barbie Paytas-Hacmon born 09.14.22 at 8.9 lbs and 21 1/2."
The new mum struggled with infertility and feared they wouldn't be able to have children. Instead of congratulations, a lot of people slammed the newborn's "baby name."
With the rumors about her being the reincarnation of the Queen, who passed away on September 8th, one joked with a clip of the Addams Family Values: "Queen Elizabeth learning her new name."
A closer snapshot of Malibu Barbie, in a pink and strawberry- covered outfit, was zoomed in on and someone wrote: "When you realise you're no longer in Buckingham palace."
Some users to a note from the child's name and after one of Barbie's most popular incarnations, wrote: "Naming your child after a toy really says something about how serious you're probably going to take parenthood."
"I'm sorry but naming your child Malibu Barbie is cruel," said another commenter and yet another added: "Malibu Barbie is cruel and selfish. It is an ugly [name] played by the poor baby's parents. It is NOT a cute name."
There were some people not so critical of the new baby name, citing that, for California, it isn't an unreasonable choice.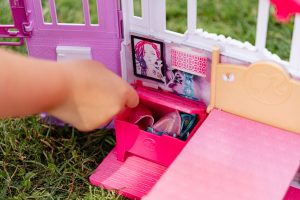 One wrote: "Y'all Malibu is a cute name and y'all forgetting she lives in California like pls the kids aren't gonna bully her cause another kid is gonna be named Sparrow or Leaf or Birch LIKE PLSSSS [sic]."
A second joked: "how yall are acting about the name Malibu as if people don't name their children literally Dirt or Pneumonia [sic]."
"Can y'all stop fr?" asked a third. "Kim literally named her kids North, Saint, Chicago and Psalm. Cardi named her kids Kulture and Wave. Ciara's sons are named Future and Win. Malibu is actually a BEAUTIFUL name and while I don't even like Trisha, y'all are reaching fr [sic]."
People have been coming at this YouTuber about more than a baby name, calling her out on her motherhood journey. Critics even went as far as to say that she shouldn't be allowed to have children.
And more than that, a few questioned her mental health after she publicly spoke about it and said that she wasn't stable enough to be a mother.
She said on TikTok: "I always say actions speak louder than words so everyone's like, 'Oh she has a breakdown every single day.' It's like I haven't in a very long time. I've disengaged from drama for almost a year. But more importantly my sobriety. I've been sober since December 2020. I've been in active treatment since 2021 and it's working.
"To sit there and criticise someone else's reproductive choices just feels sick to me. I've prayed for this for so long and God has finally blessed me."