Truly, this iron lady is an inspiration to us all
Have you been bemoaning the extra pounds you've put on while being in isolation during the coronavirus pandemic? I know I have. But that's definitely not the situation for Alyssa Clark.
Running a marathon – a long-distance race of 26 miles – is for many the ultimate goal in their quest for physical fitness. And then there's this absolute Iron Woman who has been running a marathon a day since March 30.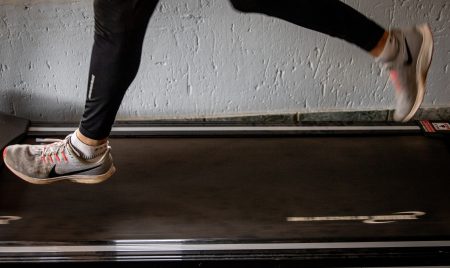 She has completely demolished the previous Guinness world record for consecutive days running a marathon, which stood at 60 days.
Documenting her insane achievement on her Instagram, as of June 26 Clarke has reached marathon number 87. Since she's already come this far, she's decided that she might as well go for at least a hundred.
Clark, who at the time lived in Naples, Italy with her husband Navy Lt. Codi Clark and works as a fitness instructor for the Navy, at first had her marathon-ing plans completely ruined when on March 9 the Italian government locked the country down due to COVID-19.
The Bennington, Vermont, native, however, had realized even earlier that something bad was about to go down.
"It was probably mid-February where we started having authorities say if you've traveled in this region, you need to make sure that you are reporting where you've been … and if you have any fevers or coughs, reporting it," she told Business Insider on May 22.
"We started to have a premonition that it was going to get a lot worse, and then Northern Italy was really slammed, and they started imposing pretty harsh restrictions on March 9, the last day of freedom."
Then, all the marathon races that she was supposed to attend during the summer got canceled. While it was definitely the right thing to do from the perspective of public health, to Clark it was understandably a disappointment.
Despite all her preparations, she could not run the marathons. She wasn't even allowed outside. Then, an idea hit her.
The Game is On
"I felt very prepared to compete, so I needed something to test the fitness I had developed. I tossed around a few ideas with my coach. Somewhat out of the blue, I mentioned to my husband: 'What would you think about me running a marathon every day until we're allowed to run outside?'" she said in Runner's World.
And so, her mindboggling project began. She had originally planned to go on for 15 days, but as the coronavirus kept running rampant in Italy, she soon found herself extending her plans.
"We were supposed to have some restrictions lifted on April 14, so I thought I would do about 15 marathons. When it was extended to May 1, the game was on."
By day 30, Clark declared that she was setting her aims on breaking the then-standing world record.
She says that she found running on a treadmill much easier than running outside. In her apartment she could maintain a steady, pleasant temperature, she didn't have to worry about rain or shine, and she didn't need to carry a heavy supply of water.
When she finally was able to go for her first run outside in weeks, the reality of how good she'd had it hit her harder than expected. On the day, a dust storm blew over the Mediterranean, hitting Italy.
Not only that, the temperature on the day reached 90 degrees and Clark lived in a particular hilly part of Italy. She describes the experience as feeling like "every mile took an hour" and that she was "breathing like through a cheesecloth".
As a result, she recorded her worst time for a marathon during her entire project. She was able to complete the whole 26-mile journey in "only" four hours and 43 minutes.
Running While Moving
On day 57, another kind of challenge reared its head. Clark and her husband started their multi-day move from Italy back to the US.
How on earth she managed it is beyond this author, but Clark stood – or ran – strong and completed her daily marathon even while moving to a different continent. During the ordeal, she found sleep deprivation and jet lag became her greatest enemies.
"In Germany, we didn't arrive until 10 p.m., and we had to be back at the terminal at 9:30 a.m. or would risk not being allowed on our flight. Codi was a trooper and ran to the only place open at that time which was a gas station, to grab some frozen meals, and I didn't end up going to bed until almost 11 p.m.
"The plan was to start at 2:30 a.m. to make sure I finished the marathon on time, but I ended up waking up at 12:45 a.m. and decided I would start. It was very strange to be running a marathon at one in the morning around an Air Force base in Germany, but it is truly a memory I will never forget," Clark says.
But, perhaps against all odds, Clark persevered. Now residing in Tyndall Air Force Base in Panama City Beach, Florida, she's still running.
"I have never really given myself an out. Every day I know I am going to go out and continue to work until the marathon is done. I take a lot of motivation from hearing about others being inspired by my marathons."
If she keeps its up, Clark is set to hit her target of 100 consecutive daily marathons on July 9.
And without a doubt, she will keep it up.
Want to tell your strange story?
Tell us about it
and it could be featured on Oddee. You can remain fully anonymous.