We need to start visiting thrift stores more often.
You can make great finds at second-hand and thrift stores. But this Texas woman's Goodwill purchase puts every deal you've ever found to shame.
Laura Young, from Austin, purchased a nice marble bust for $35 in 2018. What neither she nor the store realized at the time was that the bust was actually a 2,000-year-old Roman sculpture.
Young only figured that out she'd already taken the bust home. Not only that, it turned out that U.S. soldiers had looted the sculpture from a German museum during World War II.
Young, an antique dealer herself, has a conscience that simply wouldn't let her keep the stolen statue. After a long and surprisingly arduous process, the bust has now — at least nominally — been returned to German ownership.
Let's take a deeper look at the strange journey of this ancient artwork.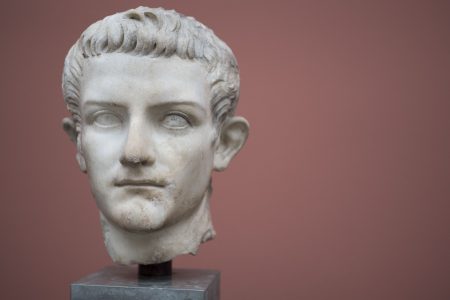 'Clearly Antique'
As Young runs her own antique store, she often goes to thrift stores trying to make valuable discoveries. In 2018, she was browsing through a Goodwill store on Far West Boulevard in Austin.
There, tucked under a table, she spotted a sculpture of a human head. She asked to see the bust closer and the staff obliged.
It was a nice sculpture, much nicer than what you'd expect to find at Goodwill. It was clearly full marble, weighing about 50 pounds and slightly tarnished with age.
"Clearly antique — clearly old," Young recalled for KUT.
And the price was definitely right. The price tag on the bust read $34.99.
It seemed like a great deal to Young, so she made her purchase. She strapped the bust into the backseat of her car and drove home.
An Old Man Called Drusus
However, although she was now the bust's new owner, the mysterious sculpture kept puzzling her mind. As she'd already determined, it was very old, but she wanted to know exactly how old it was — and where it came from.
So, as she often does with her antique purchases, Young decided to do some detective work. She fired up Google and started her research.
Eventually, Young ended up contacting a London auction house that was able to tell her the bust's age. Sure, Young knew it was old, but she could've never guessed just how old it was.
According to the auction house, the bust depicted a Roman man by the name of Drusus Germanicus. An unknown sculptor carved the bust in the first century CE — making it 2,000 years old.
Additionally, another auction house dug up records from the 1920s and '30s. They showed that at the time Mr. Germanicus' bust had resided in the collection of a German museum called Pompejanum in the city of Aschaffenburg.
Spoils of War
But how did this ancient sculpture make its way from Germany to the U.S. and under a Goodwill table? There's a very likely explanation for the cross-Atlantic trip.
It was, perhaps unfortunately, nothing unusual for U.S. soldiers to grab German valuables as spoils of war during World War II. We already saw that in our recent story about a young Italian girl's birthday cake.
In 1945, shortly before the end of WWII, Aschaffenburg became a battlefield between U.S. and Nazi troops. During the fighting, the Pompejanum museum got hit with bombs that demolished a large part of it.
"We know that many of the [museum's] objects were either destroyed in the Allied bombing campaign or looted afterward. So, unfortunately, in this case, it might have been a U.S. soldier who either looted it himself or purchased it from someone who had looted the object," explained Stephennie Mulder, an art history professor at UT Austin.
We'll probably never know how the bust got into Goodwill. But at least we now know how it came to the U.S.
Return to Sender
With that mystery solved, Young was faced with another dilemma. She didn't feel right having the statue — after all, it was stolen property.
So, she started looking into ways to return it to Germany. Young hired a lawyer who specializes in international art and got to talking with the Germans.
But returning the statue wasn't as easy as just packing it up and sending it to Germany. As Young found out, there are plenty of things that have to be ironed out with objects like this.
It took until early 2022, but finally Young and the Germans reached a deal. However, the details are confidential, so we can't know what exactly they agreed on.
What we do know, however, is that the bust won't go straight to Germany. Instead, it will spend the next year at the San Antonio Museum of Art.
Oh, and it turned out that the bust probably doesn't depict Mr. Germanicus after all. Instead, the face on the sculpture most likely belongs to a general called Pompey.
So, until next summer, you can go see the bust yourself at the San Antonio museum.
"It'll be in the company of other objects like it. Although I think, when you look at it, you can see what a particularly nice example of a portrait it is in that context," said Lynley McAlpine, a curatorial fellow at the museum.
Even though Young had to part with Pompey, he's not completely gone. Before the museum staff picked up the sculpture, Young had a 3D printing firm produce a half-scale replica of it.
"I do have a collection of busts at home, so he's with my other heads," said Young.