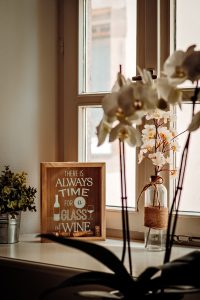 We all know the feeling of giving someone a gift they're not thrilled about. The holiday season is all about celebrating with family and loved ones, and not competing over who can give the most ingenious gift. That's why we've decided that there's one gift that stands above the rest and is sure to not disappoint – the wine basket.
Wine brings people together.
Starting with the popping of the cork, each bottle of wine encompasses an experience of its own. As the centerpiece of the table, a great bottle of wine can bring everyone together in one place.
While some gifts are meant to be used by one person, a bottle of wine is much more communal. The holidays are so much about sharing, and a gift that everyone can enjoy will go a long way.
They're chosen by experts.
Everyone knows what it's like to browse a wine selection at the liquor store and feel completely lost. Though some may certainly know more than others, there's no choice like an expert's. With a wine basket, you get just that. Whether indulging in a toasty Chardonnay or a silky Cabernet Sauvignon, you know you're getting the best.
Wine inspires an extreme level of passion. Unlike your average alcoholic beverage, the cult behind the wine is one for the history books. If you have that amateur sommelier on your shopping list, a well-curated wine basket can be enough to leave them speechless, even if it's just for the time it takes to have a sip.
Wine baskets offer more than just wine.
We've already said that wine is an experience in its own right. But then, it's that passion for all the finer things that wine inspires that makes it so beloved worldwide. From the romance of a bottle of wine and a bar of chocolate, to the leisure of a glass with a crunchy almond, wine is steeped in a rich tradition of luxury.
It's with a custom wine basket that you get so much more, straight from the experts curating them. From exclusive offers to detailed tasting notes, to the perfect snack pairings, wine baskets go above and beyond what should be expected from a holiday gift.
Gifting made easy
You're busy. We get it. Also, the holiday season can be stressful. Running from store to store can be tiring, and online shopping can be equally as overwhelming. This is where gift baskets come in handy. All it takes is a few clicks, an address to send to, and voila!
The beautiful packaging of a wine basket certainly doesn't hurt either. In a world where gift cards are the "convenient gift" of choice, it helps to think outside the envelope and opt for something that inspires. Wine is so much more than a beverage, as anyone who has ever had a fantastic bottle of wine can attest. With a wine basket, you have the opportunity to offer your loved ones a new experience and a special night indeed.
Want to tell your strange story?
Tell us about it
and it could be featured on Oddee. You can remain fully anonymous.