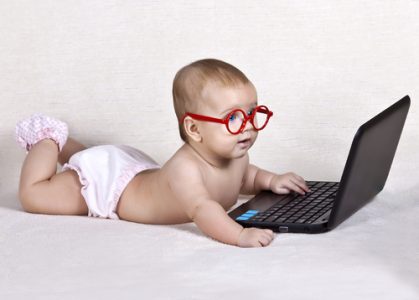 Babies need stuff and we all know this. But what about weird, possibly obscure, and even nerdy stuff? Well, here are some of those things you can get right off of Amazon and sent straight to you.
BABY UP IN THIS B*TCH

So you know those Baby on Board stickers you can get for the car? Well, this is just like that, only a little more crass. And when I say a little, I mean, a lot. These are actually bumper magnets and they read "BABY UP IN THIS B*TCH." Side note: did you know that these stickers are actually meant for an accident, and not to make other drivers aware that there's a baby in the car? That's right. In the case of an accident, these stickers are designed to alert policemen or firemen that there is a baby on board so as to help save the baby. Because, safety first.
The SH!T NO ONE TELLS YOU

Since we started with crass in regards to babies, let's keep at it. This book is a survival guide for parents to help them get through the first year with baby. This guide is a funny look into the first year of parenthood with advice and tips from other parents. And these people are ok with telling it like it is.
FOOD CATCHING BIBS

A little weird? Yes. Absolutely genius, helpful, and awesome all around? YES! These silicone bibs are made to catch all the food your baby drops. This means they can eat it later for safe keeping, and it stays off of their clothes. Plus these soft and adjustable bibs are easy to clean and made with bright colors and fun patterns your baby will love!
EWAN THE DREAM SHEEP

So, I get it. Ambient noise to help the baby sleep, sound machine to switch it up, all helpful, nice, and soothing. But then it can also be personalized to include real womb and heartbeat sounds, that's a little much. And the picture of it shows it's read, heart? The face is a little something so all around, it's really just creepy, looks like it may have a disease, and even may be about to seep out blood. Morbid? Maybe..but it's true, Ewan looks scary to mere humans.
CUTIE PIE ONESIE

Seems normal enough, but what you don't see is the all-blue onesie with white writing. The white writing reads "CUTIE," with the pi symbol. Aww. A onesie for cute babes and their nerdy parents, how fun is that? All you have to do is stick your kid in these onesies and boom, child math prodigy on your hands.
MUSTACHE PACIFIER

Because who doesn't like a mustache on a baby? We never knew how much we would until we saw it and now that we have, we are clearly in love. These clear nuks have a black, curly mustache on top of a red pair of lips, and the people think they are great. The babies? Well,  to them, a nuk is a nuk generally, so it's really a favorite all around.
QUANTUM PHYSICS BOOK

Because every baby's first book should be a physics book, am I right? This books is full of simple explanations regarding complex ideas, and all for your future genius. What could be better than that? Oh, to learn the ABC's first? May be a good idea.
MAGIC BULLET BABY BULLET BABY CARE SYSTEM

For babies' first diet? Just kidding, but that is what the adult version of the magic bullet is. However, this is really great and perfect for when you start to give your baby new foods. It's like an instant baby food maker, for real food! It comes with enough storage containers to make foods for your baby for a week. And for all the health nuts out there, and if we're being honest those are the only people who would want to buy these for their babe anyhow, they are BPA-free, phthalate-free, and made with non-toxic plastic. Winning all around.
STUFFED ANIMAL TOY HAMMOCK
Not sure that stuffed animals are as popular as they used to be, but this hammock is a perfect place for them to go! Back in the old days, stuffed animals were piled on beds, strewn across the floor, and stuffed into closets and toy chests. Today? Well, they can be on display and up and off the floor in these ingenious hammocks. You can see them all on display but don't have to worry about where they lay. Great idea.
These baby things may be weird but some of them are also awesome. What is your favorite from this list?
Want to tell your strange story?
Tell us about it
and it could be featured on Oddee. You can remain fully anonymous.