Panic during pandemic times takes its toll. People feel more stressed, more anxious, and less certain about their future. According to Pandemic Impact Report, 55% of people reported feeling mentally worse during the quarantine times than in January 2020, while the situation with coronavirus was still in the bud. 66% of them also have serious concerns about health or the safety of their family members, which puts them under pressure on a daily basis.
What's more, there are always common triggers like work emergencies, lack of sleep, miscommunication, rushed mornings, etc. Thus, extra stress is not what's fitting in the emotionally overloaded reality of nowadays. Will competitive gaming that we all got used to bring any relief? Highly unlikely.
Shooters, massively multiplayer online role-playing games (MMORPGs), action-adventure, real-time strategies, and other challenging genres might be additional stress factors, along with games involving real money. With the rise of online casinos, you can also play a wide range of slots and casino games at home, which might seem comfy during the quarantine. But we don't recommend doing this, as you'll inevitably lose more money than gain in the long term, which may negatively affect your mental health as well.
As an alternative, we'd like to introduce relaxing titles that might not only bring enjoyment but also reduce stress levels on the crest of the pandemic. Here are some suggestions.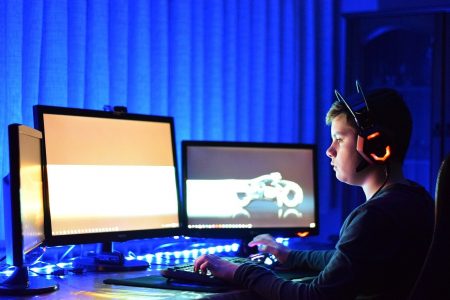 1. Samorost 3
Samorost is a series of enigmatic point-and-click puzzle games from Amanita Design, the creators of Botanicula and Machinarium. Here, you follow the story of a tiny gnome who finds a magic horn near his house. The sound of a horn awakens the mysterious space dwellers, prompting the gnome to get off the planet in search of its origin.
All titles from the studio feature quite a leisurely walkthrough, yet Samorost 3 became our pick for a reason. Its surreal space landscapes, enveloping tunes of the flute and surroundings, and myth-like ambiance of the narrative immerses the player into a tranquil yet trippy state of mind, carrying your mind away from the turmoil and taking it closer to inner peace.
2. Journey
Here, relaxation is not just a "side effect" of gaming. Journey's primary focus is to help you unwind. You take up control over a faceless figure whose only goal is to get across the desert and reach the distant mountain. Low-pressure gameplay and incidental collaboration with other travelers contrasts with the canonic online multiplayer's rushed rhythm and busy environments.
The game is made in a pastel palette pleasing to the eye. Controls are simple to master; the score is multidimensional enough to make you either loosen up or be captivated by the sound, the magical elements of the in-game world mesmerize and create a deeply emotional experience. The only drawback of the game is that the mountain is not that distant as it seems: the whole walkthrough takes no more than 2-3 hours.
3. The Sims 4
The Sims is an absolute legend of idle casual games, where you can pause the game at any time, slowly change some details, resume and just stare at the screen for 10 minutes while your characters live their life on autopilot. The Sims is not necessarily played like that, but what's important is the possibility to do so.
The fourth installment of the franchise is the most worthy of playing in 2020, as it keeps pace with the times. Electronic Arts continue to issue expansion packs so that you won't get bored for a couple of years (by the end of the pandemic for sure). The Sims 4 offers way more advanced features than its precursors like moving between neighborhoods, improved create-a-sim editor, and overall better AI.
4. Stardew Valley
This most soulful farming game of the decade finely balances on the verge of simulation, RPG, and indie strategy genres. But don't be overwhelmed by these words. Nobody will rush you to progress here unless you want to. Here, it's possible to follow the storyline and explore the entangled lives of your neighbors. Or, you can just settle down and focus on raising crops, decorating your dwelling, and crafting items.
Another plus of Stardew Valley is that it can be comfortably played on mobile, thanks to its 2D graphics and simple gameplay. Be cautious: endless collectibles, unrevealed mystery of the village, and numerous caves to explore do not foster quick gaming sessions. Stardew Valley is where you can spend hundreds of hours or even more, thanks to the game's variety.
5. Abzû
Abzû is a game from the creators of Journey that shares a similar vibe but unfolds in a radically different setting. Journey's younger sibling's plot takes place underwater and features the elements of Sumerian mythology and the cosmic ocean myth. You become a diver who explores underwater environments and ruins, concurrently solving the puzzles and mysteries left by an ancient civilization.
A pleasant detail here is that the main character can't die. You have endless HP, and this fact alone is de-stressing. Muted narrative, meditative visuals, and a noble mission of ocean life revival contribute to your relaxation and emotional recovery.