Santa Cruz Island belongs to one of the most untouched national parks in the USA, Channel Islands National Park. The Channel Islands consist of 5 islands – Santa Cruz, Anacapa, Santa Rosa, Santa Barbara, and San Miguel. This collection of islands is often dubbed the 'Galapagos of North America' due to the picturesque environment and extensive wildlife species that reside in the area. 
Despite being a destination that is increasingly growing in popularity, Santa Cruz Island retains its natural charm. There is limited development on the island and there are no cars for transport. Instead, visitors are expected to use their feet to get around on land to minimize the damage left by tourists. There is also plenty to see if you'd prefer to explore from the water.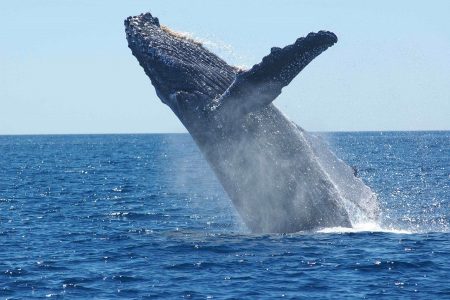 Our top 5 things to do on Santa Cruz Island will give you some serious inspiration if you're looking to visit the area. 
Where is Santa Cruz Island?
The Channel Islands are located just off the coast of California in the Pacific Ocean. They run alongside the Santa Barbara Channel and can be found just out from the coastal city with the same name. That being said, they are more commonly accessed from Ventura or Oxnard, two towns a little further down the coast. 
How to Get to Santa Cruz Island
The only way to get to Santa Cruz Island is by boat. For those who have access to a private boat, this is an option, however, most people will get there by a public transport service. Island Packers is the local boat service that transports visitors from the mainland to Santa Cruz Island. Boats to the island run daily and depart from Ventura or Oxnard.
To avoid carrying your heavy bags on and off the ferry, check them in with a luggage storage service in Los Angeles. You can easily drop them off and pick them up on your return.
Top 5 Things to Do on Santa Cruz Island
Snorkeling
To truly experience Santa Cruz and all it has to offer, you need to get in the water. Its thriving underwater world will amaze you with the diverse sea life and bright colors. You don't need to venture far to reach a good snorkeling spot. Simply hire your gear from the 'Snorkeling Hut' and head straight out from Scorpion Anchorage. This is where the ferry arrives so you can't miss the spot! In addition to extensive kelp forests and bright, interesting coral, you'll have a good chance of spotting sea lions and the Californian Garibaldi, which essentially looks like a big goldfish.
For those who are looking to immerse themselves even further in this wondrous underwater environment, diving tours are run by Santa Barbara Divers. They provide all equipment and run trips frequently.
Hiking
If you'd rather stay on dry land, there's plenty to see on Santa Cruz Island. With 15 hiking trails of varying degrees of difficulty, there is a track for everyone to enjoy. At the lower end of the scale, you've got a half-mile trail that is perfect for a relaxing stroll, while those looking for more of a challenge may find the 18-mile track more appealing. Regardless of the trail you choose, there will be plenty to see and you will be sure to enjoy the wildlife and spectacular scenery. 
For exceptional coastal views, we recommend the Potato Harbor Hike. It's a 5-mile trek that provides stunning scenery for most of the journey. If you have binoculars, you may even see whales or eagles. 
Whale Watching
The Channel Islands is one of the best spots to go whale watching as there are a variety of species that make their way to the area each year. With killer whales, humpbacks and finbacks venturing to this section of the Pacific Ocean between May and November, you have a good chance of getting close to this exceptionally large mammal. 
The Condor Express offers whale watching tours all year round. If you happen to miss the whales on the day you visit, you should not walk away too disappointed as you are still likely to see dolphins, sea lions, and seals. 
Kayaking
Avid kayakers will love exploring Santa Cruz Island from the water. Whether you decide to admire the vertical cliffs or adventure through the numerous sea caves, you will not be disappointed. 
If you are a novice kayaker or keen on exploring the caves, it's probably worth arranging a tour with the Santa Barbara Adventure Company. Your guide will be able to show you the unique caves – each with an amusing name like Marge Simpson or Elephant's Belly. June to October is the best time to visit if you want to kayak through the caves, although tours operate all year round. 
Camping
If you love what you've heard about Santa Cruz Island so far and think that a day trip just won't be long enough, consider camping on the island. Given that the Channel Islands are mostly encompassed in a national park, you will need to make a reservation to stay in the campground. The campground on Santa Cruz is 5 miles away from the ferry landing and you will need to carry all of your own gear. Leave any bulky luggage behind in Santa Barbara at a storage facility to save your back. 
Santa Cruz is a magical island and you will be sure to have an excellent time whichever way you choose to experience it. Always remember to do your research and check up-to-date timetables for the ferry so that you don't face any unexpected problems. Once the details are sorted, enjoy the opportunity to switch off and enjoy nature!