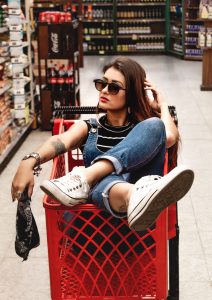 Oh, it's the weekend – yay or nay?
Unlike the popular perception, most people's weekends are not always spent hitting the dance floor and partying with family and friends. One task always becomes a hurdle in the way of spending a relaxing weekend while chilling around. Yes, you guessed it! I am talking about grocery shopping, which is an essential task, and we can't skip it. Obviously, we can't stay hungry the whole week for the sake of partying.
But once you do groceries, we all know that our three to four hours are not going anywhere. From dragging carts while searching for things, from one end to another, and bumping into people, to waiting in the long line to check out, the whole experience is upsetting. That's why online grocery shopping is getting so popular because it is helping people to put the whole idea of weekend back in the square: weekends are just for relaxing!
But online shopping is not as easy as just sitting on the couch and bagging the required items. Oh well, it is, but it is better to consider a few things before start immersing in grocery shopping.
Here are given tips to make your online grocery shopping a happy experience:
Go to Reliable Stores Only:
Living in a world where identity theft and data breaches cases are rising tremendously, you can't trust everyone lingering online. In case you don't want to wake up only to realize that all your money is swept away from your credit card, it is better to choose a grocery store that is trustworthy. Hackers have become wiser and smarter, and they have tactics that you can't even imagine.
Maybe the grocery store you think the best is run by a hacker, and it's just a trap to collect your credit card information. Or what if your grocer's system is not secure, and anyone can extract clients' information from the system? To avoid any such bad day from ruining your life, you should only shop from well-reputed grocery stores who have genuine people running them, not thieves.
Watch Out for Pay Structure:
Online grocery stores offer different kinds of pay structures. You can shop for your products by paying for the products on the spot, or after the groceries delivered to your door. While others offer unlimited deliveries options, for weeks or even months, at the cost of a particular subscription fee. Look at the pros and cons of both the options, and choose your store wisely.
Make a List, To Avoid Wasting Time:
If you are thinking of buying a thing or two, then it is okay to hit the online grocery site without any pre-planning. But if you are going to buy a whole week's groceries, then you should make a list before sitting on your couch for shopping. Otherwise, you might have to waste several hours again by spending a lot of time even while buying through online stores.
Consider Customer Service Facilities:
One disadvantage of online grocery shopping might be that you can't see your product before it is delivered to your door. And what if it is rotten, broken or damaged in any way? Though grocery stores check out things before delivering it to you, you should still consider the customer service facility before shopping. Check if they have a customer service hotline, in case you have a query regarding the order, delivered product, or want to change an order, to avoid last-minute hassle.
Now you know what to consider before kick-starting a perfect online grocery venture. So, what are you waiting for? Happy shopping!