And gets to keep them due to the amount of slobber they have.
Ben the Therapy Dog works for a Massachusetts police department but he has been accused of theft. He supposedly stole the toys from the Santa Foundation, a local charity. 
The Franklin Police Department has been collecting the toys for the kids. "We've had several officers that have worked very hard to make sure that some of the kids in town and the community that have needs will have something to open on Christmas," Deputy Chief James Mill said.
Officers began investigating after a couple of toys went missing. They soon pointed fingers at one of their own as the leading suspect.
"When Ben saw the toys, he thought they all belonged to him," Mill said. The dog was carrying a baby doll in its carrier by the handle and attempted to out run officers who saw him.
What he did however was lead them back to his bed, under his desk, where they found a lot more than just a couple stolen items. In fact, they found a complete stash of goodies, completely covered in slobber.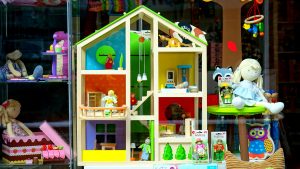 The toys were replaced since the officers weren't able to donate the slobber-filled playthings. 
Well Ben won't be charged with any crimes, he has been permanently from the toy room. The department instead decided to turn Ben's "crime spree" into a teachable moment. 
"We learned an extremely valuable lesson today," the department wrote alongside a video of the Ben making off with a doll. "When you have a classroom full of toys ready to be shipped off to the Santa Foundation, you should…. 1. Close the door to the classroom or 2. Keep the toys elevated."
Without these measures, the department foresees, "a golden retriever will slowly hoard them throughout the day and bring them back to his lair." Good thing he has been banned, and the new toys will remain slobber-free. 
Want to tell your strange story?
Tell us about it
and it could be featured on Oddee. You can remain fully anonymous.