Clench you cheeks all you want, but this is the future of medicine.
Have you ever heard of a band called Butthole Surfers? They're an offbeat alternative rock group, perhaps best known for their 1996 song Pepper, in addition to their… Shall we say, imaginative name.
But why are we bringing up inappropriately named 30-year-old rock bands, you might be wondering. The answer is – for science!
It seems a group of researchers from Purdue University have taken a page out of the Butthole Surfers' playbook. They've developed a microrobot – or microbot – that can effortlessly surf right up your butthole.
Well, it's really more of a tumbling motion, and they tested it on animals. But the point is, it's the first successful robot of its kind in the world.
No larger than the width of a few human hairs, the microbot has proven itself in both artificial test environments and inside a mouse's and a pig's colon. This is the first time in known human history that such a device, that is a tumbling microbot, has performed successfully in a living organism.
We're witnessing history here, folks. And it's all taking place inside a colon.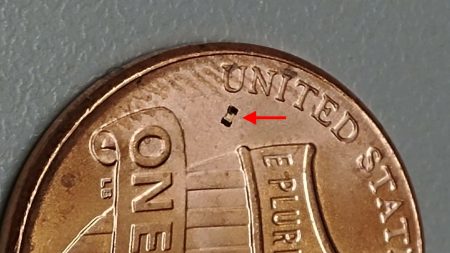 A Tiny Acrobat
When we say that the robot moves by tumbling, what we mean is that it propels itself forward by performing a series of tiny somersaults. If it helps, you can picture a tiny gymnast doing their routine inside your butt.
Fine, we just wanted to get you to think about that. You can check out Purdue University's video about the robot to see it in action.
Since the microbot is so ridiculously tiny, it can't really carry any kind of battery with it. At least not one we can make with current technology. Instead, it is controlled and powered wirelessly from outside of the host body with a magnetic field.
"When we apply a rotating external magnetic field to these robots, they rotate just like a car tire would to go over rough terrain," said Purdue associate professor of mechanical engineering David Cappelleri, who worked on the project.
"The magnetic field also safely penetrates different types of mediums, which is important for using these robots in the human body."
Difficult Terrain
While the scientist performed their in vivo – or within a living body – testing in the butt, that's not the only place they intend the machine to go. In their own words, they chose the colon as a test track due to "ease of access".
They're talking about the butthole, in case that wasn't clear.
But that wasn't the only reason the researchers reached for the colon. The second was that this particular environment is messy. Yes, they considered that a good thing.
"Moving a robot around the colon is like using the people-walker at an airport to get to a terminal faster. Not only is the floor moving, but also the people around you," said Luis Solorio, assistant professor at Purdue Weldon School of Biomedical Engineering.
"In the colon, you have all these fluids and materials that are following along the path, but the robot is moving in the opposite direction. It's just not an easy voyage."
Really, I don't even need to make jokes here. This story just writes itself.
This marvel of miniature engineering performed incredibly well even in the challenging conditions of the butt. What a little trooper.
Not Just for Fun
The research team is not doing this all just get to shove tiny robots up animal bottoms, though. It's intended uses are purely medical, they assure you.
The final, planned end use of the microbot is delivering drugs directly to impacted areas inside a living body. While the testing is done on animals, they will eventually move on to human subjects.
That's also the reason they chose pigs for the trials. Pig guts are apparently very similar to a human's, according to the scientists.
"Moving up to large animals or humans may require dozens of robots, but that also means you can target multiple sites with multiple drug payloads," explained Craig Georgen, Purdue Leslie A. Geddes associate professor of biomedical engineering.
The research team coated the microbot with a fluorescent fake drug mixture to observe whether it could deliver it successfully. After it reached its intended destination, the drug slowly released from the robot over the following hour.
"We were able to get a nice, controlled release of the drug payload. This means that we could potentially steer the microrobot to a location in the body, leave it there, and then allow the drug to slowly come out," Solorio speculated.
"And because the microrobot has a polymer coating, the drug wouldn't fall off before reaching a target location."
The Future is Today
Speaking of the robot's coating, the scientists found that there was no reason to worry about it staying in the host body after its filled its purpose. They are manufactured from non-toxic, biocompatible polymers and metals.
That's good. Nobody would want a potentially toxic, drug-loaded machine flipping around in their butt.
The microbots are also cheap to produce. According to Cappelleri, a regular roll-to-roll manufacturing machine can produce hundreds of the tiny things at once.
The researchers also think that the device could be used not only as a drug transporter, but also as a diagnostic tool.
"From a diagnostic perspective, these microrobots might prevent the need for minimally invasive colonoscopies by helping to collect tissue. Or they could deliver payloads without having to do the prep work that's needed for traditional colonoscopies," Goergen mused.
While we strongly believe in the principle of "whatever floats your boat", we at least welcome any technology that reduces the need for doctors to probe our butts.