Think you're pretty smart? Wait till you read about this bunch of overachievers.
When people talk about things that run in the family, it's usually about something more or less negative. Maybe it's stubbornness, baldness, or susceptibility to some disease.
Of course, there are also those families where everyone's ridiculously good-looking or maybe extremely musical. But the Taylor Schlitz family from Texas has everybody beat – it seems that they can't help but produce genius kids.
How smart are we talking about here, exactly? Well, their son, Ian Taylor Schlitz, has just graduated from college with an associate degree in Arts.
But as if that's not enough, Ian is not just book smart. He seems to have some business acumen too, considering he's the president and CEO of his own company, Kidlamity Gaming.
Oh yeah, and this kid is just 14 years old.
"Ian is an ideal student," says associate professor Andrew Stalder at the Tarrant County College (TCC), who taught Ian in one if his classes.
"He always had a positive attitude and was excited to tackle the assignments."
Ian started working on his degree two years ago, when he was just 12. Then again, he was already taking college-level classes by the time he was 10.
Next year, by the time he's 15, he's set to have a bachelor's papers on his wall. Next, he'll be attending the University of North Texas, where he will be majoring in Interdisciplinary Studies with an emphasis on E-gaming Entrepreneurship.
So, congratulations to Ian on his degree! Even if he's giving this author an inferiority complex.
And that's before we've even mentioned his sister.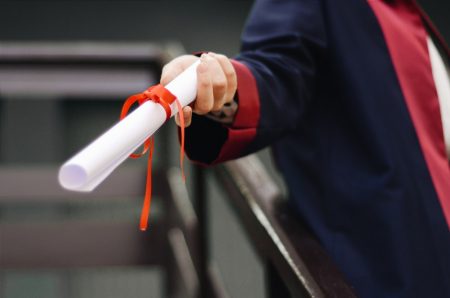 In His Sister's Footsteps
That's right, we did say that the Taylor Schlitz family had genius kids, in plural. And Ian sure had some tough expectations set for him by his sister, Haley.
Haley Taylor Schlitz seems like any other teenager on the surface. Like her brother, she likes video games, social media, reading… You know, normal teen stuff.
At the same time, at 16, Haley has been accepted to no less than nine law schools. Last year, she earned her associate degree in Arts and a bachelor's degrees in Interdisciplinary Studies.
And while she was in high demand from a number of school, she picked the Southern Methodist University's Dedman School of Law for her Juris Doctor studies. She's currently a sophomore. Again, she's 16.
Haley says that the professors and students she studied with respected her and treated her as an equal, despite the massive age gap between some of them.
"I was so excited to be an in an educational environment where I could create an academic program designed for my academic needs," Haley said in 2019, when she finished her bachelor's.
"It was great to be able to go to class and just be a student. No crazy high school years where everything but education matters. I loved it."
Haley's brother got her beat in one sense, though. Haley was "already" 13 when she started her associate's degree, as opposed to Ian's 12.
Wow, imagine that. She had to wait until 13 before she went to college…
You know what, I can't even bring myself to make jokes about these kids. They got two college degrees before even being allowed to drive. Ian and Haley, we applaud you.
How do we get a dose of this genius? Is it something in water or what gives?
Don't Try to Box Us, Dad
Ian and Haley's parents, William Schlitz and Myeisha Taylor, sure don't know why their kids are so smar. But it's not like the parents are without their achievements. Mrs. Taylor, for example, is actually Dr. Taylor, a practicing physician.
According to the TCC, both Haley and Ian tested as highly gifted at a very young age. As a result, their parents decided that it'd be best to give them customized education and moved them from the public school system to homeschooling.
"Once we got them into a homeschool environment, where we could build and tool their education just for them, they both made rapid advancement," their father says.
Looking at the results, it seems Mr. Schlitz and Dr. Taylor made the right choice. Not only did Haley and Ian excel academically, they also learned from each other.
"I learned a lot from watching Haley with her own education. When I started to take classes at TCC, Haley would help me organize my schedule at the start of the semester. She showed me how to manage my time," Ian says.
Their parents also had their own lessons to learn. The most important one was to get out of the way when their kids were busting through the education system at breakneck speed.
"I had to learn to stop trying to put them in the boxes we have created, based on age, in society. Once I learned that, I think I became a better, more supportive parent for their journeys," Mr. Schlitz says.
And the Taylor Schlitz parents have one more journey to support. Their 12-year-old daughter Hana started taking classes at TCC this past summer.
Three kids, and all in college by the time they're 13. What a family.