It has drive autonomously features but owners are asked to keep their hands on the wheels and pay attention at all times.
Canadian Federal Police, also known as Alberta RCMP, reported about a strange incident involving a Tesla vehicle on autopilot:
"Alberta RCMP received a complaint of a car speeding on Highway 2 near Ponoka. The car appeared to be self-driving, traveling over 140 km/h with both front seats completely reclined and occupants appeared to be asleep."
Along with the report, they shared a picture of the Tesla Model S vehicle in Twitter.
Tesla Autopilot is not a "self-driving" system but instead meant as a suite of driver assist features. While it technically can drive, unassisted, Tesla urges drivers to keep their hands on the wheel and pay attention at all times.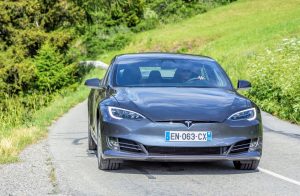 Tesla even implemented a system requiring drivers to frequently apply a bit of torque to the steering wheel to keep the Autopilot active. Some drivers are skirting the system by attaching a weight to the steering wheel. US regulators, and honestly anyone with some common sense, considers this a dangerous practice.
The police reported strange behaviors from the vehicle, which appeared to be in Autopilot:
"After the responding Officer activated emergency lights on their vehicle, the Tesla automatically began to accelerate. The Officer was able to obtain radar readings on the vehicle, confirming that it had automatically accelerated up to exactly 150 km/h."
According to police, the car did stop eventually, and the driver was given a speeding ticket. The driver was also later charged with dangerous driving under the criminal code.
This isn't the first time that people have been reported sleeping while their car while driving in Autopilot, and it's safe to say that it won't be the last. But paying attention in the car is essential and honestly, driverless cars should not be allowed in 2020.
This year has been trying enough, who can't agree with that? Fast, heavy, machinery driving down the road on its own is just not needed to finish out the year.