Friends think it's wrong but the couple has their parents support.
The woman opened up about her marriage to her step-brother. She says that though they received 'judgment' from friends, their parents supported them. Matilda Eriksson, 23, had known Samuli, 27, since their parents married back in 2019.
It wasn't until three years later that he went in for a kiss.
Eriksson recalled her immediate reaction and 'responded right away with passion', explaining: "It took us two weeks to start dating after that and he basically moved in with me right away. It felt good and natural immediately."
From Espoo, in Finland, she admitted that it all made her 'feel weird', and worried what others would think of the couple possibly getting married. "I was confused and in love at the same time and honestly I really didn't know what to do," she said.
"Thinking about the fact that he still is my step-brother and also I thought about other people's opinions."
Their parents were always 'very happy' for them, a relief to the couple. However, the case wasn't the same when it came to their friends. She admitted that some of her friends were 'a bit doubtful' and were 'kind of judging'.
She talked about it all with her mom, and the advice she got was to do whatever she felt was right 'in that moment. Her mom also told her to follow her heart.
She did say that eventually, even the friends that doubted them, came around to the idea after seeing their connection. They told the pair that they were '100 percent' a 'match made in heaven'.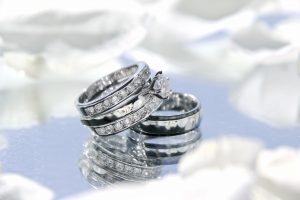 After the couple got together, they did some research to see if step-siblings were legally allowed to marry in the country of Finland. "First we found some false, old information that it would be illegal, but gladly one of my sister's closest friends is a law student and she told us that there would be no problem if we wanted to get married," Eriksson said.
They got engaged in October 2021 and married in July 2022. Erikkson said they 'proposed to each other at the same time and cried'. She shares their lives through videos on TikTok and says many have expressed their support.
After posting to explain their story, a user wrote "At the end of the day, you guys were full adults when you met. No one forces older kids to act like siblings so why should you guys? True love."
Another commented saying : "Don't listen to the negativity. This is so beautiful."
Someone else said: "Like honestly that is so cute your mom marrying his dad and you marrying him." Wow, this user really loved that they got married.
A fourth stated: "This is actually so freaking sweet! Your mom found her love which led you to YOURS! + no Figuring out where to go for the holidays!! WIN WIN."