She was on a flight and the flight attendant thought she was a kid.
"I'm 25."
Simone Biles, at a smaller stature of 4'8'', was on a plane when a flight attendant offered her a coloring book, and that's when Biles shared her age, "I'm 25." She shared the hilarious story on her Instagram recounting tale of the coloring book she was offered to occupy herself during the flight.
Her Instagram post said, "Not the flight attendant trying to give me me a coloring book when I board…..I said 'no I'm good I'm 25.' "
As an Olympian that's a household name, apparently Biles can still fly under the radar, er, maybe not when she's flying? She holds 4 Olympic and 19 World Championship gold medals. She was also honored the 2022 Presidential Medal of Freedom from President Joe Biden.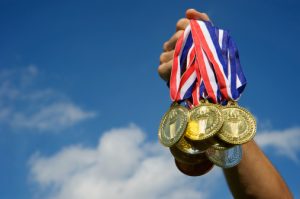 The White House said that Biles was honored not only for her athletic prowess, but for her advocacy for "[athletes'] mental health and safety, children in the foster care system and victims of sexual assault."
Biles is currently engaged, and her fiancé, Jonathan Owens, was there to celebrate the accomplishment with her and said, "You're one of the strongest people I know and are so deserving, I'm so blessed to be able to experience this with you. You motivate me more everyday to be the best version of myself. Such a inspiration, I love you so much babe."
She mentioned her plans saying, "Right now, wedding planning is going pretty good. I feel like I've only become stressed out within the last week, trying to choose a venue and stuff like that, because there are so many great places to get married, and I feel like that's a really big decision."
When Owens proposed, she captioned her Instagram post with, "THE EASIEST YES" and "I can't wait to spend forever & ever with you, you're everything I dreamed of and more! let's get married FIANCÉ ???? @jowens_3."
Also, side note. Which airlines give out coloring books?