But you may get accused of farting, even if you didn't.
I know what you're thinking, again with the farts? But I swear, I cannot make these things up!
This time it was farts at a dart match. The match took place in England and both players have accused each other of farting on stage during a recent match.
"It'll take me two nights to lose this smell from my nose," Wesley Harms complained after 'getting blown" away 10-2 by Gary Anderson at the Grand Slam of darts in Wolverhampton.
Harms concluded that his bad playing was all because of the "fragrant smell" which according to him came from Anderson. But Anderson, who has admitting to farting during past matches insists in this incident, he is innocent.
"If the boy thinks I've farted, he's 1,010 percent wrong," Anderson said of the event. 
Anderson is ranked the world's No. 4 dart player and after this win, he moved on to the quarterfinals. "I swear on my children's lives that it was not my fault. I had a bad stomach once on stage before and admitted it. So I'm not going to lie about farting on stage."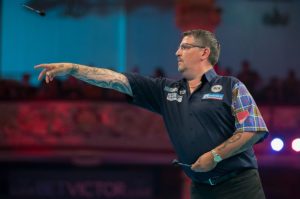 He also reminded the interviewer that, ""Usually if I fart on stage, I s—t myself, I've told you that before."
The British couldn't get enough of it and even named the controversy 'Fartgate.'
"We've got to get to the bottom of this," Barry Hearn, UK's Professional Darts Corporation chairman, added. "Something doesn't smell right."
For these two, it was the difference between winning a match and losing. And who likes to lose because of something as human as farts?
If it's not farting and getting a gun pulled on you, then it's farting during an interview or during a dart game. I guess, if you have to fart, you have to fart? What are you going to do?
Want to tell your strange story?
Tell us about it
and it could be featured on Oddee. You can remain fully anonymous.